LLNJ Strategic Planning Process
by
Abby Straus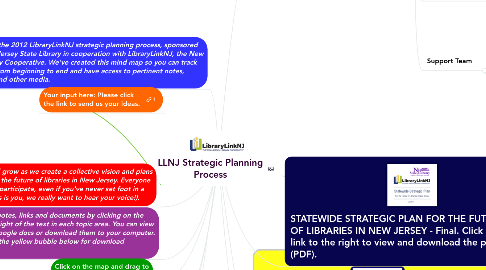 0.0
stars -
0
reviews range from
0
to
5
Questions to consider
The map will grow as we create a collective vision and plans of action for the future of libraries in New Jersey. Everyone is invited to participate, even if you've never set foot in a library (if this is you, we really want to hear your voice!).
Libraries Reinvented: Having Your Say... Welcoming the voices of young people in the planning process.
General Project Information
Description of the project
  The purpose of this project is to create a Statewide Strategic Master Plan for the Future of Libraries in New Jersey. These include the following multi-type libraries, which are members of LibraryLinkNJ: 302 public library entities serving New Jersey with 454 locations 119 academic libraries in New Jersey 453 special libraries, including hospitals, not-for-profits, law libraries and private industry 770 K-12 school libraries We are interested in gathering ideas from the broadest possible range of stakeholders in order to understand the needs and aspirations of the communities served by New Jersey's library system.
What we want to achieve
The output from this collaborative initiative will be a Statewide Strategic Master Plan for the Future of Libraries in New Jersey. This strategic plan will include a shared vision, long term goals and user-oriented actions within available resources in New Jersey. The intended use is to: Guide development of New Jersey's multi-type libraries on a statewide basis, and Further the services of multi-type libraries to meet the expanding information needs of New Jersey's residents and students.  
Leadership team
Project Proposal
The consultants prepared a proposal including project understanding, scope of work, schedule and budget, which was accepted by LibraryLinkNJ. For more information about the proposal, please contact Cheryl O'Connor at LLNJ.
Support Team
Project schedule
Task 1: Kick-off meeting 11-13-2012
The Maverick & Boutique team will hold a face-to-face project initiation meeting with representatives of LibraryLinkNJ to review project requirements, clarify the roles and responsibilities of all parties, finalize a project plan and exchange existing data, reports, and information.
Task 2: Desktop research and briefing notes
The consultants will prepare a set of background notes that will be distributed to participants in the workshop and planning process to help them think broadly about the issues and identify ways of creating synergies between specific aspects in order to create a rich vision and plan.
We will conduct a workshop with the Statewide Strategic Planning Advisory Committee and other key people to engage in a process of visioning and preliminary planning.
Task 4: Initial population of plan framework
Based on the output from the Statewide Strategic Planning Committee workshop, and our research to date, we will draft a preliminary strategic plan framework that will serve as the basis and reference point as we move further in the process. The draft will be distributed to the Committee and other key persons for review and further conversation.You may view or download it by clicking on the link to the right.  
Task 5:
We will bring multiple stakeholder groups together in a series of four separate workshops to explore the future of libraries in New Jersey, to consider what is working well and what needs to be reinvented, to make recommendations for enhancing existing projects and to design, reach agreement about and implement new projects and programs.
Task 7: Synthesize workshop outputs into priority areas
The workshop outputs will be consolidated/synthesized by the consultants into a set of 6-7 themes or priority areas that will feed directly into the strategic plan. The scope of each priority area will be determined from a review of the outputs from the all the workshop sessions, interviews, and targeted contributions.
Task 8: Task force on-line strategy sessions
Short term task forces will be established for each of the six or seven key themes/priority areas, their purpose being to develop detailed descriptions of projects and programs, including a set of performance measures. Participants will be recruited from volunteers from the professional library community, the community at large and the Statewide Strategic Planning Advisory Committee.
Task 9: Workshop to review Task Force plans for priority areas
In order to develop an integrated plan from the 6-7 sub-plans, the members of the task forces, and other representatives of LLNJ as appropriate, will be invited to a face-to-face workshop at which each group will share the details of their plans with the group for review and further development.
Task 10: Strategic plan preparation
The consultants will integrate all workshop outputs, meeting notes and draft plans into a comprehensive strategic planning document. The strategic plan will have two main sections: 1.   A narrative, developed from the research activity, workshop outputs, interviews and other community engagement activities, that builds upon and enriches the first-cut strategies plan developed in Task 4, including the context (situation analysis and major trends) preferred future (vision, mission and values), stakeholder interests, dynamic capacities analysis and dynamic resources analysis 2.   A matrix of the major projects (short term, finite) and programs (long term, ongoing) within each of the 6-7 key priority areas first developed at Tasks 8 and 9 comprising the project/program title, description, objectives, roles and responsibilities, time frame, resources, cost estimate activities and key measures of success.
Task 11: Final plan review workshop
A final workshop will be attended by representatives of the Statewide Strategic Planning Advisory Committee and LLNJ to finalize the Strategic Plan. In this workshop, participants will review the plan from the perspective of schedule, resource requirements and availability and cost estimates in order to insure that the plan is, and will remain, viable.
Task 12: Delivery of final plan
Maverick & Boutique (consultants) will provide LLNJ with camera-ready, electronic files of the final plan and all outputs and reports resulting from this project organized and formatted appropriately.
Events
Technology Speed Dating Program for NJ Libraries
You can access notes, links and documents by clicking on the symbols to the right of the text in each topic area. You can view documents in Google docs or download them to your computer. Click the link in the yellow bubble below for download instructions.
Click on the map and drag to explore.
Documents of interest
NJLA CONFERENCE STATEWIDE STRATEGIC PLAN ROLLOUT: Click the link to view and download presentation (PDF)
STATEWIDE STRATEGIC PLAN FOR THE FUTURE OF LIBRARIES IN NEW JERSEY - Final. Click the link to the right to view and download the plan (PDF).