Web Vision - Discoverability Work stream
by
Paul Coyne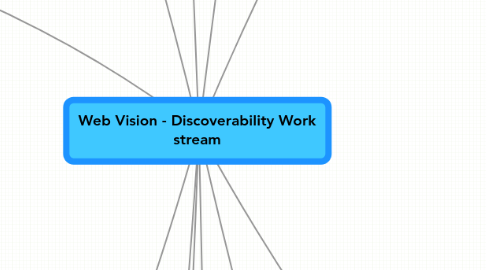 0.0
stars -
0
reviews range from
0
to
5
Web Vision - Discoverability Work stream
People
We need to talk through who's doing what here  
Paul Coyne
Consultant, Innovation
Mariam Hassan
VP, Canada
Roman Liznercki
Online Marketing Manager
Others
Emerald expertise
External consultants/contractors
Scope
Content Architecture
Editorial, Writing/Guidelines
Production, Metadata Standards, Content Standards
Content Promotion
Corp Comms, See Promotion and Usage
Marketing, See Promotion and Usage
Sales/Customer Relations, See Promotion and Usage
Content Consumption
Consumer Digital devices
3rd party partners and customer sites
UGC/Social Media
Phase 1 and 2. Content Usage and Marketing
Emerald Web Sites and Portals
Rationale/Objectives, Usage driver, Metrics. Improved awareness/downloads
Deliverables, Templates and guidance for Localised and customer portals, Phase 1: Alerting Services, SMS, Alerts, Simple search, RSS, ToC, Saved Search, Podcasts, Email, ToC alerts, Search, News, Podcasts, See SEO Strand, Bibliographic system integration, Zotero, Mendelay, EndNote, Refworks, Connotea, CiteUlike
Resources, IT/Marketing, Existing Budget?
Phase 2 : The Emerald Open API
Rationale/Objectives, Closer Customer & Subscriber workflow integration, Usage/Awareness/, Metrics, Improved usage, Increased service oriented business opportunities
Deliverablables, Developer guidelines, SDK and toolkit, Exemplars
Resources, IT/Web teams, Business Development, Web Vision
Mobile/Handheld devices
Rationale/Objectives, Usage/Marketing/Alerting, Metrics: Improved awareness/usage
Deliverable, Phase 1 .mobi Site, optimised mobile site. Simple search, Corporate and Portfolio information site, Phase 2: Device Aware CSS, Business Logic Development, XSLT Files
Resources, Marketing, Marketing Budget
Gadgets and Widgets
Rational/Objectives, Marketing and Improved Service integration, Usage improvement
Deliverable, Home Page Applications, Netvibes, Google, LinkedIn, Facebook, iPhone apps, general search app, Alerting app, Article reader app, Google, general search app, Alerting app, Article reader app, Windows/Mac OS desktop, general search app, Alerting app, Article reader app, facebook, facebook Journal Fanpages, FaceBook URL, Sharepoint/Corporate Intranet, Modules, Applications
Resources, Marketing/External Contractor/Web and Sales Force, Diverse budget - External contractors from Web Vision
Community Sites/Social Media
Rational/Objectives, Personalisation/Ownership and increased loyalty, Marketing and Improved Service integration, Usage improvement
Deliverables, UGC, Content Ratings, Commentary, Social tools, Social Bookmarking, delicious, Connotea, Tags, Share/Recommend/Post to 3rd site, LinkedIn, facebook, Twitter, Research Connections, Literati, Library Link, Conference Central
Resources, Business Development, Marketing/External Contractor/Web and Sales Force, Diverse budget - External contractors from Web Vision
Google Book and Content Integration
Rational/Objectives, Marketing and Improved Service integration, Usage improvement
Deliverable, Policy, Dialogue/relationships with Google
Resources, Customer Support, MIS, IT, Marketing, Pub Dev, Diverse budget s
SEO Tactics. Phase 1 Web Vision
Draft SEO Report
Basic Requirements for Emerald, Published, Approved?
Categorised and baselined report, Due To Be published (27/7/), What We are doing now, What we should be doing(and are capable of), Web Vision - Recommendations with Capability delivered as part of web vision, Approved?
Guidelines and Templates to Web Design teams
Design phase
Approved?
Search Engine Submissions
Google Sites Yahoo! Sites Baidu.com Inc. Microsoft Sites NHN Corporation
Region Specific, China, India, Asia Pacific, Latin America, EU
Accepted and Approved?
Sitemap
Who/How?
Dependent on IA/Taxonomy?
Phase 1 deliverable?
Approved?
Domain Name Management
See GD's document
Approved?
Domain GeoLocation -
Addressed as part of Distributed architecture workstream
Approved?
Change Management
Ensuring that the 'light's stay on' with respect to embedded links to Emerald from customers and partners
Audit of links to Emerald
Managing the transition to simpler, qualified URLS
Resources
Timescales
Blogs & Teasers farm
Library Community
Research Community
Author Community
Student Community
Teaching Community
Culture and Change
Who/ When
PMG Action - JBK and PC
Customers, Librarians, Managers
Internal/Emerald Staff, Editorial, Sales force, Corp Comms, Senior Staff
Ongoing, beginning August through to Jan 2010
How
Pre and Post sales support
Onboarding programme
Media rich learning content/support site
Interactive FAQ/ P2P Community support
What
ERM - MH document
Digital Access options
Identifying 'best fit' with customer needs and capabilities
Standards
Standards?
Dublin, Available now??
MARC21, Available now
ACAP, Unknown
.EPUB, Under investigation
XHTML, Available now
.Mobi, Phase 1
Accessibility, Available now
Access, OpenID, Athens, Shibboleth
Semantic. In Scope??
RDFa
Dublin
Ontology development
FOAF
Owner
Production Dept
Oversight : Web Vision/PMG
Digital Channels
Aggregators
Standards
3rd party feeds
eBook Readers
Sony
Kindle
Generic
handheld/mobile
Apple
Google
WAP
SMS
Java
Desktop/Laptop PC
Browser
OS/Desktop gadget/app
Partner Portals/Platform
RSS
Open API SDK
Gadgets/Widgets
Library Systems/OPACS
Library Management Systems/Federated search
feeds
standards
metadata
Virtual Research Environments
Infancy, no interoperability standards to date
Fast growing sector, likely to become dominant workflow platforms for collaborative research
Recommendation: Watching brief
Virtual Learning Environments
Mature standards, (SCORM, LETSI, IMS)
Usually poorly used in HE
Recommendation: Develop 'How to...' guides for teaching staff
Strategic Framework
Strategic Generatives. A generative value is a quality or attribute that must be generated, grown, cultivated, nurtured. A generative thing can not be copied, cloned, faked, replicated, counterfeited, or reproduced. It is generated uniquely, in place, over time and in this respect conforms to Porter's model for developing sustainable business strategies and Emerald's stated strategy of Focussed Differentiation
Immediacy, Sooner or later you can find a free copy of almost any digital article, but getting a copy (or an alert) delivered to your inbox the moment it is released -- or even better, produced (like earlyCITE) -- by the publsher is a generative asset, Emerald alerts. emails, and presence in social/professional and academic communities can provide immediacy that pirated or aggregated/embargoed agreements cannot
Personalisation, A generic version of a concert recording may be free, but if you want a copy that has been tweaked to sound perfect in your particular living room -- as if it were preformed in your room -- you may be willing to pay a lot. Personalisation requires an ongoing conversation between the publisher and student, researcher and faculty. It is deeply generative because it is iterative and time consuming. You can't copy the personalisation that a relationship represents which accords very well with Emerald's Porterian strategy fo focussed differentiation, Emerald's range of applications, social media presence, customer and subject portals, Saved search and ToC alerts combine to deliver a highly personal and personalised experience that you own and exercise control over.
Contextual Interpretation, Goes to meaning making and giving context to the content after discovery and access. Making use of content, free or otherwise, requires judgement, awareness and discretion. Content on it's own cannot provide this, but a community and strong editorial policy can link to supporting people and advice that is highly iterative and generative and offers a highly valuable, perhaps unique proposition that differentiates content providers., Emerald's Supplemental materials, guidance and learning combined with coherent metadata polciies and relationships to like content can combine to provide contextual interpretation and support to the user after the discovery and access phases.
Authenticity, Relates to trust and confidence. Sure, you could download some free, wikipedia research or something from an IR but sometimes you need to be sure the content you're relying on is authentic, verified and substantiated - Peer reviewed or edited in some way and differentiated from 'Free', The Emerald brand - trust, high quality, relevance with rigour. Evidenced by citation, impact, usage and recommendation
Embodiment, At its core the digital copy is without a body. Possible to take a copy of a work and throw it on a screen. People like a physical thing in their hand too and will pay for it., Emerald can provide embodiment via POD, print outs, download rights, mobility to digital articles and research
Findability/Discoverability, When there are millions of books, millions of articles, millions of blogs, millions of everything requesting our attention,being found is valuable., That Emerald can find, nurture and refine the work of authors that they believe researchers will connect with.
Accessibility, Ownership often sucks. Many people are be happy to have others tend to their "holdings" by subscribing to them. Research institutions will Emerald to serve their resarchers access to content anywhere int he world and on any device world, when and where we want it, as well as any table, photo or dataset., The basic Emerald proposition -Selling ACCESS to leading research from around the world.
Digital Strategic Framework. In this context, I use the term online strategy to be limited to the development of plans to deploy Emerald's online assets (content) to maximize business results (products and databases) and digital strategy to be the more transformative step of developing into a digital business, where digital connotes deeper interactions with stakeholders (authors, researchers, students, faculty and professionals), more personalised offerings and interactions, data driven decision making, and an organisational models and processes which are more nimble and reactive to changes in the business, technology and industry environment . An Emerald digital strategy should consistent with the Strategic Priorities, is aligned to WV objectives, resources and capabilities and recognises the dynamism of the digital environment in which Emerald participates. The Digital Strategic Framework is underpinned by the Strategic Priorities of the business and provides a coherent decision making scope in order to deliver the unique generative properties described above.
Availability, Strategic Focus : Emerald content will be made available through adiverse discovery & access policy that is easy to use, stable and is evidenced in our support of a wide range of consumer and professional channels, devices and standards, CSF, Access Complexity. We recognise that consumer electronic devices and ubiquitous web access has raised user expectations of access and service. Emerald will manage channel complexity and ensure consistency and quality of service in support of digital access for learners & researchers., Content Complexity. We understand that the digital content comes in many forms. This requires that Emerald manage an increasingly diverse range of content, other than plain text. Emerald will manage content complexity in an easy to understand manner that provides opportunities to create new content products and community based services.
Resilience, Strategic Focus:We will strive for 100% Quality of Service and access to holdings for all subscribers at all times, CSF, Managing Flagship portals and sites. Emerald's web sites will become a showcase for Digital Scholarly Publishing. It will affirm our commitment to easy to use and powerful services that provide discovery and access to content from the world's leading publisher of management research, Content and Service agility.Emerald web and IT teams will strive to produce hardware and software designs and working practices that deliver greater levels of re-use, modularity and a superior return on investment
Community, Strategic Focus : Being an active member in online professional and academic communities always looking to secure advocacy around the world. Building upon solid foundations of social and reputation capital providing the community tools and services that provide context and meaning to original content., CSF, Embedding Emerald in professional and Academic communities. We will provide tools and mechanisms that support and encourage dialogue that foster a greater sense of community and attachment to Emerald's mission of making the world a better managed place., Multi-lateral relationships. Emerald's digital expertise will allow the business to build business and derive revenue from content, context and access services to faculty, library and the student/professional body.
Market knowledge, Strategic Focus: Ensure knowledge about our markets and user behaviours is up-to-date, accurate and informs Emerald's content and service development programme, CSF, A Global presence, with local sensitivity. We will develop a sophisticated understanding of the means by which users prefer to search for and access content around the world and work to deliver access to content from preferred regional engines and social media portals., Working in Partnership. We will seek to work closely with our customers and partners to develop services and access options that improve usage and awareness of Emerald and our partners.
Standards, Strategic Focus : Emerald will observe industry standards in content and access where they exist. Where they do no exist Emerald will strive to adhere to best practice behaviours., CSF, Working in Partnership. We will seek to work closely with our customers and partners to develop services and access options that improve usage and awareness of Emerald and our partners., Content and Service agility.Emerald web and IT teams will strive to produce hardware and software designs and working practices that deliver greater levels of re-use, modularity and a superior return on investment
VFM, Strategic Focus :The creation and management of discovery services that promote usage which continue to demonstrate relevance of Emerald content and value for money to the customer, CSF, All of them
Metrics and Analytics
Inputs
Data Points, Article Level Metrics, Journal Level Metrics, Insitutional Customer behaviours, Individual User behaviour, Site Traffic, Aggregated Search Data, Personal Profile
Outputs
Analysis, Marketing Team, Emerald BI Team, BMs and Sales Force
Intelligence, "People who searched for this, searched for..." functionality, Create automatic and personal recommendations, Informs future and present Marketing campaigns and their effectiveness, Informs Digital Strategy and Channel Investment
New node