Web Vision - Discoverability Work stream
by
Paul Coyne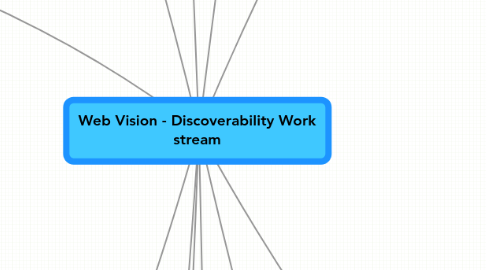 0.0
stars -
0
reviews range from
0
to
5
Web Vision - Discoverability Work stream
People
We need to talk through who's doing what here  
Paul Coyne
Mariam Hassan
Roman Liznercki
Others
Scope
Content Architecture
Content Promotion
Content Consumption
Phase 1 and 2. Content Usage and Marketing
Emerald Web Sites and Portals
Phase 2 : The Emerald Open API
Mobile/Handheld devices
Gadgets and Widgets
Community Sites/Social Media
Google Book and Content Integration
SEO Tactics. Phase 1 Web Vision
Draft SEO Report
Guidelines and Templates to Web Design teams
Search Engine Submissions
Sitemap
Domain Name Management
Domain GeoLocation -
Change Management
Blogs & Teasers farm
Culture and Change
Who/ When
How
What
Standards
Standards?
Semantic. In Scope??
Owner
Digital Channels
Aggregators
eBook Readers
handheld/mobile
Desktop/Laptop PC
Partner Portals/Platform
Library Systems/OPACS
Library Management Systems/Federated search
Virtual Research Environments
Virtual Learning Environments
Strategic Framework
Strategic Generatives. A generative value is a quality or attribute that must be generated, grown, cultivated, nurtured. A generative thing can not be copied, cloned, faked, replicated, counterfeited, or reproduced. It is generated uniquely, in place, over time and in this respect conforms to Porter's model for developing sustainable business strategies and Emerald's stated strategy of Focussed Differentiation
Digital Strategic Framework. In this context, I use the term online strategy to be limited to the development of plans to deploy Emerald's online assets (content) to maximize business results (products and databases) and digital strategy to be the more transformative step of developing into a digital business, where digital connotes deeper interactions with stakeholders (authors, researchers, students, faculty and professionals), more personalised offerings and interactions, data driven decision making, and an organisational models and processes which are more nimble and reactive to changes in the business, technology and industry environment . An Emerald digital strategy should consistent with the Strategic Priorities, is aligned to WV objectives, resources and capabilities and recognises the dynamism of the digital environment in which Emerald participates. The Digital Strategic Framework is underpinned by the Strategic Priorities of the business and provides a coherent decision making scope in order to deliver the unique generative properties described above.
Metrics and Analytics
Inputs
Outputs
New node