INTERNATIONAL BUSINESS IN CHANGING GLOBAL ENVIRONMENT
by Sofía Juárez Morones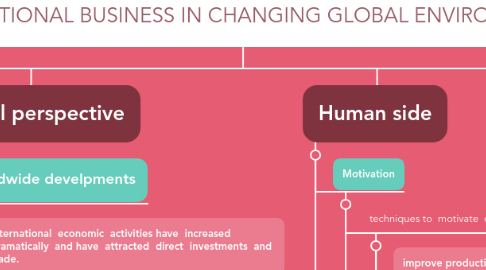 1. Overall perspective
1.1. Worldwide develpments
1.1.1. International economic activities have increased dramatically and have attracted direct investments and trade.
1.1.2. look for new opportunities in the international markets
1.2. Foundations for international business
1.2.1. become a Multinational Corporation
1.2.2. Planning for international assignment
1.2.3. develop a sustainable strategy
1.2.4. increase international competitiveness and economic development
1.3. Cultural Context
1.3.1. Effective adoption of cultural differences.
1.3.2. be aware and be ready to adapt different cultures
2. Main challenges and opportunities
2.1. Ethics
2.1.1. to find a way how to identify and manage ethical problems
2.1.1.1. problems in human resource department
2.1.1.2. conflict of interest.
2.1.1.3. customer relations.
2.1.1.4. problems related to expenses made by employees for private purposes
2.2. Social Resposability
2.2.1. responsible actions to improve work place diversity
2.2.2. community involvement
2.2.3. work family balance
2.2.4. employee empowerment
2.2.5. training
2.2.6. environmental issues
2.3. Future
2.3.1. strategic capabilities to build worldwide efficiency and competitiveness
2.3.2. understand and interpret local markets
2.3.3. to transfer expertise from one unit to another through the use of benchmarking information
2.3.4. cross-pollination among groups
2.3.5. the championing of innovations with worldwide applications
3. Human side
3.1. Communication
3.1.1. as a tool for developing estrategy
3.1.1.1. allows quick response to the worldwide customer needs
3.1.1.2. communication system that allows all segments of the business to interact with each other
3.2. Motivation
3.2.1. techniques to motivate employees
3.2.1.1. improve productivity
3.2.1.2. quality
3.2.1.3. service
3.2.2. It helps
3.2.2.1. to mobilize people to achieve goals
3.2.2.2. gain a positive perspective,
3.2.2.3. easily accept the change
3.2.2.4. manage their own development and help others to develop
3.3. Leadership
3.3.1. skills and abilities to identify
3.3.1.1. new niches
3.3.1.2. new markets
3.3.1.3. new opportunities
4. Sofía Juárez Morones 217465619 Intercultural Communication in Business Teacher Sabrina Nigra