Customer Relations Management -CRM-
by Thomas dunno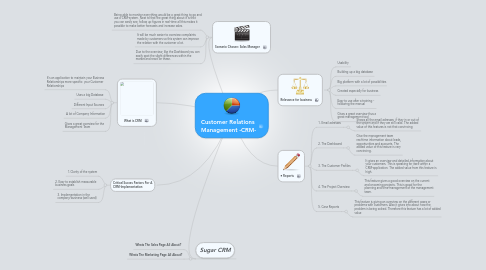 1. What is CRM
1.1. It's an application to maintain your Business Relationships more specific: your Customer Relationships
1.2. Uses a big Database
1.3. Different Input Sources
1.4. A lot of Company Information
1.5. Gives a great overview for the Management Team
2. Relevance for business
2.1. Usability
2.2. Building up a big database
2.3. Big platform with a lot of possibilities
2.4. Created especially for business
2.5. Easy to use after a training - following the manual
2.6. Gives a great overview thus a great management tool
3. Sugar CRM
3.1. Whats The Sales Page All About?
3.2. Whats The Marketing Page All About?
4. 5 Reports
4.1. 1. Email adresses
4.1.1. Shows all the email adresses, if they in or out of the system and if they are still valid. The added value of this features is not that convincing
4.2. 2. The Dashboard
4.2.1. Give the management team real-time information about leads, opportunities and accounts. The added value of this feature is very convincing.
4.3. 3. The Customer Profiles
4.3.1. It gives an overview and detailed information about your customers. This is speaking for itself within a CRM-application. The added value from this feature is high.
4.4. 4. The Project Overview
4.4.1. This feature gives a good overview on the current and oncoming projects. This is good for the planning and time-management of the management team.
4.5. 5. Case Reports
4.5.1. This feature is giving an overview on the different cases or problems with customers. Also it gives info about how the problem is being solved. Therefore this feature has a lot of added value
5. Critical Succes Factors For A CRM-Implementation
5.1. 1.Clarity of the system
5.2. 2. Easy to establish measurable business goals
5.3. 3. Implementation in the company/business (well used)
6. Scenario Chosen: Sales Manager
6.1. Being able to monitor everything would be a great thing to go and use a CRM-system. Next to that the great thing about it is that you can easily see, follow up figures in real-time all this makes it possible to make better forecasts and increase sales.
6.2. It will be much easier to overview complaints made by customers so this system can improve the relation with the customer a lot.
6.3. Due to the overview, like the Dashboard you can easily spot the slight differences within the market and react on these.