7/2
by Sugiura Erika09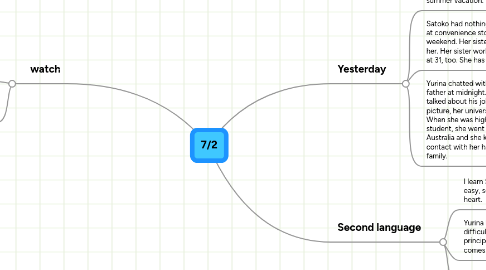 1. Yesterday
1.1. I went to drug store to buy shampoo and so on because I will go to England during summer vacation.
1.2. Satoko had nothing special, but she worked at convenience store about 5 hours last weekend. Her sister works more time than her. Her sister works at 31. My friend works at 31, too. She has strong arms.
1.3. Yurina chatted with her host father at midnight. They talked about his job, her picture, her university life. When she was high school student, she went to Australia and she keeps contact with her host family.
2. watch
2.1. My mother bought this watch for me when I entered this university. My old boyfriend gave me watch of WICCA, but I don't want to use this watch now.
2.2. Yurina has WICCA of CITIZEN same maker's watch as mine.
3. Second language
3.1. I learn Spanish. Spanish pronunciation is easy, so it is easy to learn many words by heart.
3.2. Yurina learns French. French pronunciation is very difficult. She learned Italian in her high school. Her principal comes from Germany and her school's sister comes from Italy.
3.3. Satoko learns Portuguese.