CONGRATULATION & COMPLIMENTING
by Alfin Gaming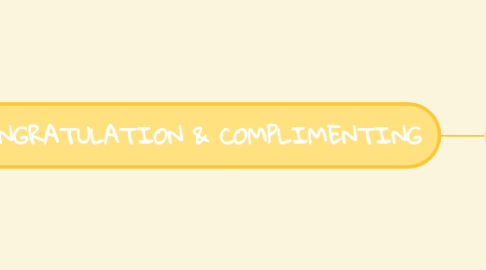 1. COMPLIMENTING
1.1. English
1.1.1. DEFINITION Complimenting is an expression to appressed or price other people it useful to make someone keep on doing their best are to improve
1.1.2. FUNCTION to give compliment to someone at other people so that someone or other people feel happy to give encouragement to someone or other people
1.1.3. EXPRESSION 1. What a nice dress! 2. You look great. 3. You look very nice/beautiful/handsome. 4. I really must express my admiration for your dance. 5. Good grades! 6. Excellent! 7. Nice work! 8. Terrific. 9. I would like compliment you on … 10. I think your (hair) is very nice. 11.. I just love your (dress). 12. The (chicken) is very delicious. 13. I really like your (skirt). 14. This (cheese) is super. 15. That's neat. 16. That's nice. 17. That's not bad. 18. Pretty good.
1.1.4. RESPON 1.Thank you 2.Thank you very much 3. Well thats very nice of you. Thanks 4. Thanks for compliment 5. Thanks for the nice comment 6. I am glad you you notice 7. I really appreciate that. 8. That means a lot coming from you. 9. You think so? Thank you 10. I'm flattered with your compliment.
1.2. Indonesia
1.2.1. DEFINISI komplement adalah ungkapan untuk menilai atau menghargai orang lain berguna untuk membuat seseorang terus melakukan yang terbaik adalah untuk meningkatkan
1.2.1.1. FUNGSI untuk memberikan pujian kepada seseorang pada orang lain sehingga seseorang atau orang lain merasa senang untuk memberikan dorongan kepada seseorang atau orang lain
1.2.2. RESPON 1.Terima kasih 2.Terima kasih banyak 3. Baik itu sangat baik dari Anda. terima kasih 4. Terima kasih atas pujiannya 5. Terima kasih atas komentar yang bagus 6. Saya senang Anda memperhatikannya 7. Saya sangat menghargai itu. 8. Itu berarti banyak yang datang dari Anda. 9. Menurutmu begitu? Terima kasih 10. Saya tersanjung dengan pujian Anda.
1.2.2.1. EKSPRESI 1. Apa gaun yang bagus! 2. Kau terlihat hebat. 3. Anda terlihat sangat baik/cantik/tampan. 4. Saya benar-benar harus mengungkapkan kekaguman saya untuk tarian Anda. 5. Nilai bagus! 6. Bagus sekali! 7. Kerja bagus! 8. Hebat. 9. Saya ingin memuji Anda di… 10. Saya pikir (rambut) Anda sangat bagus. 11. Saya hanya menyukai (pakaian) Anda. 12. (Ayam) sangat enak. 13. Saya sangat suka (rok) Anda. 14. Ini (keju) super. 15. Itu rapi. 16. Itu bagus. 17. Itu tidak terlalu buruk. 18. Cukup bagus.
2. CONGRATULATION
2.1. English
2.1.1. DEFINITION congratulations is one of the expressions used when you want to say success or good moments to others
2.1.2. FUNCTION untuk memelihara dan menjalin hubungan interpersonal yang baik antara dan orang dengan orang lain
2.1.3. EXPRESSIONS 1. Congratulation on your success. 2. You did very well. 3. May I congratulate you on... 4. Congratulation on your achievements. 5. I'd like to congratulate you... 6. Congratulation for you. 7. Let me congratulate you.
2.1.4. RESPONSE 1.Thank you 2.Thank you very much 3.Well thats very nice of you. Thanks 4.Thanks! I'm so happy to hear that. 5.Thank you, I really appreciate it.
2.2. Indonesia
2.2.1. EKSPRESI 1.Selamat atas keberhasilanmu. 2. Kamu melakukannya dengan sangat baik. 3. Biarkan aku mengucapkan selamat atas... 4. Selamat atas pencapaianmu. 5. Aku ingin mengucapkan selamat kepadamu. 6. Selamat untukmu 7. Biarkan aku mengucapkan selamat kepada kamu.
2.2.2. RESPON 1.Terima kasih 2.Terima kasih banyak 3.Anda baik sekali. Terima kasih 4.Terima kasih! Saya sangat senang mendengarnya. 5.
2.2.3. FUNGSI Untuk memelihara dan menjalin hubungan interpersonal yang baik antara dan orang dengan orang lain
2.2.4. DEFINISI congratulations merupakan salah satu ekspresi yang di gunakan ketika ingin mengucapkan keberhasilan atau momen baik pada orang lain