Hunger and the Social Change Model of Leadership
by Ellie Perrin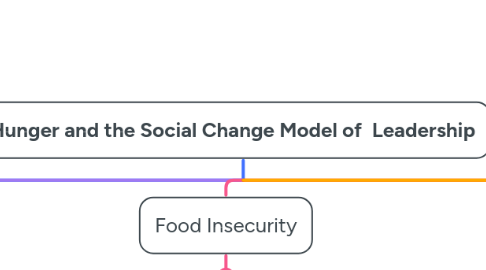 1. Environmental Racism
1.1. How The Environmental Justice Movement is gathering momentum in South Africa (Cock 2015)
1.1.1. "the right of all.. to live in an environment that is not harmful to health or wellbeing". (as cited in Cock 2015, para. 10)
1.1.2. "Most black South Africans continue to live on the most damaged land, in the most polluted neighborhoods near coal fired power stations, steel mills, incinerators and waste sites. Many are without access to clean air, water and services."(Cock 2015)
1.1.2.1. Through these two articles one can see that the land suitable for housing and agriculture in South Africa cannot possibly contain the growing population. These two factors greatly contribute to the hunger and housing crises in South Africa, and how their overpopulation is handled.
1.1.3. "The concept of environmental justice provides a radical alternative to the discourse of conservation, questioning the market's ability to bring about social or environmental sustainability…affirms the value of all forms of life against the interests of the rich and powerful." (Cock 2015)
1.2. Environmental Racism in South Africa: A Sustainable Green Solution (Darmofal 2012)
1.2.1. "Bantustans and townships still exist with minimal improvements… even worse off are the informal settlements, which are vast and expanding… fall below the radar of governmental aid and support because they are not legal dwellings." (Darmofal 2012, p 20.)
1.2.2. "stories of NGOs rebuilding and renovating houses in the area for certain families. Afterwards, those families were robbed and harassed because of their visible increase in wealth; leaving them feeling afraid and insecure in their own homes." (Darmofal 2012, p 22)
1.2.2.1. These two stories conflict, because even though one shows the necessity of government incentives towards environmentally sustainable solutions, this quote shows the other side of how those incentives and solutions can affect a family and community. This quote describes how certain families were outcasted and robbed in their communities after they were incentivized for the sake of environmental sustainability. This does not suggest that said communities were against the proposed solutions in this context, but it shows the negative side to governmental support.
1.2.3. "In order for the country to reach its full economic potential and ensure that all people are treated fairly and with equality, the country must assist its most vulnerable in a sustainable manner."(Darfomal 2012, p 28)
2. Sustainability
2.1. Considerations for the design of nutrition sensitive production programs in rural South Africa (Hendriks, 2020)
2.1.1. "...food-based and agricultural strategies targeted at food insecure populations do not significantly improve the macronutrient (energy, carbohydrate, protein and fat) intakes of nutritionally at-risk individuals - an essential element to overcoming chronic food insecurity," (Hendriks, 2020, pp 3).
2.1.1.1. There are differences between the lack nutrition dense food and food insecurity that the government must discern.
2.1.2. "Maize was reportedly produced at two school gardens in Ingquza Hill. Dry beans, carrots, maize, onions, potatoes, pumpkin, Swiss chard and sugar beans were produced in home gardens in Ingquza Hill," (Hendriks, 2020, pp 9).
2.1.3. "Over half (55%) of irrigating households consumed foods from eight or more food groups in summer and 42% consumed these foods in winter," Hendriks, 2020, pp 12).
2.2. A Qualitative analysis of the Commercial Broiler System, and the Links to Consumers' Nutrition and Health, and to Environmental Sustainability: A South African Case Study (Queenan, 2021)
2.2.1. "Only 11% of South Africa's land area is suitable for cropping, and 3% is used for cereal production (for human and livestock consumption), most of which is rainfall dependent and vulnerable to climate change," (Queenan, 2021, pp 2).
2.2.2. "...whole-system or One Health lens, which spotlights the links between animal health, productivity and food safety, with environmental sustainability and ecosystem health, and with human health and nutrition," (Queenan, 2021, pp 10).
2.2.3. "In the absence of substantial consumer driven demand for environmental sustainability, government incentives and support will be key in policies aimed at hitting the environmental targets of SDG 2," (Queenan, 2021, pp 10).
2.3. Urban Informal Food Traders: A Rapid Qualitative Study of COVID-19 Lockdown Measures in South Africa (Rwafa-Ponela, 2022)
2.3.1. "...food insecurity among the South African population increased from 4.3% to 7% during the initial lockdown period" (Rwafa-Ponela, 2022, pp 2).
2.3.1.1. These two sources focus on the rise in food insecurity resulting from the pandemics; however, the measure different degrees of this increase. This variation in data could be due to the part of South Africa that it was pulled from. Under developed parts of South Africa are more likely to experience greater increases in food insecurity than well developed areas.
2.3.2. "Solutions to achieve sustainable food systems have mainly been developed in high-income countries, where food systems are industrialized and formal, as opposed to lower and middle-income settings' food systems, which tend to be organized informally" (Rwafa-Ponela, 2022, pp 2).
2.3.2.1. Sustainable practices are mostly based upon a fund that starts the entire production. If one is discriminated against in South Africa, they are usually in a poor area. The cycle will keep continuing if there is no funding to the discriminated, poor areas. They will not be able to keep themselves afloat in regards to food and starvation. They will not be able to practice sustainability if there is nothing to start off of.
2.3.3. "...lockdown orders disrupted the sustainability of informal food traders' operations. This was further compounded by a lack of government support for informal traders. Regulations like prohibition of onsite consumption had implications on utilization for informal food traders" (Rwafa-Ponela, 2022, pp 12).
2.3.3.1. Due to COVID-19, South Africa experienced an increase in hunger and damage to sustainable food practices. Citizens who had their main income as selling and trading goods was sustainable, until COVID-19. Many were scared of the virus and even scared to go outside to work, trade, sell or buy food.
3. Food Insecurity
3.1. Implications of COVID-19 labor market shock for child and household hunger in South Africa: Do Social protection programs protect? (Gelo D, Dikgang J, 2022)
3.1.1. "...compared with households housing employed respondents, households with respondents who lost their jobs due to COVID-19 lockdown were 11.2% more likely to report child hunger and 23% more likely to report household hunger in the past seven days" (Gelo D, Dikgang J, 2022, pp.7-8)
3.1.2. "A receipt of child support grant reduces the likelihood of reporting child hunger and household hunger by 21.7%... A receipt of old age pension grants reduced the likelihood of reporting household hunger by 24%" (Gelo D, Dikgang J, 2022, pp.1-2)
3.1.2.1. While the ages of people experiencing some sort of hunger are completely different, this same grant could possibly reduce hunger in these college students by a significant amount as well.
3.1.2.2. Monetary Grants seem to be more effective than agricultural expansions at attacking food insecurity.
3.1.3. "...millions of [South Africa's] people were already living below the national poverty line and inequality is the highest in the world" (Gelo D, Dikgang J, 2022, p.3).
3.1.3.1. "inequality in labor income is likely to exacerbate inequalities in food security" (Gelo D, Dikgang J, 2022, p. 3)
3.1.3.1.1. The power and influence of one's role in the work force impacted how COVID-19 changed employment and therefore the experience of food insecurity.
3.2. The Perpetual Uncertainty of Civil Society: Case Study of an Anti-Hunger Organization in South Africa (Warshawsky, 2015)
3.2.1. "...since donors often believe government is the purveyor of welfare programs and supplemental [Civil Society Organizations (CSOs)] like [Operation Hunger (OH)] which fill gaps in state services are simply redundant or competing with these services" (Warshawsky, 2015, p. 100).
3.2.1.1. "... the degrading of CSOs is key to reinforcing the state's legitimacy as the key service provider" (Warshawsky, 2015, p.102).
3.2.1.1.1. In South Africa, there is beginning to be a shift of what lives are deemed valuable from the rich to the majority of South Africans. This change would open the possibility for a nonhierarchial leadership model, which would more effectivly address the issue of hunger.
3.2.2. "When [donors] cannot see any change, they do not really want to continue funding" (Warshawsky, 2015, p. 101).
3.2.2.1. "...funders often want to see the outcomes immediately with measurable results, even though projects are often tied to multiple issues…" (Warshawsky, 2015, p. 101).
3.2.2.1.1. Many companies want to see monetary benefits rather than the long term increase in food security and betterment of South Africa's people.
3.2.3. "South African democratization may have simultaneously produced new opportunities for some CSOs, yet reinforced unequal power relations for other CSOs and thus provided a highly polarized CSO landscape" (Warshawsky, 2015, p. 104).
4. African Hunger Demographic
4.1. Three decades of fighting *against * hunger in Africa: Progress, challenges and opportunities (Otekunrin, Otekunrin, Sawicka, and Ayinde, 2020)
4.1.1. Table 2 states that South Africa's Global Hunger Index score is the 5th lowest in Africa and the 59th lowest in the world. (Otekunrin, Otekunrin, Sawicka, and Ayinde, 2020, p.91)
4.1.1.1. South Africa's Global Health Index score contradicts the large worry placed onto the country's ability to feed its citizens. It's possible that South Africa's world image is not supported by data.
4.1.2. Figure 4 shows that since 1990, Child Mortality Rate in Africa has decreased by roughly 10%. ((Otekunrin, Otekunrin, Sawicka, and Ayinde, 2020, p.98)
4.1.2.1. Once again, the data expressed in this research goes against the data about COVID-19's effect on food insecurity in South Africa, both taken around the time of the pandemic. This provokes a concern about the true severity of hunger in South Africa. Is hunger as a big issue as it has been in years past?
4.1.3. Table 4 shows that as a whole, the South African region as a whole has the least amount of people who have some level of food insecurity using data from 2018. ((Otekunrin, Otekunrin, Sawicka, and Ayinde, 2020, p.99)
4.2. Exploring the Relationship between Food Insecurity with Hunger and Academic Progression at a Large South African University (Wagner, Kaneli and Masango, 2021)
4.2.1. Table 2 states that at a large South African university 73.2% of students have some level of food insecurity. (Wagner, Kaneli and Masango, 2021, p.6)
4.2.2. "The area which the student is from, including the location and socio-economic status of their communities, has been shown to be a risk factor, with students from some provinces (e.g., Gauteng) and areas (e.g., upmarket areas such as Suburbs and Cities) thought to have a higher likelihood of success (Hundermark 2018)." (Wagner, Kaneli and Masango, 2021, p.11)
4.2.2.1. Socio-economic status plays an important role in determining the extent that food insecurity affects South Africans.
4.2.3. "In the current study, the multivariate analysis revealed that students experiencing little to no hunger were almost twice as likely to progress to the next year of study when compared to those experiencing food insecurity with hunger" (Wagner, Kaneli and Masango, 2021, p.11)
5. Trade and Exports from Africa
5.1. A historical perspective on South Africa's trading and investment profile with Africa in recent years (Sandry, 2015)
5.1.1. "South African agricultural exports new data shows that Africa is significantly more important than the EU as a destination, while the aggregate BRICs (Brazil, Russia, India and China) are more important than the first single destinations of Hong Kong, United Arab Emirates and the United States of America"(Sandry, 2015)
5.1.2. "Africa accounted for some 40% to 50% of South Africa's exports of manufactured goods in 2013, with the close neighbours the most important destinations. General and electrical machinery and vehicles are the main exports. South Africa also dominates intra-Southern African Development Community (SADC) merchandise trade." (Sandry, 2015)
5.1.3. "South Africa exported R105.5 billion worth of agricultural exports in 2014, which constitutes 10.8% of the country's overall total exports for the year" (Sandry, 2015)
5.1.3.1. The contrast between the heavy amount of agricultural exports and the lack of food security provokes the question of if the money gained from exports outweighs the probable benefits of providing more food to South Africans.
5.2. South Africa Attempts to Control Foot and Mouth Disease Outbreaks (USDA, 2022)
5.2.1. "On April 11, the Minister of Agriculture, Land Reform and Rural Development announced that the country is battling 56 outbreak cases of the Foot and Mouth Disease (FMD) involving farms and ommunal areas in the Free State, KwaZulu-Natal, Limpopo, North West and Gauteng"(USDA, 2022, p.1)
5.2.1.1. South Africa's reliance on cattle is to its detriment in both the realms of food security and agricultural diversity. Farmers need to be able to bring in a more diverse crop load in order to build a more stable agricultural market.
5.2.2. "Following the loss of the OIE recognized FMD-free status in January 2019, the Department of Agriculture, Land Reform and Rural Development (DALRRD) negotiated agreements with trading partners on the export of safe commodities" (USDA, 2022, p.1)
5.2.3. "Although these agreements allowed for a trade continuation, China and Mozambique have implemented trade restrictions."(USDA, 2022, p.2)
5.3. Protest Divestment and the End of Apartheid (Gethard, 2022)
5.3.1. "Protest divestment is a form of dissent in which stockholders intentionally sell their assets from a corporation to enact social change. By selling off stocks, protesters hope to influence corporations against performing some aspect of their business."(Gethard, 2022)
5.3.1.1. While the bonds of apartheid have been lifted legally, its shadow still looms upon the nation of South Africa. With many minorities still living in monoethnic communities which are plagued with economic inequality. This brings an inconsistency in the realm of the ANC's credibility, for despite changes being made at the governmental level, the country is still effected at the social level.
5.3.2. "From 1985 to 1990, over 200 U.S. companies cut all ties with South Africa, resulting in a loss of $1 billion in direct American investment."(Gethard, 2022)
5.3.3. "members of the college-based anti-apartheid movement thought of a more practical way to enact change by pressuring their universities to divest stocks of companies doing business in the country"(Gethard, 2022)