Whither American Way of Life
by
Benny Chin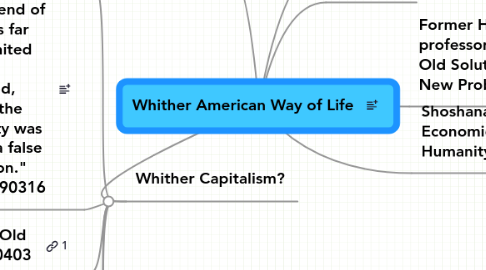 0.0
stars -
0
reviews range from
0
to
5
Whither American Way of Life
1984年,美國總統列根歴史性訪華,期間在上海復旦大學演講,高調宣揚 American Way of Life--那是美國人老實地相信「美式生活」的年代!其後,89年柏林圍牆倒塌,兩年後前蘇聯解體,國際間,是友是敵,已接受了美式生活爲美國國力的代表。 有誰想到,廿五年後的今天,再三宣告美式生活徹底破產的聲音,不是來自被前布殊政府圈定的「邪惡軸心」國家,而是一眾歐美各界領袖: Jack Welch, 前奇異公司(General Electric)董事長兼總裁, "father of the shareholder value movement": "shareholder value is the dumbest idea in the world" 著名貨幣投機家索羅斯:"It's the end of an era, as far as the United States is concerned, because the prosperity was built on a false foundation." 英國首相白高敦:"Old Washington Consensus is over." 美國前副總統戈爾: We Need Sustainable Capitalism 其中最誇張的,是美國著名新聞從業員,The World is Flat 作者佛里曼,在他的一篇【紐約時報】專欄文章,竟把去年觸發美國房地產泡沫的次貸危機,與美國世紀大騙子 Madoff 的「龐氏騙局」運作方式,相提並論! 剛讀到最新一期 Business Week 的一篇文章,由前美國哈佛商學院教授 Shoshana Zuboff 所撰寫,內容之震撼,與上述言論不遑多讓,指稱哈佛昔日之管理課程,今天不單經已過時,更是引發目前金融及經濟危機的重要原因;另一方面,文章也就適切未來世界轉變的管理,提出了一些前瞻性的觀點。 茲將上述這些言論,在附上之 Concept Map 一併列出,以供參考。
Former Harvard Business School professor Shoshana Zuboff, author of The Support Economy: Why Corporations Are Failing Individuals and the Next Episode of Capitalism, writes in this Business Week article on the changes that are coming in corporations. She starts by admitting that the whole professional class of business analysts were wrong: "I have come to believe that much of what my colleagues and I taught has caused real suffering, suppressed wealth creation, destabilized the world economy, and accelerated the demise of the 20th century capitalism in which the U.S. played the leading role. We weren't stupid and we weren't evil. Nevertheless we managed to produce a generation of managers and business professionals that is deeply mistrusted and despised by a majority of people in our society and around the world. This is a terrible failure....   This failure has contributed to the decline of American business, to the point that companies have had a hard time creating enough wealth to sustain prosperity for an ever-wider circle of consumers and employees. Margins have shrunk steadily for 40 years; return on sales for the Fortune 500 has been declining since the early 1960s. Many companies reacted to this decline by finding new ways to cut costs. The Harvard Business School, along with other business schools, taught them how: outsourcing, off-shoring, downsizing, reengineering, and finding new overseas markets for old products. Under the flag of "shareholder value," (a concept honed by HBS faculty and glorified in many of our courses), firms also turned to "financialization," another specialty of the curriculum. Since the 1980s, goods-producing firms have made more of their revenue and profits from finance than from selling their products." What is needed, she says, is a set of "new rules for a new era." These rules include: New Rule No. 1: Race to I-Space New Rule No. 2: Advocate, Don't Alienate New Rule No. 3: Collaborate and Federate to Compete
Whither Capitalism?
Welch condemns share price focus By Francesco Guerrera in New York Published: March 12 2009 (Excerpt) Jack Welch, who is regarded as the father of the "shareholder value" movement that has dominated the corporate world for more than 20 years, has said it was "a dumb idea" for executives to focus so heavily on quarterly profits and share price gains. "On the face of it, shareholder value is the dumbest idea in the world," he said. "Shareholder value is a result, not a strategy . . . Your main constituencies are your employees, your customers and your products." Mr Welch spoke before Thursday's news that GE, which he left in 2001, had lost its triple A rating from Standard & Poor's. His comments, made in an interview for the FT's series on the future of capitalism, come as the economic crisis has caused a radical rethinking by many leading executives and policymakers. The Financial Times Limited 2009
2009-03-16 Caijing "It's the end of an era, as far as the United States is concerned, because the prosperity was built on a false foundation." – George Soros Full Article in Chinese: http://magazine.caijing.com.cn/2009-03-15/110120995.html "一个时代已经结束了"——专访索罗斯 本文见《财经》杂志 2009年第6期 出版日期2009年03月16日
We Need Sustainable Capitalism Nature does not do bailouts. By AL GORE and DAVID BLOOD AP (Excerpt) The financial crisis has reinforced our view that sustainable development will be the primary driver of economic and industrial change over the next 25 years. As a result, old patterns and assumptions are now being re-examined in an effort to find new ways to use the strengths of capitalism to address this reality. Indeed, at the Harvard Business School Centennial Global Business Summit held earlier this month, the future of market capitalism was one of the principal themes discussed. ..... Indeed, the past year, and certainly the past two months, has reinforced our view on sustainability. While certainly not a complete list, the causes of the current financial crisis include: short-termism (including but not limited to increased leverage), poor governance and regulation, misaligned compensation and incentive systems, lack of transparency, and in some firms, poor leadership and a dysfunctional business culture. ..... The Keynesian system of "national accounts," which still serves as the backbone for determining today's gross domestic product, is incomplete in its assessment of value. Principally established in the 1930s, this system is precise in its ability to account for capital goods, but dangerously imprecise in its ability to account for natural and human resources. Business -- and by extension the capital markets -- need to change. We are too focused on the short term: quarterly earnings, instant opinion polls, rampant consumerism and living beyond our means.... At this moment, we are faced with the convergence of three interrelated crises: economic recession, energy insecurity and the overarching climate crisis. Solving any one of these challenges requires addressing all three....
Excerpt: I have no sympathy for Madoff. But the fact is, his alleged Ponzi scheme was only slightly more outrageous than the "legal" scheme that Wall Street was running, fueled by cheap credit, low standards and high greed. What do you call giving a worker who makes only $14,000 a year a nothing-down and nothing-to-pay-for-two-years mortgage to buy a $750,000 home, and then bundling that mortgage with 100 others into bonds — which Moody's or Standard & Poors rate AAA — and then selling them to banks and pension funds the world over? That is what our financial industry was doing. If that isn't a pyramid scheme, what is?   --Thomas Friedman: "The Great Unraveling", New York Time, Dec. 16, 2008  
  Excerpt: Let's today step out of the normal boundaries of analysis of our economic crisis and ask a radical question: What if the crisis of 2008 represents something much more fundamental than a deep recession? What if it's telling us that the whole growth model we created over the last 50 years is simply unsustainable economically and ecologically and that 2008 was when we hit the wall — when Mother Nature and the market both said: "No more."
Videos