Modern Apps -- 01 -- AWS Cloud Computing
by Dwi Fahni Denni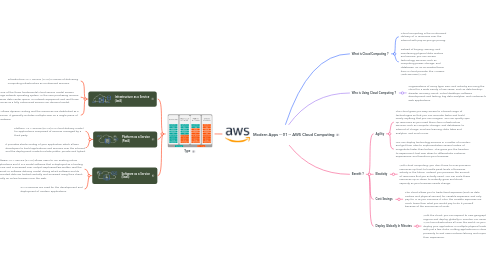 1. Type
1.1. Infrastructure as a Service (IaaS)
1.1.1. Infrastructure As A Service (IAAS) is means of delivering computing infrastructure as on-demand services.
1.1.2. It is one of the three fundamental cloud service model servers storage network operating system. In the user purchasing servers, software data center space, or network equipment and rent those resources as a fully outsourced service can demand model.
1.1.3. It allows dynamic scaling and the resources are distributed as a service. It generally includes multiple-user on a single piece of hardware.
1.2. Platform as a Service (PaaS)
1.2.1. Platform As A Service (PAAS) is a cloud delivery model for applications composed of services managed by a third party.
1.2.2. It provides elastic scaling of your application which allows developers to build applications and services over the internet and the deployment models include public, private and hybrid.
1.3. Software as a Service (SaaS)
1.3.1. Software As A Service (SAAS) allows users to run existing online applications and it is a model software that is deployed as a hosting service and is accessed over Output Rephrased/Re-written Text the internet or software delivery model during which software and its associated data are hosted centrally and accessed using their client, usually an online browser over the web.
1.3.2. SAAS services are used for the development and deployment of modern applications.
2. What is Cloud Computing ?
2.1. Cloud computing is the on-demand delivery of IT resources over the Internet with pay-as-you-go pricing.
2.2. Instead of buying, owning, and maintaining physical data centers and servers, you can access technology services, such as computing power, storage, and databases, on an as-needed basis from a cloud provider like Amazon Web Services (AWS).
3. Who is Using Cloud Computing ?
3.1. Organizations of every type, size, and industry are using the cloud for a wide variety of use cases, such as data backup, disaster recovery, email, virtual desktops, software development and testing, big data analytics, and customer-facing web applications.
4. Benefit ?
4.1. **Agility**
4.1.1. The cloud gives you easy access to a broad range of technologies so that you can innovate faster and build nearly anything that you can imagine. You can quickly spin up resources as you need them–from infrastructure services, such as compute, storage, and databases, to Internet of Things, machine learning, data lakes and analytics, and much more.
4.1.2. You can deploy technology services in a matter of minutes, and get from idea to implementation several orders of magnitude faster than before. This gives you the freedom to experiment, test new ideas to differentiate customer experiences, and transform your business.
4.2. **Elasticity**
4.2.1. With cloud computing, you don't have to over-provision resources up front to handle peak levels of business activity in the future. Instead, you provision the amount of resources that you actually need. You can scale these resources up or down to instantly grow and shrink capacity as your business needs change.
4.3. Cost Savings
4.3.1. The cloud allows you to trade fixed expenses (such as data centers and physical servers) for variable expenses, and only pay for IT as you consume it. Plus, the variable expenses are much lower than what you would pay to do it yourself because of the economies of scale.
4.4. Deploy Globally In Minutes
4.4.1. With the cloud, you can expand to new geographic regions and deploy globally in minutes. For example, AWS has infrastructure all over the world, so you can deploy your application in multiple physical locations with just a few clicks. Putting applications in closer proximity to end users reduces latency and improves their experience.