How To Collaborate to Compete - Marketing Plan
by Teach JIM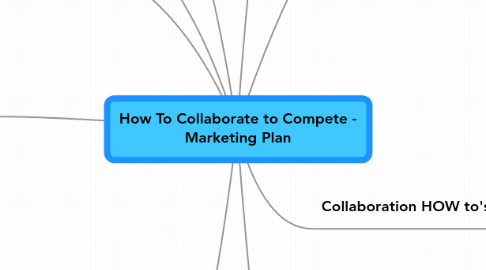 1. Purpose
1.1. Provide powerful and meaningful product to online business owners
1.2. Experience 1st Hand a Collaborative Creation by DOING one! Document the process put it in the product.
1.3. Create Mindset Paradigm from scarcity to abundance in marketplace.
2. Promote
2.1. Place
3. Pain
3.1. Stuck
3.2. Overwhelmed
3.3. Misdirected
3.4. Feeling alone
3.5. Too much work to do
4. Proposal
4.1. Create a Product Together
4.2. How to Collaborate to be Competative
4.3. Media: Video Series
4.4. Treatment: Shots of Lonely Souls at screens alone Frustrated until...
5. People
5.1. learning online Business
5.2. feeling alone in the process
5.3. Wondering if there is a better way
5.4. Finding it harder and harder to take action on yet another "must" do activity.
6. Product
6.1. Collaboration Simplified (24 hour Product)
6.1.1. Intro
6.1.1.1. 72 Hours - Contact to Creation
6.1.2. Connecting
6.1.2.1. Contact
6.1.2.2. Conversation
6.1.2.3. Connection
6.1.2.4. Communication
6.1.3. Concurring
6.1.3.1. Commitment
6.1.3.2. Challenge
6.1.3.3. Comence
6.1.4. Constructing
6.1.4.1. Project
6.1.4.2. Plan
6.1.4.3. Prepare
6.1.4.4. Perform
6.1.4.5. Produce
6.1.4.6. Publish
6.1.5. Conclusion
6.1.5.1. Choices
6.1.5.2. Mindshare
6.1.5.3. New node
7. Production Process
7.1. Contact
7.1.1. Online in conversation
7.2. Meet
7.2.1. Skype call
7.3. Agree
7.3.1. Tentative Go For It
7.4. Workspace
7.4.1. Collaborative Tool
7.5. Meet2
7.5.1. Confirm a go
7.5.2. Solicify commitments
7.5.3. End Results Contract/Agreement
7.6. Commence
8. Produce Product
9. Collaboration HOW to's
9.1. Mastermind
9.2. BrainStorm
9.2.1. See Talents Unlimited
9.2.1.1. Productive Thinking
9.2.1.1.1. Many
9.2.1.1.2. Varied
9.2.1.1.3. Unusual
9.2.1.2. Forecasting
9.2.1.2.1. Cause
9.2.1.2.2. Effect
9.2.1.3. Decision-Making
9.2.1.3.1. Choices
9.2.1.3.2. Weigh Alternatives
9.2.1.3.3. Judgement
9.2.1.3.4. Justification
9.2.1.4. Planning
9.2.1.4.1. Tasks
9.2.1.4.2. Resources
9.2.1.4.3. Sequence
9.2.1.4.4. Potential Problems
9.2.1.5. Communication
9.3. Tools
9.3.1. MindMapping
9.3.2. Document Sharing
9.3.2.1. Entri
9.3.2.2. GoogleDocs
9.3.2.3. ZOHO Office
9.3.3. Communication
9.3.3.1. Skype
9.3.3.2. Presentations
9.3.3.2.1. GoToMeeting
9.3.3.2.2. WebEx
9.3.3.2.3. DimDim
9.3.3.2.4. Instant Presenter
9.3.3.3. Meetings
9.3.3.3.1. Yugma
9.3.3.3.2. openmeetings
9.4. Project Management
9.4.1. Project Scope
9.4.2. Project Data Sheet
9.4.3. Task Management
9.4.4. Risk Mitigation
9.5. Accountability
9.6. Interaction Strategies
9.6.1. Coordination
9.6.2. Cooperation
9.6.3. Collaboration
9.6.4. CoCreation
9.7. Productivity Patterns
9.7.1. Think Pair Share
9.7.2. Jigsaw
9.7.3. See Cooperative Learning
9.8. Syndication