Q1&Q2语料的收集
by
Kate Huang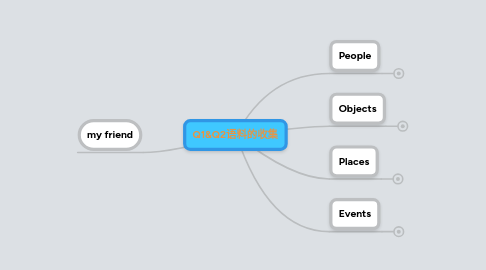 0.0
stars - reviews range from
0
to
5
Q1&Q2语料的收集
People
1.Who do you admire?
2. Discuss who does what in their families.
3. Six people talk about who they take after in their family.
4.Explains what he thinks makes a good student, friend, parent, and boss.
5.Roomates
6.Judge a person
7. Make friends
8.Six people talk about who they hang out with when they have free time.
9.A good neighbor
Objects
Movies
Music
Books
Sports
Clothes
Technology
Pets
Foods
Games
Essential Stuff
Arts
Places
1.Todd talks about his favorite place to hang out, a park near his house and why he likes it so much.
2.Who do you hang out with?
3.Fun for the visitors
4.My recommendations for my city.
5.Best Place to Live
6.Descriptions of places around town and places people visit.
7.Discusses what she needs to do with her room.
8.Where do you like to eat?
Events
Travel
Work
Leisure
Holiday
Health
Environment
Education
Government
my friend