FOUNDATIONS OF EDUCATIONAL THEORY FOR ONLINE LEARNING
by Kathy Baldwin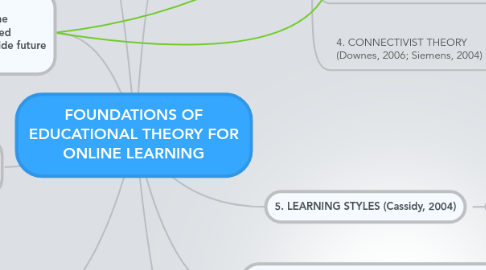 1. Schools of Learning
1.1. 1. BEHAVIORIST THEORY Thorndike (1913), Pavlov (1927), Skinner (1974)
1.1.1. change in observable behaviour cased by external stimuli in the environment, indicates whether or not the learner has leaned something
1.1.1.1. Behaviorists' strategies can be used to teach the "what" (facts)
1.1.1.1.1. The behaviorist school sees the mind as a black box, in the sense that a response to a stimulus can be ovserved quantitatively, thereby ignoring the effect of thought processes occurring in the mind. This school, therefore, looks at overt behavious that can be ovserved and measured as indicatiors of learning (Good & Brophy, 1990).
1.2. 2. COGNITIVE THEORY (Craik & Lockhart, 1972; Craik &Tulving, 1975), (Ausubel, 1974)
1.2.1. learning involves the use of memory, motivation, and thinking, and that reflection
1.2.1.1. Cognitive therorists see learning as an internal process and the learner's exisitng knowledge structure
1.2.1.1.1. cognitive strategies can be used to teach the "how" (processes and principles)
1.3. 3. CONSTUCTIVIST THEORY (Cooper, 1993; Wilson, 1997)
1.3.1. learners interpret the information and the world according to their personal reality, that they learn by lbservation, processing, and interpretation, and then personalize the information into personal knowledge
1.3.1.1. learners learn best when they can contextualize what they learn for immediate application and personal meaning
1.3.1.1.1. constructivist strategies can be used to teach the "why" (higher-level thinking that promotes personal meaning, and situated and contextual learning)
1.4. 4. CONNECTIVIST THEORY (Downes, 2006; Siemens, 2004)
1.4.1. the integration of principles explored by chaos, network, complexity and self-organization theories
2. 5. LEARNING STYLES (Cassidy, 2004)
2.1. 6. COGNITIVE STYLES (Witkin, Moore, Goodenough, & Cox, 1977)
2.1.1. refers to a learner's preferred way of processing information; the person's typical mode of thinking, remembering, or problem solving
2.2. how a learner perceives, interacts with, and responds to the learning environment; it measures individual differences
3. 7. DUAL-CODED THEORY (Paivio, 1986) information received in different modes (textual and visual) will be processed better than that presented in a single mode (text).
4. 8. MOTIVATIONAL THEORY
4.1. instrinsic motivation (driven from within the learner) (Malone, 1981)
4.2. extrinsic motivation (instructor- and performance-driven)
4.2.1. 9. Keller's ARCS MODEL (Attention, Relevance, Confidence, Satisfaction) (Keller, 1983; Keller & Suzuki, 1988) for motivating learners
5. 10. METACOGNITION (Mayer, 1998; Sternberg, 1998; Yorke & Knight, 2004) learner's ability to be awareof his or her cognitive capabilities and use these capabilities to learn
6. 11. SITUATED LEARNING - real-life cases, assist the learners to develop personal meaning and contextualize the information.
7. 12. TRANSFORMATIVE LEARNING (Mezirow, 1991) uses both constructivism and cognitivism to explain how people learns, " the process of using a prior interpretation to construe a new or revised interpretation of the meaning of one's experience in order to guide future action"
8. 13. INTERACTION (Berge, 1999; Gilbert & Moore, 1998; Schwier& Misanchuk, 1993) Learner-interface-->Learner-content-->Learner-support-->Learner-learner, Learner-instructor, Learner-expert--> Learner-context. (Hirumi, 2002) proposes a framework of interaction in online learning that consists of three levels.