Favorite OSS Projects
by
Ploneglenn Yalin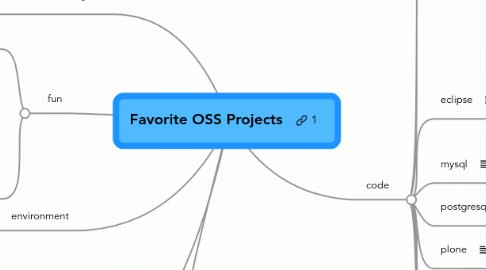 5.0
stars -
1
reviews range from
0
to
5
code
advanced source code file concurency control and repository. Well suited for highly geographically dispersed groups of developers. Supports multiple writers with a merge style commit.
tortoise
they have donated so much to J2EE based web application development that it is safe to say that without them, J2EE would have failed
HTTP server
james
xerces
tomcat
xalan
jakarta
velocity
ant
FOP
struts
a very extensible IDE, primarily for java, with a vibrant and active plug in community
radrails
pydev
most popular relational DBMS, has pluggable back-ends for choosing speed vs ACID compliance
also, a very good relational DBMS with interesting, object oriented extensions
highly customizable content management system and rudimentary portal site
zope, python, pythonwin
great parser/generator use this when for embedding non-XML languages
advanced, mature, multi-vendor, enterprise grade web application platform stack recently open sourced by Sun Microsystems and under the control of the Java Community Process
Mondrian
spring
mature dynamic scripting language with a strong emphasis on string processing and generation and a full featured library
CPAN
.NET is a Microsoft platform and is not open source, or is it? The Novell owned mono project is an open source implementation of .NET
web app container and framework for ruby using ActiveRecord design pattern
ruby
automated unit testing framework for Java. When combined with an IoC framework, makes a highly effective way to unit test the middle tier
Workflow/BPM system which includes a cool WYSIWYG editor and a server side engine
Java Script
Prototype
Scriptaculous
YUI
GWT
requirements
advanced, full featured raster graphics editor. Great for web but not for print
mind mapping software
project management tool for creating tasks, resources, PERT charts, etc
advanced document publishing system
proTeXT
GSview
PDFCreator
vector graphics drawing tool
for those who prefer an office productivity suite over a document publishing system
design
web ontology editor. great for creating RDFS for app2app communication
general purpose diagramming tool
ERD drawing tool
UML diagramming tool
must be mentioned in any favorite OSS article due to their highly important and influencial contributions to OSS
best web browser
much preferred to outlook
use this to add calendaring to thunderbird
environment
linux
The GNU/Linux O.S. is ground zero of the Open Source revolution. 
redhat, centos
debian, ubuntu, knoppix
provides a linux style command line for when you have to work on MS-Windows
fun
arts
TADS
lilypond
blender
audacity
games
nexuiz
sauerbraten
tremulous