Ce să înveţi într-o viaţă
by
Traian Bruma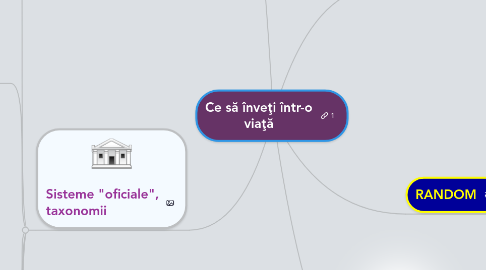 0.0
stars -
0
reviews range from
0
to
5
Communication skills
Presentation skills
Facilitating skills
Interviewing skills
Selling skills
Meeting management skills
Influence / persuasion skills
Team work skills
Management skills
Leadership skills
Skills in dealing with difficult personalities
Skills in dealing with difficult situations
Ability to think / communicate on your feet (under pressure)
Networking skills
Interpersonal relationship skills
Negotiation skills
Mentoring / coaching skills
Organizing skills
Self-promotion skills
Savvy in handling office politics
Self awareness
Emotion management
Self-confidence
Stress management
Resilience
Skills to forgive and forget
Persistence and Perseverance
Sisteme "oficiale", taxonomii
EU: Key competencies for Life Long Learning
comunicarea în limba maternă
comunicarea în limbi străine
competenţa matematică şi competenţe de bază privind ştiinţa şi tehnologia.
competenţa digitală
capacitatea de a învăţa
competenţe sociale şi civice.
simţul iniţiativei şi al antreprenoriatului
conştiinţa şi expresia culturală
= a growing global movement to redefine the goals of education.The movement's driving question is, "What do students need to learn to help them succeed in our times ? personal, societal, and economical success."
Core subjects and 21century themes, Core subjects include, Economics, English (mother tongue), World Languages, Arts, Mathematics, Science, Geography, History, Government and civics, In addition, schools must promote an understanding of academic content at much higher levels by weaving 21st century interdisciplinary themes into core subjects:, Global Awareness, Financial, Economic, Business and Entrepreneurial Literacy, Civic Literacy, Health Literacy, Environmental Literacy
Life and Career Skills, Flexibility and Adaptability, Initiative and Self-Direction, Social and Cross-Cultural Skills, Productivity and Accountability, Leadership and Responsibilit
Learning and Innovation Skills, Creativity and Innovation, Critical Thinking and Problem Solving, Communication and Collaboration
Information, media and technology skills, Information Literacy, Media Literacy, ICT (Information, Communications and Technology) Literacy
Taxonomia Bloom
Cognitive – To recall, calculate, discuss, analyze, problem solve, etc., 1. Recall data, 2. Understand, 3. Aply (use), 4. Analyse (structure/elements), 5. Synthesize (create/build), 5. Evaluate (assess, judge in relational terms)
Psychomotor – To dance, swim, ski, dive, drive a car, ride a bike, etc., 1. Imitation (copy), 2. Manipulation (follow instructions), 3. Develop Precision, 4. Articulation (combine, integrate related skills), 5. Naturalization (automate, become expert)
Affective – To like something or someone, love, appreciate, fear, hate, worship, etc., 1. Receive (awareness), 2. Respond (react), 3. Value (understand and act), 4. Organise personal value system, 5. Internalize value system (adopt behaviour)
Communication and Interpersonal Skills, Interpersonal communication skills, Verbal/Nonverbal communication, Active listening, Expressing feelings; giving feedback (without blaming) and receiving feedback, Negotiation/refusal skills, Negotiation and conflict management, Assertiveness skills, Refusal skills, Empathy, Ability to listen and understand another's needs and circumstances and express that understanding, Cooperation and Teamwork, Expressing respect for others' contributions and different styles, Assessing one's own abilities and contributing to the group, Advocacy Skills, Influencing skills & persuasion, Networking and motivation skills
Decision-Making and Critical Thinking Skills, Decision making / problem solving skills, Information gathering skills, Evaluating future consequences of present actions for self and others, Determining alternative solutions to problems, Analysis skills regarding the influence of values and attitudes of self and others on motivation, Critical thinking skills, Analyzing peer and media influences, Analyzing attitudes, values, social norms and beliefs and factors affecting these, Identifying relevant information and information sources
Coping and Self-Management Skills, Skills for increasing internal locus of control, Self esteem/confidence building skills, Self awareness skills including awareness of rights, influences, values, attitudes, rights, strengths and weaknesses, Goal setting skills, Self evaluation / Self assessment / Self-monitoring skills, Skills for managing feelings, Anger management, Dealing with grief and anxiety, Coping skills for dealing with loss, abuse, trauma, Skills for managing stress, Time management, Positive thinking, Relaxation techniques
OECD
Australia 21 Century Skills
Ways of working
Tools for thinking
Ways of living in the world
Ways of thinking
Articole Bloguri
1. The 80/20 rule.
2. Parkinson's Law.
3. Batching.
4. First, give value. Then, get value. Not the other way around.
5. Be proactive. Not reactive.
6. Mistakes and failures are good.
7. Don't beat yourself up.
8. Assume rapport.
9. Use your reticular activation system to your advantage.
10. Your attitude changes your reality.
11. Gratitude is a simple way to make yourself feel happy.
12. Don't compare yourself to others.
13. 80-90% of what you fear will happen never really come into reality.
14. Don't take things too seriously.
15. Write everything down.
16. There are opportunities in just about every experience.
Financial, Saving., Budgeting., Paying bills., Investing., Frugality., Credit., Retirement., Charity.
Thinking, Critical thinking., Reading.
Success, Positive thinking., Motivation., Procrastination., Passion.
Social, Anti-competition., Compassion., Love., Listening., Conversation.
Practical, Auto., Household., Cleaning., Organization.
Happiness, Be present. Enjoy life., Find purpose., Develop intimate relationships.
1. How to Program
2. How to Be Betrayed
3. good writing
4. Dinner Parties.
5. Networking
6. Politics
7. Failure
8. Sales
9. Negotiation
10. Happiness
How to make people like you and network
How to speed read and the power of audio books
How to set goals and manage time
How to read a financial statement
How to save and invest
How to be successful in life
How to spread an idea and basic marketing
Comment: dating and interpersonal skills
Modele Educationale
Sudbury Valley
They learn how to concentrate.
They learn to ask for what they want, and strive to get it.
They learn how to try something and relish success, and they learn how to try something and fail at it -- and try again.
They learn to ponder ethical questions.
They learn to know themselves.
Providing accurate information (so we have the knowledge to face challenges);
Fostering the 3C's: curiosity, creativity, and critical thinking (so we have the tools to meet challenges);
Instilling the 3R's: reverence, respect, and responsibility (so we have the motivation to confront challenges);, Patience – ability to step back in an emergency to think clearly or the ability to pause and wait when you are in a rush or want to rush others.
Offering positive choices and tools for problem solving (so we will be able to solve challenges).
RANDOM
Aici punem tot ce nu are inca o categorie.
aa
aaa
aa
aaa, aaa, aaa, aa