Teachers & their School Profiles, Hopes and Fears
by
The Media Spot, LLC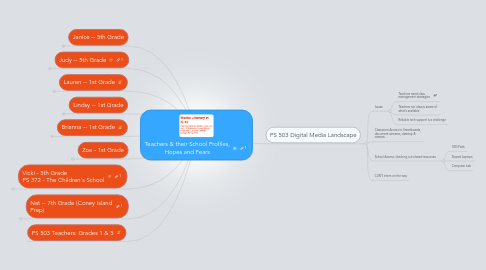 0.0
stars - reviews range from
0
to
5
Janice -- 5th Grade
What is your comfort level?
I already had a note.
ciao ragazzi
Comfort level
Going Forward
Lauren -- 1st Grade
1- Access: classroom: Smartboard, document camera,desktop, camera. School:checking out tools. Technology coordinator available for trouble-shooting and repairs and a technology teacher for class
Comfort level- A) 2 B) 1 not comfortable past word or notebook document. C) 1 not comfortable past teaching basic Smartboard rules. D)1
Lindsy -- 1st Grade
Comfort Level a.) 3 b.) 2 c.) 1+ d.) 2
A hope for this class: Becoming comfortable enough with a digital tool that I can realistically use in my classroom to aid my students learning.
A fear for this class: I won't be able to carry over the digital tools learned, whether from lack of digital access in the classroom or my own hesitation with the digital tools. Frustration.
Brianna -- 1st Grade
Comfort level w/ media literacy
Hopes - Discover and learn new ways to integrate digital media within my daily teaching.
Fears - Becoming frustrated with kinds of digital media/ deleting projects. Time
Zoe - 1st Grade
Comfort Levels:
Hopes and Fears
PS 503 Digital Media Landscape
Issues
Classroom Access to Smartboards, document cameras, desktop & camera.
School Access: checking out shared resources
CUNY intern on the way
Hi there!
Hi there!
Spectrum
Comfort Levels (1-5)
My only fear is that I will forget what I've learned here and that what we've learned will be obsolete before I can apply what I've learned.
hi.
What technology do you have access to?
What is your comfort level (1-5)?
One hope for the course: To become comfortable with easily accessible new media tools that I can easily transfer to my classroom.
One fear for this course: I'm afraid I'm going to come up with a bunch of amazing, wacky ideas that I'm unable to follow through with in my classroom.
PS 503 Teachers: Grades 1 & 5
1- Access: classroom: Smartboard, document camera,desktop, camera. School:checking out tools.Technology coordinator available for trouble-shooting and repairs and a technology teacher for class