mHealth Evidence Taxonomy
by
James BonTempo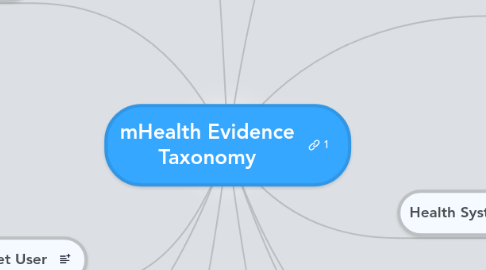 5.0
stars -
6
reviews range from
0
to
5
UN Statistics Department: Composition of macro geographical (continental) regions and geographical sub-regions.
Africa
Americas
Asia
Europe
Oceania
Stage of development
Pre-prototype
Prototype
Pilot
Limited demonstration
Scaled demonstration
Integration
Stage of evaluation
Feasibility and usability
Efficacy
Effectiveness
Implementation science
Based on WHO "Monitoring the building blocks of health systems: a handbook of indicators and their measurement strategies."
*Client education and behavior change communication
Workforce development and support
Service delivery
Information systems
*Financial transactions and incentives
Mobilization, accumulation and allocation of money, including: payment for services; conditional cash transfers and performance-based financing; and savings accounts and insurance.
*Supply chain management
Governance
Technology
Channel
Content format
Technology Functions
(e.g. software applications)
* means this domain is covered by WHO health topics
Family planning allows individuals and couples to anticipate and attain their desired number of children and the spacing and timing of their births. It is achieved through use of contraceptive methods and the treatment of involuntary infertility.
Maternal health
Child health
Infectious, parasitic and vector-borne disease
Non-communicable disease
Nutrition
*Mental health
*Violence
Unintentional injury
Health System Constraint
Barriers and challenges that impede optimal health service delivery. I'm putting the Utilization data here so we don't lose it: low demand for services; low uptake of services; low adherence to treatment; loss to follow-up
Information
Physical availability and supply of health services.
Quality
Relevance and effectiveness of health services.
Alingment of health services with individual, social and cultural beliefs, interests, needs and practices.
Efficiency
Time or effort required to implement health services.
Cost
Monetary expense related to the delivery or use of health services.
Other - where do these go?
The user of an mHealth strategy.
Client
The direct consumer and benificiary of a health service.
Social support network
A family member or friend (not trained or certified) who provides unpaid, non-clinical care for a client who requires their assistance.
Facility-based health worker
A formally recognized member of the health system responsible for directly or indirectly providing health services, including: physicians, nurses, midwives and other clinical staff; pharmacists and laboratory technicians; environmental and public health workers.
Community-based health worker
Formally recognized care provider, based in the community, providing preventative and curative services. Activity is not limited to a fixed site. Also sometimes referred to as "Frontline" or "Community" Health Workers.
Manager
One who is responsible for planning, organizing, staffing, leading or directing, and controlling human, financial and material resources, for the purposes of delivering health services.
The age range of the individual who is the beneficiary of the mHealth strategy. Based on CDC life stages.
Newborn
Birth to 1 month.
Infant
1 month to 12 months.
Toddler
1 year to 3 years.
Child
4 years to 11 years.
Young people (10-24)
WHO definitions 10 years to 19 years = adolescence 15-24 = youth young people = 10-24 years
Adult
20 years - 49 years.
Senior
50 years and older.
The special class of individual for whose benefit an mHealth strategy is implemented.
At-risk
Children < 5 years
Correctional
Disabled
Drug users
Family
Immigrant and refugee
Lesbian, gay, bisexual and transgender
Men
Orphans and vulnerable children
Parent
Racial and ethnic minorities
Rural
Students
Urban
Workforce
Women
Preventive
Short-term
Acute or emergency
Continuous