Bullying in the Workplace
by Steffanie Tanner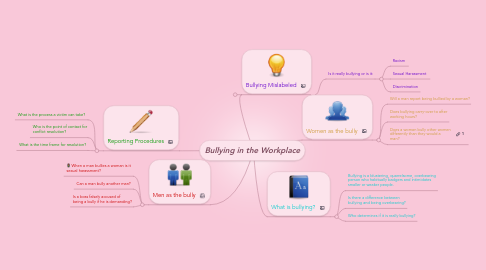 1. Women as the bully
1.1. Will a man report being bullied by a woman?
1.2. Does bullying carry-over to after working hours?
1.3. Does a woman bully other women differently than they would a man?
2. What is bullying?
2.1. Bullying is a blustering, quarrelsome, overbearing person who habitually badgers and intimidates smaller or weaker people.
2.2. Is there a difference between bullying and being overbearing?
2.3. Who determines if it is really bullying?
3. Reporting Procedures
3.1. What is the process a victim can take?
3.2. Who is the point of contact for conflict resolution?
3.3. What is the time frame for resolution?
4. Men as the bully
4.1. When a man bullies a woman is it sexual harassment?
4.2. Can a man bully another man?
4.3. Is a boss falsely accused of being a bully if he is demanding?
5. Bullying Mislabeled
5.1. Is it really bullying or is it:
5.1.1. Racism
5.1.2. Sexual Harassment
5.1.3. Discrimination