INNOVATION NEWSLETTERS
by
Vladimir Malina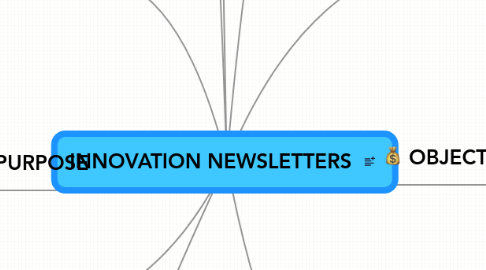 4.0
stars -
1
reviews range from
0
to
5
INNOVATION NEWSLETTERS
Brainstorm of Innovation Newsletters initiative: STAKEHOLDERS, PR0CESS, CONTENT, OWNERSHIP, ADMINISTRATION, SYSTEM, BUSINESS CASE
BUSINESS CASE
What is the cost/benefit analysis?
COSTS
SOFTWARE ACQUISITION (£600 annually)
TIME SPENT ON TRAINING NEWS EDITOR (cca 5 hour)
TIME SPENT ON TRAINING FORUMS (cca 40 hours)
TIME SPENT ON DOCUMENTING THE PROCESS (cca 8 hours)
HARD BENEFITS
STORAGE SAVING (some email newsletters still contain attachments)
IMPROVEMENT OF INFORMATION JAM associate with daily email burden
CONTENT RICH NEWSLETTERS improve the user's ability to digest information
SAVINGS IN TIME SPENT ON SEARCHING FOR INFO / KNOWLEDGE
KPI MEASURING EFFECTIVENESS OF OUR INFORMATION CAMPAIGNS
SOFT BENEFITS
MORE VISIBILITY INTO INNOVATION & IMPROVEMENT news
Technology & training section will act as additional TRAINING CHANNEL
INFORMING EMPLOYEES ABOUT IMPORTANT TRENDS will help in their desicion making
Increasing employees' AWARNESS
OWNERSHIP
Who is going to own this?
Issue Approval = Bill Hewlett
Corporate Governance = Graham Read
Content = knowledge forums
Administration = Knowledge Forums Manager
Technology = IT / BSG
Email lists = HR
STAKEHOLDERS
Who makes decisions and what their concerns might be?
1. Graham Read ==> What's the match with our current communication policy and what's already in place?
2. Bill Hewlett ==> How can we make this happen within the current budgetary constraints and corporate environment?
3. Stephen Wells ==> Why do we link innovation news with competiton and market trends; and who is going to provide this information?
4. Key Account Managers ==> How are we going to capture client's needs?
5. Supply Chain Managers ==> How we going to get suppliers to contribute to the Newsletters?
6. Knowledge Forums Leaders ==> How does this fit with what they do at the moment? Is this going to be another administrative burden for their forums?
7. Technology Champions ==> How are we going to contribute to this?
8. Training Managers ==> How are we going to creat the e-learning section? Why do we need it there?
9. Tony Blanch ==> IBP updates: Why do we need it?
10. BSG Nigel Stevens, Adrian Burgess ==>
10. BSG Nigel Stevens, Adrian Burgess ==> Show us the business case!
PROCESS
What is the process of publishing monthly newsletters?
1. PREPARE NEWSLETTERS CONTENT (monthly)
2. SEEK APPROVAL FOR THE ISSUE
3. DESIGN ONLINE NEWSLETTER
4. DISTRIBUTE USING NewZAPP tool
5. MEASURE THE INFORMATION USAGE (KPI)
6. FEED THE KPI INTO Corporate BSC
7. ARCHIVE NEWSLETTERS - accessible through iCOSNET for all
CONTENT SECTIONS
What information will newsletters content?
1. Important Market Trends
2. Insights from Knowledge Forums
3. Key Client's Needs
4. Competition Intelligence
5. Technology Briefing
6. Training Snapshot (e-learning)
7. Links to iCosnet, IBP, Knowledge Flow updates
8. Interesting quotes from employees, senior managers
9. Polls
10. Personal details for further information
SYSTEM
What are the system components?
http://www.newzapp.co.uk/ or similar solution
Management of email distribution lists
Management of newsletters campaigns
Management of performance information --> feed to BSC
KPI = INFORMATION USAGE (No. people who read the content / Distribution Audience)
OBJECTIVES
What are we trying to achieve?
1. Communicate Costain innovations within the Group
2. Communicate important needs of our key clients
3. Communicate important market trends
4. Communicate important competition intelligence
5. Provide information on new technologies
6. Deliver a brief e-learning module
7. Reference shortcuts to important updates to IBP, Knowledge Flow
PURPOSE
Improve the way we share information regarding our Innovation & Improvement
Inform our employees about important market trends
RISKS
What are the risks of doing or not doing this?
DOING
Ineffective roll-out
Lack of buy-in from Forums
IT issues / problems
Incompetent administration
Lack of monthly content updates
Leakage of sensitive information outside Costain
NOT DOING
Deepening the information jam in the organization
Employees not knowing about important trends and developments
Relying on "word of mouth"
Ineffective standards for corporate newsletters
Relying on email-based communication
IMPLEMENTATION
SET-UP SOFTWARE APPLICATION
1. Pilot NewZAPP solution on Innovation Newsletters
2. Capture the Inno News as an IBP process
3. Train people interacting with Inno News process
4. Monitor the Inno News trial
5. Include KPI "INFORMATION USAGE" with work winning bids
SUCCESSFUL TRIAL COMPLETED
1. Roll out to all newsletters (corporate + projects)
2. Train all Knowledge Forums in using the tool
3. Migrate all Costain newsletters on the system
4. Find corporate administrator of the Newsletters system
TBC - the e-learning section
New node