How To Create Great Mind Maps
by
Inna Kolobrodova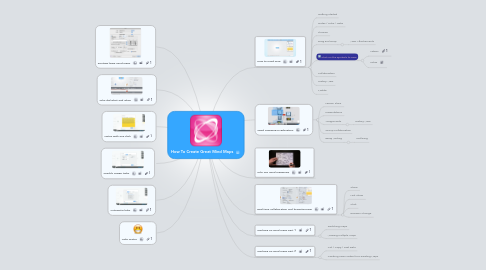 5.0
stars -
1
reviews range from
0
to
5
Working with multiple mind maps at the same time is a great way to compare and contrast data within these maps. In this video will be covering switching between maps without having to exit to the main dashboard, as well as using browser tabs to view multiple maps side by side.
Switching maps
Viewing multiple maps
Explore MindMeister's powerful collaboration mode and start brainstorming together!
Share
Link Share
Chat
Revision Change
MindMeister is the industry leading collaborative mind mapping solution. Using the proven mind mapping technique, MindMeister users can quickly and easily map out their thoughts, ideas, and plans, and have a birdseye view not only of where their project stands at the moment, but also, where it's heading. MindMeister's powerful tools are now available to users of the Google Apps Marketplace. is.gd/a8sKu
Adding notes to your mind maps is a great way to further clarify or explain your topic. MindMeister's WunderNote feature provides notes with one click.
MindMeister's exclusive History View provides a complete change log for your mind maps. Learn how to effectively use this tool.
Adding links to your mind maps is a great way to further clarify or explain your topic. MindMeister's WunderLink feature provides links with one click.
MindMeister is a market leading brainstorming and data visualization application based in the cloud. MindMeister 6 is by far our largest and most substantial product redesign since our inception in early 2007. We've managed to keep all your favorite features, as well add over 200 user-requested additions. Get started with your own mind map today at mindmeister.com
Getting Started
Notes / Links / Tasks
Themes
Drag and Drop
Click on the symbols to view
Collaboration
History View
Mobile
MindMeister's WunderTask feature can quickly and easily assign tasks to multiple parties, all from within your mind map
Continuing our MeisterTips series, this video focuses on MindMeister's cut/copy/paste feature, as well as creating new maps from existing map nodes.
Cut / Copy / Past Data
Creating New Nodes from Existing Maps
Lesson Plans
Presentations
Assignments
Group Collaboration
Essay Writing
There are some occasions where you'd like to print out your mind map. However, if you've got a large mind map with multiple nodes, printing to a standard 8.5 x 11 or A4 sized paper makes the mind map unreadable. The Solution? Print the mind map to multiple pages using the 'Tile all pages' option in Adobe Acrobat's print settings.