Relationships between primary and secondary categories
by
Paul Karnowka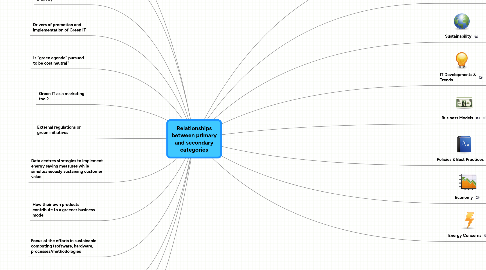 0.0
stars -
0
reviews range from
0
to
5
Relationships between primary and secondary categories
IT Components & Energy Consumption
IT Hardware
Mobile Computing
Systems & Consolidation Methodologies
IT Software
Office & Data Centres
Product Life-Cycle
Procurement (IPR)
Production
Distribution
Recycling & Disposal
Policies & Best Practices
Government
Independent Organizations
Companies & CSR
IT Developments & Trends
New Technology Development
Accessibility (Out of Scope)
Awareness
Economy
Job Creation
Business Opportunities
Standard of Living
Spending
Market Intricacy (Globalization)
Business Models
Too extensive to include this in the paper - but will make atempts to include various aspects of listed nodes in other areas.
Business Processes
Departmental Accountability
Regulation Adherence
Business Reputation
Commitment
Mergers & Acquisitions
Collaboration
Energy Concerns
Energy Sourcing
Energy Storage
Sustainability
Definition
3 pillars
Triggers
The understanding of Green IT/ Sustainable Computing
The role in company and its association and exposure to Green IT
Awareness of Green IT in the organisation and industry
Drivers of promotion and implementation of Green IT
Is "green agenda" pursued to be cost neutral?
Green IT as a marketing tool?
External regulations or green initiatives
Data centres strategies to implement energy saving measures while simulteaneously sustaining customer value
How their own products contribute to a greener business model
Focus of the efforts in sustainable computing (software, hardware, processes/methodologies
Some of Green performance or CSR indicators to measure the success of green objectives.
Main hindrances of realisation of Green IT within the company
Main hindrances of realisation of Green IT in the industry