How Many People have ever Lived?
by
Luke O'Connor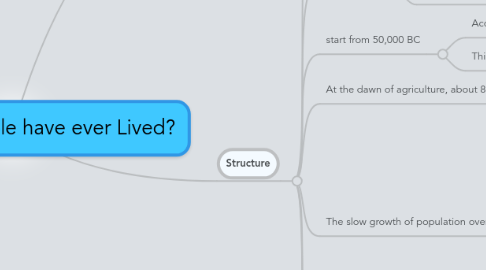 0.0
stars - reviews range from
0
to
5
How Many People have ever Lived?
Source
Intro
Prehistory
start from 50,000 BC
At the dawn of agriculture, about 8000 B.C., the population of the world was somewhere on the order of 5 million.
The slow growth of population over the 8,000-year period, from an estimated 5 million to 300 million in 1 A.D., results in a very low growth rate — only 0.0512 percent per year.
By 1650, world population rose to about 500 million, not a large increase over the 1 A.D. estimate.
By 1800, however, world population had passed the 1 billion mark, and it has continued to grow since then to the current 6 billion.
now 7 billion