WORDSPOT
by
diana jimenez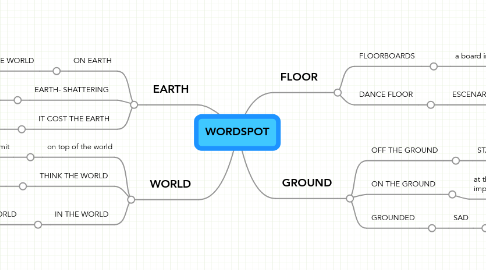 0.0
stars -
0
reviews range from
0
to
5
WORDSPOT
FLOOR
FLOORBOARDS
a board in the floor, EX:the planks of wood in a wooden floor are called floorboard
DANCE FLOOR
ESCENARY TO DANCE, PEOPLE GOES TO DANCE FLOOR MORE THAN LAST TIMES
GROUND
OFF THE GROUND
START, The play never got off the ground.
ON THE GROUND
at the place of interest or importance, EX:Minutes after the bank robbery reporters were on the ground to get the story.
GROUNDED
SAD, MY FRIEND IS GROUNDED TODAY
EARTH
ON EARTH
IN THE WORLD, EX: IT COST EARTH
EARTH- SHATTERING
EARTHSHAKING, IS EXTREMELY SHOCKING AND IMPORTAND
IT COST THE EARTH
EXPENSIVE, HER NEW DRESS COSTS THE EARTH
WORLD
on top of the world
summit, I'M ON TOP OF THE WORLD
THINK THE WORLD
CONSIDER, EX: She thinks the world of her adviser
IN THE WORLD
AMONG THE WORLD, EX:I never in the world would have believed such an obvious lie.