IDIOMS WITH ANIMALS
by
Jully.c Marti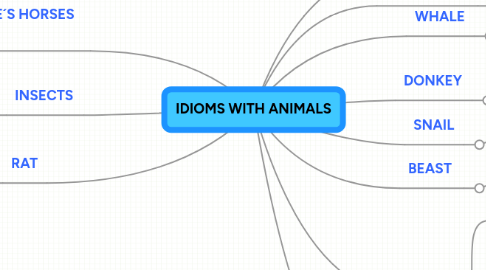 0.0
stars -
0
reviews range from
0
to
5
IDIOMS WITH ANIMALS
DONKEY
DO THE DONKEY WORK
The hard work., EX: Tom´s report is excellent, but remember that it was assistant who did the donkey work, compiling facts and figures from miles of computer print - out.
WHALE
A WHALE TIME
Really enjoy yourself, EX: The children are having a whale of time.
CAT
NOT STAND A CAT IN HELL´S CHANCE
To have no chance of achieving something., EX: Do you think Rod will get the job that he applied for?. No, in my opinion he does not stand a cat in hell´s chance.
LET THE CAT OUT OF THE BAG
To reveal a secret or surprised by accident., EX: How did you find out abput the party? Well, it was Jeff who let the cat out of the bag.
CAT AND DOGS: RAINING CATS AND DOGS
Raining in great amounts., EX: It is raining cats and dogs.
CAT NAP
If you have a short sleep during the day you are cat napping., EX: She´s having a cat nap.
DOG
GO TO THE DOG
Less succesful than it was in the past., EX: What a pity to let such a lovely old house go to the dogs like that.
BARKING DOGS SELDOM BITE
People who make big threats never usually carry them out., EX: Old Mr. Fletcher is always complaining about the children making a noise and kicking theri football into his garden. He is threatened to call the police, but i am shure he will not. Barking dogs seldom bite.
SNAIL
AT A SNAILS PACE
Very slowly., EX: The traffic´s going at a snails pace.
COCODRILE
COCODRILE TEARS
Crying to much., EX: She´s crying cocodrile tears.
BEAST
EATING AS A BEAST
Eat in a non apropiate way., EX: Johnny is eating as a beast of himself again.
LARK
BE UP WTH THE LARK
Awake and out of your bed early in the morning., EX: Every morning he is upping with the lark.
INSECTS
HAVE A BEEIN ONES BONNET
Have an idea that continually occupies ones thougths., EX: He has a bee in his bonnet abouyt living to be a hundred, and he won´t eat anything that contains animal fat.
HAVE BUTTERFLIES IN ONE´S STOMACH
To be very nervous about something., EX: I always have butterfiles in my stomach before an exam.
RAT
To suspect that something is wrong.
EX: I´m surprised that Greg didn´t sense that something was wrong. In his posistion, I think I would have smelled a rat.
HOLD ONE´S HORSES (HORSE)
To retrain oneself
EX: Will you let me drive your new car? Hold your horses.