eSingularity Technology Assessment
by
Willi Schroll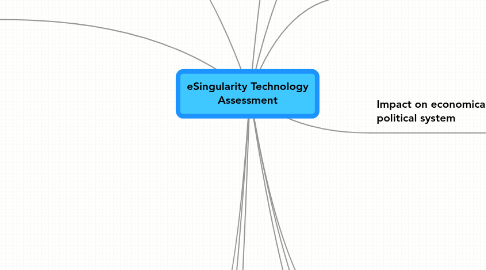 0.0
stars -
0
reviews range from
0
to
5
eSingularity Technology Assessment
Intention of this map
Why should eSingularity be assessed?
TA will result in ...
What should be assessed?
What is Technology Assessment?
Technology assessment - Wikipedia http://en.wikipedia.org/wiki/Technology_assessment
Complementary approach is to make foresight a multplayer game: Gaming the future
Impact on education system
impact on current global education system
change of methods
teachers
institutions teaching teachers
qualification levels
Impact on economical and political system
labor market
industry
regions+nations
politics
economy
scenarios
Impact on cultures
learning cultures
value system, traditional cultures
Feasability
maturity of infrastructure
roadmap of components
other technological conditions
Impact on geopolitical system
Accelerated Power Shift to Asia?
digital divide because of insufficiant means of purchasing in Africa, India and China?
Impact on ecological system
secondary effect of economical development is intense metabolism, accelerated consumption of natural ressources
Ring of maps
Learniing 3.0 Mind Map https://www.mindmeister.com/26144574
Author of this map
I am Willi Schroll, a technology analyst, strategy consultant and futurist. See more about me here: http://www.linkedin.com/in/willischroll or on this mind map: Learniing 3.0 Mind Map https://www.mindmeister.com/26144574
Possible deficits of the current vision
lack of scope
counter measurement: remind these insights of some experts
deficits could lead to
What is eSingularity?
find answers one level up on the: Learning 3.0 Mind Map https://www.mindmeister.com/26144574
related and similar projects