software libre
by alejandra torres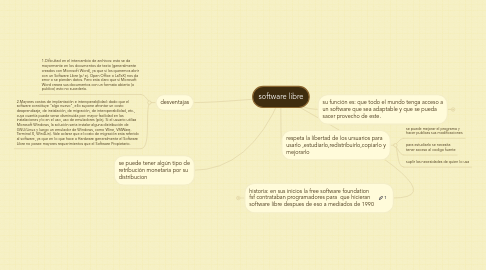 1. se puede tener algún tipo de retribución monetaria por su distribucion
2. respeta la libertad de los ursuarios para usarlo ,estudiarlo,redistribuirlo,copiarlo y mejorarlo
2.1. se puede mejorar el programa y hacer publicas sus modificaciones
2.2. para estudiarlo se necesita tener acceso al codigo fuente
2.3. suplir las necesidades de quien lo usa
3. su función es: que todo el mundo tenga acceso a un software que sea adaptable y que se pueda sacer provecho de este.
3.1. Agenda Review
3.2. Define upcoming goals
3.2.1. Agree launch date
3.2.2. Finalize copy!
3.3. Main Discussion
3.4. Next Steps
3.4.1. Johnny to prepare PR
3.4.2. John and Jane call partners
4. historia: en sus inicios la free software foundation fsf contrataban programadores para que hicieran software libre despues de eso a mediados de 1990
4.1. Position as market leader
4.2. Convert incoming traffic
4.3. Provide better client interaction
5. desventajas
5.1. 1.Dificultad en el intercambio de archivos: esto se da mayormente en los documentos de texto (generalmente creados con Microsoft Word), ya que si los queremos abrir con un Software Libre (p/ ej. Open Office o LaTeX) nos da error o se pierden datos. Pero esta claro que si Microsoft Word creara sus documentos con un formato abierto (o publico) esto no sucedería.
5.2. 2.Mayores costos de implantación e interoperabilidad: dado que el software constituye "algo nuevo", ello supone afrontar un costo deaprendizaje, de instalación, de migración, de interoperabilidad, etc., cuya cuantía puede verse disminuida por: mayor facilidad en las instalaciones y/o en el uso, uso de emuladores (p/ej. Si el usuario utiliza Microsoft Windows, la solución seria instalar alguna distribución de GNU/Linux y luego un emulador de Windows, como Wine, VMWare. Terminal X, Win4Lin). Vale aclarar que el costo de migración esta referido al software, ya que en lo que hace a Hardware generalmente el Software Libre no posee mayores requerimientos que el Software Propietario.