Hosts Call August 2009: Challenges as a Host
by
Soledad Pons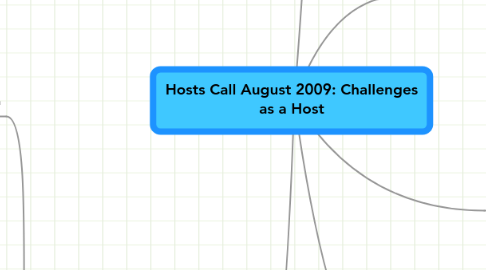 0.0
stars -
0
reviews range from
0
to
5
Hosts Call August 2009: Challenges as a Host
Participants
Frauke (Berlín)
Eleanor (KX)
Maria (World)
Frederike (Ams)
Laura (AMS)
Caroline (Brussels)
Sole (Madrid)
Lieke (Rotterdam)
Check-in: Member stories (to inspire us and inform other hubs about what our members do in the network)
Berlin: Member joined the Hub 2,5 months ago and told the members in an OpenSpace that was called due to the financial crisis of Hub Berlin about his baby just being born at the Hub Berlin. This baby was the reason why he started programming 25 years ago. And Hub Team members and other members helped him in the last 2,5 to give birth ;)
Madrid: Empieza Consultora (http://www.empiezaconsultora.es/) is a fresh consulting company focusing on human resources and employment for inmigrants and Workea (http://www.workea.org/) is a website to offer and find jobs with a focus on inmigrants as well. Empieza Consultora comes form a social background and Workea a more business one and both teams have started to collaborate and work together. Next step is to find out what they do together.
Amsterdam: Summer School (www.hubsummerschool.nl)
Rotterdam: Summer School and Hub Shop (http://shop.rotterdam.the-hub.net), both member initiatives
Low afluence of people to calls
How to make it compulsory?
what is the tangible value for the local Hub that we can communicate to take part in these calls?
Barriers in Berlin to participate: language, not getting anything out of the calls personally
Possibility to split calls into groups: regionally or diversity of different Hub develompments
Main topic: what challenges are we facing now as hosts?
Presenting your Hubs position
Discussing and finding solutions
Check-out
Homework for Stockholm
Celebration: Madrid has 23 members even before having the space! We will start our programming twice a month now...
Tugba is leaving Hub kings cross and is interested in any opportunuity within the system!