Social Media In Education
by Piotr Bart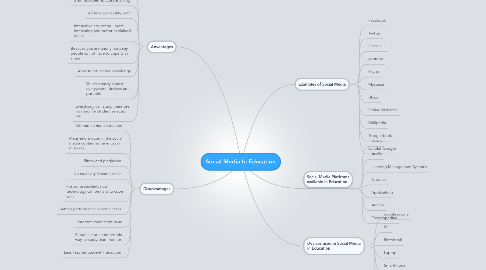 1. Examples of Social Media
1.1. Facebook
1.2. Twitter
1.3. Google +
1.4. youtube
1.5. Skype
1.6. Myspace
1.7. Blogs
1.8. Online Websites
1.9. Wikipedia
1.10. Google book
1.11. Scholar Google
2. Social Media Platfroms available in Education
2.1. Video
2.2. Audio
2.3. Learning Management Systems
2.4. Tutorials
2.5. Applications
2.6. Articles
2.7. Encyclopedias
3. Devices used in Social Media in Education
3.1. mobile phone
3.2. PC
3.3. Notebook
3.4. Laptop
3.5. SmartPhone
3.6. tablet
4. Advantages
4.1. Social Media are everywhere, therefore education is around us also.
4.2. It almost does not cost anything
4.3. All time availability 24/7
4.4. Interactive education - more interesting and better explained issues
4.5. Because you are anonymous shy people so not have to cope with stress
4.6. Almost not limited knowledge
4.7. You can study almost everywhere, devices are portable
4.8. Everybody can study therefore no need for student selection etc.
5. Disadvantages
5.1. No human human relation
5.2. Many information in the social media contain some errors or mistakes
5.3. Piracy and plagiarism
5.4. No creativity in some cases
5.5. For some students new technology can be hard to cope with
5.6. Battery performance in some cases
5.7. Internet connection issue
5.8. Paper is more comfortable way to study than monitor
5.9. Less Teacher Student interaction