Streptococcus pneumoniae
by
DSel Pes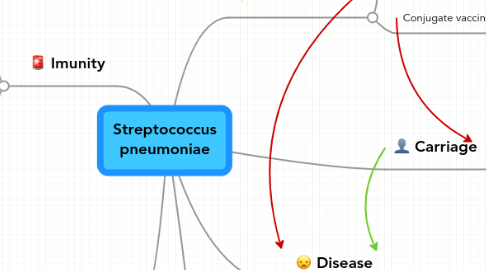 0.0
stars -
0
reviews range from
0
to
5
Streptococcus pneumoniae
High Carriage
Higher Replacement Potential
Disease
Vaccination
not efficient in young children, immunitary system immaturity?
Conjugate vaccine
19A pos-appocalyptic (PCV7) main cause of IPD
Included serotypes, (4, 6B, 9V, 14, 18C, 19F, and 23F)
vaccine-related serotypes, vaccine-related serotypes, 6A, 9A,L,N, 18A,B,F, 19A,B,C, 23A,B
Imunity
Acquired immunity
serotype-specific
Antibody-dependent
T-cell-dependent, Antibody-independent
vaccination-dep
2008 - Pneumococcal vaccines: mechanism of action, impact on epidemiology and adaption of the species  
Polysaccharide vaccine, Bcell-dependent reaction, protects against bacteraemia, does not protect against pneumococcal infection (colonization)
indirect effect, associated serotypes
Staphilococcus aureus
2008 - Does pneumococcal conjugate vaccine influence Staphylococcus aureus carriage in children?
pilus?
2009 - The pneumococcal pilus predicts the absence of Staphylococcus aureus co-colonization in pneumococcal carriers.
Recombination
capsular switching after vaccination!
2008 - Pneumococcal vaccines: mechanism of action, impact on epidemiology and adaption of the species