Mobile Apps for Education by Sandy Letterman and Robb Platt
by Robb Platt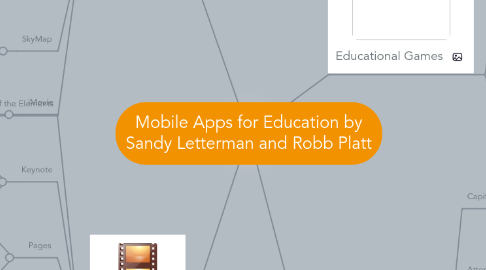 1. Reference
1.1. WolframAlpha Viewer
1.1.1. http://products.wolframalpha.com/courseassistants/physicsI.html
1.1.1.1. This mobile app allows you access to the power of the Wofram/Alpha knowledge engine anytime, anyplace. It even has an app for physics!
1.2. Google Translate
1.2.1. http://translate.google.com/
1.2.2. Free online language translation service that instantly translates speech, text, pictures and web pages. Google Translate can translate 66 different languages. You can listen the translation verbalized. This app can be used off line with a language package.
1.3. Merriam-Webster Dictionary HD
1.3.1. http://www.merriam-webster.com
1.3.2. All the definitions from the Merriam-Webster Collegiate Dictionary. Offers voice search so you can look up a word when you don't know how to spell it. Free but ad supported.
1.4. Battery Booster 2.5 for Android
1.4.1. http://download.cnet.com/Battery-Booster-Free-for-Android/3000-20430_4-11674639.html
1.4.2. If you have a cell phone then you've lost the use of it at least once due to a dead battery. This app provides up to the minute information on your Android's battery charge along with capacity, temperature and other information. Embedded are techniques used to maximize battery life.
1.5. SkyMap
1.5.1. https://play.google.com/store/apps/details?id=com.google.android.stardroid
1.5.1.1. Learn about the night sky using this GPS encompassed data. You can point your phone at the sky and SkyMap will tell you what you are looking at or you can ask it where something is and it will point you in the right direction. A perfect tool for astronomy that will get kids hooked on looking at the stars.
1.6. Periodic Table of the Elements
1.6.1. https://itunes.apple.com/us/app/periodic-table-elements/id364894399?mt=8
1.6.1.1. This app is a basic Periodic Table that would be useful in an introductory Chemistry class. Lots of information available about the elements but the reviews give the impression it isn't as resourceful as it could be.
2. Publishing
2.1. iMovie
2.1.1. http://www.apple.com/apps/imovie/
2.1.1.1. iMovie is a video editor and publisher that will help you bring your videos to life. Cut, Insert, Speed Up or Slow Down videos to make them worthy of the silver screen!
2.2. Keynote
2.2.1. http://www.apple.com/apps/iwork/keynote/
2.2.2. With this app, you can create slideshow presentations, embed multi-media objects, and make seamless transitions between slides.
2.3. Pages
2.3.1. http://www.apple.com/apps/iwork/pages/
2.3.2. Pages is an app for creating word processing documents. You can edit text, and create reports with the simple touch of the screen!
2.4. Numbers
2.4.1. http://www.apple.com/apps/iwork/numbers/
2.4.2. Numbers is a great app for crunching numbers. Data is very important to every district administrator. Why not make the job easier just by entering some simple data? Your entries can be converted into MS Word documents!
2.5. iBooks Author
2.5.1. http://www.apple.com/ibooks-author/
2.5.1.1. This custom app, just for Mac Users, brings desktop publishing to fruition! You can take your Pages docs and combine them into a book! Publish your book to the iBook Store after editing and revising.
2.6. Scribble Press
2.6.1. https://itunes.apple.com/us/app/scribble-press/id487300076?mt=8
2.6.1.1. With Scribble Press you can publish books on the go. There are plenty of templates to begin with, or create your own personalized book freehand! You can publish your eBook instantly to the iBook Store or just share your book with friends!
3. Educational Games
3.1. Newton's Cradle: Physics+ +
3.1.1. http://www.iamwebservices.com/products/newtons_cradle
3.1.1.1. This app uses a real physics model of kinematic equations. Basic features include 3D manipulation, artificial gravity and collision elasticity. Fun to play and learn!
3.2. Gravity 2.0
3.2.1. www.lokoapps.com/ourApps.php#Gravity2.0
3.2.2. You can build your own solar system, designing your planets. Position cannons and missile launchers and watch the projectiles as they realistically move around your solar system.
3.3. PBS Parent's Play and Learn
3.3.1. http://pbskids.org/mobile/pbs-parents-play--learn.html
3.3.2. Parents utilize "teachable moments" through interactive games and activities that show how literacy and math relate to everyday life. Parents play along with their kids.
3.4. Socrative
3.4.1. http://www.socrative.com/
3.4.2. A student response system without the use of clickers. Students are engaged with educational exercises and games initiated by the classroom teacher. Students can use laptops, smartphones or tablets.
3.5. Rescue Reef
3.5.1. https://rescuereef.zendesk.com
3.5.1.1. "Be a hero and save the sea." Rescue aquatic fish and mammals with an ocean clean-up, build rescue reefs, learn about endangered species. Great for all ages!
3.6. Angry Birds
3.6.1. www.angrybirds.com
3.6.1.1. An addictive game for all ages with a connection to physics. This game "jives" with our knowledge of the workings of our world…velocity, acceleration, forces, momentum, and gravity.
4. Productivity
4.1. Capitals
4.1.1. http://www.apple.com/webapps/productivity/capitals.html
4.1.1.1. Students can access this app to help them learn and memorize geographical information about The 50 States and their capitals. Students can also access information about other countries and their capitals.
4.2. Attendance Countdown
4.2.1. http://www.apple.com/webapps/productivity/attendancecountdown.html
4.2.2. This app lets you keep track of the time you spend at school or work during the day. Instead of displaying the time you spent at school or work, it shows you how much time you have left until the last bell rings.
4.3. Noter2 Lite
4.3.1. http://www.apple.com/webapps/productivity/noter2lite.html
4.3.2. Take notes on your iPhone for a friend who is not at school and email them instantly! Keep track of your notes and when assignments need to be turned in also!
4.4. SwipeStudy
4.4.1. http://www.apple.com/webapps/productivity/swipestudy.html
4.4.2. Big Testing coming to your classroom? Instead of having your students practice using a pencil and paper method, create and share note cards and poll questions for your students. Students can use the note cards to quiz each other for some engaging small group work!
4.5. Spanish V
4.5.1. http://www.apple.com/webapps/productivity/spanishv.html
4.5.1.1. Got a Dual Language Learner coming to your classroom soon? With five words a day you can learn new Spanish vocabulary!
4.6. Oops!! I did it again
4.6.1. http://www.apple.com/webapps/productivity/oopsididitagain.html
4.6.1.1. Love Spell Check but don't have time to check your spelling? This app allows users to guess the correct spelling of commonly misspelled words in a multiple choice format.