TOM ROBINSON
by Guess Who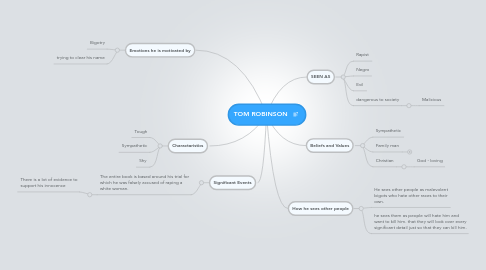 1. Charactaristics
1.1. Tough
1.2. Sympathetic
1.3. Shy
2. SEEN AS
2.1. Rapist
2.2. Negro
2.3. Evil
2.4. dangerous to society
2.4.1. Malicious
3. Beliefs and Values
3.1. Sympathetic
3.2. Family man
3.2.1. INS to insert (Windows)
3.2.2. TAB to insert (Mac OS)
3.2.3. ENTER to add siblings
3.2.4. DEL to delete
3.2.5. Press F1 to see all key shortcuts
3.3. Christian
3.3.1. God - loving
4. Emotions he is motivated by
4.1. Bigotry
4.2. trying to clear his name
5. Significant Events
5.1. The entire book is based around his trial for which he was falsely accused of raping a white woman.
5.1.1. There is a lot of evidence to support his innocence
6. How he sees other people
6.1. He sees other people as malevolent bigots who hate other races to their own.
6.2. he sees them as people will hate him and want to kill him. that they will look over every significant detail just so that they can kill him.