Tech Talk 2013
by
Patricia Anderson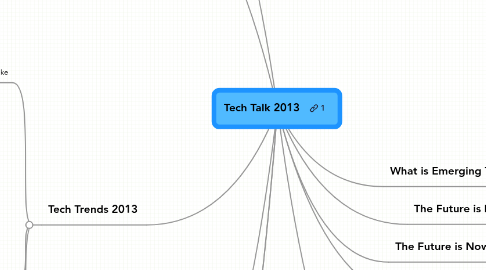 0.0
stars -
0
reviews range from
0
to
5
Function
Education
Research
Productivity
Collaboration
Games
Lingo, Serious Games, Gamification, Games for Learning, Games for Change, Games for Health #g4h
New Books, Reality is Broken
Examples, FoldIt, eTeRNA, Genomera, NOAA Games and Simulations, Phylo (Genome Browser)
Distance learning
Geo-everything
Google Maps
Geo-location
Location-aware
Geotagging
Mobile
Augmented Reality
Crowdsourcing
Citizen Science, NSF Report, examples, Cloned Plants Project, Project CaribCatch, SafeCast/RDTN, SnowTweets, WildLab, Zooniverse
Kickstarter
SlaveryMap
Ushaidi Haiti
Virtual Choir
Learning Analytics
Personalized learning
Customized learning
"DataViz"
Types, Data Sonification, Data Vizualization, Haptic & Tactile Data Displays, Blended data analysis forms
Resources
Tools
Upcoming?
Digital Storytelling
Lifestreaming
Avatar Customization
Issues
Digital Divide
Competencies
Global
Open
Future Survival of Academia
Cultural Context
Resources
NMC Horizon Report
Tech to Watch 2012, Mobile, Tablet, Game-Based Learning, Learning Analytics, Gesture Based Computing, Internet of Things, Videos, Intro & Background, EU Overview, The Pillbox, The Traffic Accident, The Student, The Top Ten Internet of Things Videos, RoboEarth, 50 top smart sensors
Tech to Watch 2011, eBooks, Mobile, Augmented Reality, Game-Based Learning, Gesture-Based Computing, Learning Analytics
Critical Challenges, Digital Media Literacy, Assessment - Metrics lab behind tech, Ed Competition, New Models of Learning, Economics, Tech Trends, Cloud Computing, Rapid Proliferation, Information, Software, Tools, Devices
EDUCAUSE: Horizon Report in Action, Mobile computing, Gesture-based computing, Visual data analysis, Simple augmented reality, eBooks, Open content
Tools/Resources, NMC Navigator, Horizon Report Wiki 2011, Horizon Report Wiki 2010
NMC Navigator ETech Tag Cloud/Focus List, 3D Printing, Augmented Reality, Cloud Computing, Collaborative Environments, New Scholarship, eBooks, Game-Based, Geolocation / Location-based, Gesture-based, HTML5, Mobiles, Open Content / Open Educational Resources, Personal Learning Environments, Publishing, Social Media, Teaching Aids, Telepresence, 3D Video, Visualization / Visual Data Analysis
Egg Stem Cells
Ultra-efficient solar
Solar microgrids
3D transistors
A Faster Fourier
Nanopore Sequencing
Crowdfunding
High-speed materials discovery
Facebook's Timeline
2020science
The list, Geoengineering, Smart Grids, Radical materials, Synthetic biology, Personalized genomics, Bio-interfaces, Data interfaces, Solar power, Nootropics, Cosmeceuticals
The theme, CONVERGENCE, Singularity?, Can we handle it?
Future Reality
Informatics
Synthetic biology and metabolic engineering
Green Revolution 2.0
Nanoscale design of materials
Systems biology/modeling
Carbon dioxide as a resource
Wireless power
High energy density power systems
Personalized medicine, nutrition and disease prevention
Enhanced education technology
2011
Adaptive Path: Forecasting Scenarios, Blended Reality, "Invisible" Tech, Smart Parks, Day to Data, Lifestreaming, Wearable Systems, Creative Commons, Cloud, Our Data, Ourselves, Digital Me
Bowman: Emerging Tech Discovery
Deloitte: Tech Trends 2011, Enablers, Visualization, "Almost Enterprise" Applications, Cyber Intelligence, CIOs as Revolutionaries, From steward to catalyst, End of the "Death of the ERP", Disruptors, Real Analytics, Social Computing, User Engagement, Applied Mobility, "The edge has become the new battleground for innovation.", Capability Clouds, from capacity to capability
Luidia: Top Tech Trends for K-12 2011, Mobile, Online Learning, Tech-based monitoring & assessment / Learning Analytics, Cloud, Professonal development
Sloan Center: Empowering Next Generation Teaching 2011, Administration & Infrastructure, Cutting Edge Tech, Innovative Uses, Online Classes, New Learning Communities, Pedagogy, From UMich, eTextbooks (Brenda Gunderson), Laptops & LectureTools (Charles Dershimer), Extra Credit for NOT Coming to Class (Perry Samson), Personalized Online Format (Nancy Konigsberg Kerner)
Veletsianos, Emerging Tech in Distance Education, Personal Learning Networks/Environments, Open & Social Learning, Animated Pedagogical Agents, Immersive & Virtual Environments
OER
Modular not Monolithic
Community Open Source Model
Open Integration Framework
Superior Vertical Solutions
SAAS
Integration / Outsourcing
Categories, Biotech, bioinformatics, Energy systems, Information technology, Artificial intelligence, Machine translation, Machine vision, Exocortices, Machine augmented cognition, Communications, 4G, Wireless, Processing, General purpose computing on graphics processing units, Optical computing, Quantum computing, Metal insulator / metal chips, Storage, Solid-state drive, Holographic data storage, Spintronics, Memristor, Security, Quantum cryptography, Software, Semantic web "answer machine", Immersive virtual reality, Computational knowledge base, Algorithm discovery, Peripherals, Intelligent apparel, 3D printing, Displays & Optics, 3D displays, Screenless, Augmented reality, Virtual reality, Organic light-emitting diode, Interferometric modulator display, Laser video displays, Phased array optics, Holography, Material science, Robotics, Material science
Examples, Personalized medicine, Nano everything, Semantic web "answer machine", 3D display, 3D printing
Structure, The Tech, Status, Potentially marginalized tech or industries, Potential applications, Related articles
Cool Toys
Google
Google Art Project
Google Plus, Google Ripples
Google Hangouts, Hangouts on Air, Apps in Hangouts, Slideshare Hangouts, Stutter Social
Youtube Closed Captions
Google Edu
Google Drive, Hello Fax
Google DRIVING
Google Body Browser
Google Books Ngram
Twitter Plays / Role Play
RP Directory
Titanic
Tweenk.me
More about Cool Toys
Blog
Email Group: cooltoysconversation
Calendar
Google Calendar
Yammer
Facebook coming?
The Future is Here
Examples
2012, Ashford: Leadership Crisis Challenge, Conway: Teaching Ethics of/with New Technologies, Coppola: Securing Our FUTURE : Foundations for Undergraduate Teaching - Uniting Research & Education, Gunderson: Infusing Tech for Guided Continuous Learning in a Large Gateway Course, Northrop: ZOOM: Teaching Time, Space, & Approaches to Knowledge, UM Engineering iPad app
2013, Alvarez: The Stick Project: To Transform and To Be Transformed, Gillespie: Feeling Is Believing: Haptic Feedback Links Math and Intuition, Gould: The Drum Diaries: Inspiring and Integrating Exploration and Practice, Hortsch: SecondLook (or if Socrates taught with an iPad), LaVaque-Manty: Gamifying a Large, Introductory Course and Fostering Student Autonomy
Student Mobile App Development Competition
Boundary spanning
Disciplines
Technologies
Spaces
Communities
Relationships
Stage in Profession / Expertise
Other Things I Look At ...
Government
DARPA
NASA, Tech, Cross-Cutting, In Your Life, Balloon-cam, Xbox dataviz, "Major Technology Revolution", "It might read as the latest in a series of science fiction articles, but NASA's Stan Starr, branch chief of the Applied Physics Laboratory at Kennedy, points out that nothing in the design calls for brand-new technology to be developed. However, the system counts on a number of existing technologies to be pushed forward."
Emerging Technologies Coordinating Council (California)
Journals/Blogs
MIT Tech Review
Tech Republic
PSFK
Smarter Planet
ExtremeTech
Gartner Hype Cycle
Science Fiction
Robinson: Mars Trilogy
Ballantyne: Recursion Trilogy
TED
TEDtalks
TEDx
TEDMED
MORE
PFA #Etech
PFA #Emerging
PFA #blogroll
The Future is Now
Brain-Device Interfaces
Wearable tech
Wearable computing
Talk to my shirt
What is Emerging Tech?
About
Wikipedia: Emerging Technologies
NBIC (Nanotechnology, Biotechnology, Information technology, Cognitive science
Centers
Major Resources, Center for Policy on Emerging Technologies, Institute for Ethics and Emerging Technologies
Localized Thinktanks, Center for Emerging Technologies, Emerging Technologies Centers, Baltimore, Indiana University Emerging Technologies Center, Center of Excellence for Information & Computing Technology (Washington State), National Workforce Center for Emerging Technologies
Corporate, Deloitte: Emerging Technologies, IBM, Alphaworks, Watson
Education Centered, EDUCAUSE, Emerging Technologies & Practices, Emerging Technologies Resources, Evolving Technologies, Networking & Emerging Tech Resources, New Media Consortium
Science Centered, UM Risk Science Center
Events
European Future Technologies
Imagine Cup
Publications
ACM Journal on Emerging Technologies in Computing Systems
Forecasters: FORESIGHT
Nature: Futures Issue, Facebook
Technology Review: Emerging
Blogs Etc
DVICE
Gameful
GizMag
OpenTheFuture
WorldChanging
Tech Trends 2012
Everywhere
Mobile, Augmented Reality, Health, Geo-location, SMS, SmokeFree, Txt4Baby, Online/Offline, AllOfWiki, StageIt, Disaster/Crisis Resources
Pictures, Infographics, Pinterest, Photo Cookbook
Video
Global, Global meets mobile
Everyone
Citizen Science, & BigData, 5 Billion Hearts, Dream:On, Venus Transit App, PGEN
Citizen Journalism
Citizen Activism, INHOPE
Crowdsourcing, Content, Tasks, Sterogranimator, Concepts
Crowdfunding, Kickstarter, New records!, "New" models, Sales? Oh, yeah!, Fund the app, THEN build it, Fund the book, THEN publish, NOTE: Half don't make it, Unbound, SciFund
Everything - Personalized
Clinical Trials, WeConsent.Us
Genomics
Social Learning, Digital "Curation", Delicious Stacks, Pinterest, MUCH more, ebooks, Communities
Blurring Boundaries
Alternative Publishing Models, Books Born as Blogs, Commons, Blurring Authorship
Devices, Type2Phone, Present from iPad, Calibre, Pebble, Clothes Shopping With a Multimeter
App Spinoffs, Evernote Food
Identity, G+ NymWars
Blurring Bodies, Google Glasses, PebbleWatch
Wearable Computing, Blanket = 3D modeling, Leaf Planetarium, Designated Driver Jacket, Blind athletes help students to create a wearable coaching aid, Mathworks/Arduino integration, Ornamentation as Visualization?
Data
DataViz
Data Sonification
BigData
Data Archiving
Data Management, Data Management Plan Tool
Cloud Data, Calculations, CloudNumbers, Opani, Social Supercomputing
Data Mashups, EPA, Green House Emissions, Weather, Tornado Maps
Micro/Macro
Publishing
Longtail
Music
Media
Performance
Open
OpenMRS
CASH Music
Open Review, Hypothes.is, Peer Evaluation
Open Threats, SOPA/PIPA, ACTA, RWA, CISPA, TPP
Old Tools, New Tools
Disappearance of, Death of IE6
"New" Uses, Delicious Stacks, Google Ngrams, Wordpress, Buddy Press, Annotum
Shifting tools, Wordpress.com, No video?, Posterous, Twitter, Twitter, Tweenk.me
New Tools for Old Tasks, EssayTagger
Tech Trends 2013
My take
Wearable Tech
Internet of Things / Internet of Everything
Robotics / Augmented human
Embodied technology
Transparency / Privacy Dynamics
Crowdsourcing, Citizen science, Crowdfunding, Personal genomics, Personalized medicine, Quantified self, Biohacking
Maker culture, Makerspaces, Hackerspaces, Maker Faires, Thingiverse, 3d print on demand
3d printing/ bioprinting
Deep Learning
Baxter, the Blue Color Robot
Prenatal DNA Sequencing
Temporary Social Media
Ultra-Efficient Solar Power
Big Data from Cheap Phones
Supergrids
Additive Manufacturing
Smart Watches
Memory Implants