LMS104: Communications and Community
by
Jim Shaeffer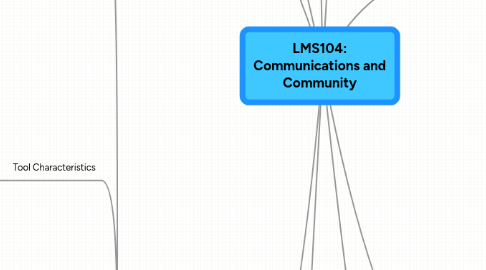 0.0
stars -
0
reviews range from
0
to
5
LMS104: Communications and Community
College
Facebook page
Twitter Feed
Web site
Falconmail
iTunes U
College of Online Studies
Twitter feed
Web page
Online courses, Syllabus, News Widget, Content, Course Mail, Discussion Topics, Dropboxes and Feedback, Quizzes and Feedback, LOR, Journals, Blogs
Media Server
Welcome
  Welcome to LMS 104, Communications and Community.   The content of this Module is divided into 6 Units (including this Welcome Unit). Each Unit contains lessons and materials of various sorts. You may work on the units in any sequence, except for Facilitating Community. Each unit has an Assessment. You may attempt the Assessment activities at any time, in any sequence. There will also be homework that you must complete successfully, using the tools in your Practice course and Discussion postings to complete. Once you pass the Assessment and complete your homework for a Unit, you have completed that Unit. When you have successfully completed the other 5 Units, the Unit on Facilitating Community will become available to you. Note that many of the concepts and ideas addressed under Facilitating Community are introduced throughout the other Units in this module.
History of teaching tools (Mike and Hector)
Chalk board
White board
Transparencies
Opaque projectors
Slide shows
Slide show software
Audio cassettes
Elmos
Document cameras
Filmstip projectors
Film
Videotape
DVDs
Online Gradebook
Question Library
Online Quizzes
Assessment of LMS 104
Discussion Posts
Pre-Tests
Post-Tests
Matching items to Communication Types
Post Scenario Assessment. Matching Situations to appropriate communication
One Way Communication (One To Many)
One Way Communication Communicating to students: you must do a good deal of top-down, one to many communication. You are the teacher. You set the tone, expectations, requirements and schedules for the class. You set policies on academic integrity and use of email or discussions.  
We need to work on the assessment for this. Can we do an adequate Pre-Test?
Presenting Content
Varied in mode
Interactive
Projecting yourself
Media rich
Substantive
Interesting
Learning Modes
Tools, News widget, Content tools, Elluminate, Optimized for one to many., Has participatory elements., Chat, Voting, Marking, Raising hand, Synchronous
Stating clear policies
Governed by TOS
When and when not to use email
Preferred means to communicate with you.
Presenting clear expectations
All online communications are monitored and subject to review.
What is your level of service? When can students expect ..., answers to emails, feedback on assignments, grading of posts
Online activity is monitored.
Content
Grading schemes
Rubrics
Due dates
Syllabus
News
Presenting yourself
Get comfortable being on video / audio, Practice, Have fun, Help students get to know you, Podcasting, Music library available for you, Copyright free, Varieties
Podcasts
Discussions
News widget
Two Way Communication (One To One)
You need to do a good deal of interactive communication. Studies suggest that there is more teacher/student interaction in online courses than in traditional face-to-face classroom courses. You will read and respond to large quantities of email messages and discussion posts.
Need to work on how we assess this. Could we do an adequate Pre-Test?
Communicating
preferred tools
Texting
Course tools, Blogs, Journals, ePortfolios
Do you provide appropriate disclaimers when using social media outside of the LMS?
Assessing
Discussions
Quizzes
Papers
Projects
Media Productions
Responding
Grading and feedback is personal
Discussions involve everyone
Email is for sidebar conversations
Learning Modes
Counseling
Tutoring
Coaching
Many to Many Communication
  Students should communicate and cooperate with each other, as well as with you. They should understand that you are a learner, as well as them.  
Mike - Scenarios
Using technology to connect
Nobody Got the Message (30 secs)
Communities are made up of individuals, Respect diversity, Respect preferred means of communicating, That includes preferences in communicating, Respect various learning modes
Engaging
Answering questions
Asking open ended questions
Building on student work
Keeping News updated
Interactive
Tools
Social Media, Twitter, Should students follow you on Twitter?, Do you follow DSC Online?, Facebook, Does the class have a Facebook page?, Second Life, Stickam.com
Course Tools, Chat, Extrovert, Elluminate, Discussions, Introvert
Tools
Teachers have learned tools for years. How to lecture while standing at a blackboard or white board, how to use PowerPoint, how to use document cameras, how to use ELMOs, how to use overhead projectors and opaque projectors, how to use iPods and cell phones in education. Your Learning Management System has a few more tools that you need to learn.  
Mastery
You master the tools so you can do what you want to do.
This module is about helping you master online tools for communciation and building community.
Tool Characteristics
All tools are enablers.
Course Email (Jim, Sidebar conversations, Isolating, Optimized for one to one, Lists allow one to many., Classlist gives you tools to use Course Email this way., Listservs allow many to many
Classlist (Paula), Who's online, What progress, Select to email
Discussions (Jim), Optimized for many to many, Encourage use, Provide forums where students can help each other, Praise good posts publicly, Don't have to respond to every individual post.
Groups (Mike), Displaying elements, Organizing
Tool Mechanics
Mechanics of Classlist (Paula)
Mechanics of Course Email (Jim), Attaching Files, Change Course Associations, Composing an Email Message, Find Addresses-Address Book Folder, Find Addresses-Address Book Tool, Find Email Messages, Getting To Course Email, Other Tools and Settings, Preventing Problems, Replying and Organizing, Resizing the Preview Window, Sending Links, Settings
Mechanics of Discussion Topics (Jim), Assessng Discussions, Associate with grade item, Numeric, Activity, Assess in context, While reading, Replying, Moderating, Assess on Assess Topic page, See all of student's posts, Enter scores, Individual posts, Be aware of calculation choices, Work around for lack of sum total, Holistically for Topic
Mechanics of Groups (Mike)
Notes to the Team
Remember to include mentions of other resources, beyond this course
Florida Online
Faculty Innovation
Production facilities
Podcast equipment
Media conversion station
Place Scenario ideas and Quiz questions in the appropriate folders on the shared drive.
Facilitating Community
Students should communicate and cooperate with each other, as well as with you. They should understand that you are a learner, as well as them.
Scenarios
Guiding
Being in the discussions
Keeping them on track
Praising good posts
Enforcing Netiquette
Learning
Part of commuinity of learners
What do you want to know
Enable and encourage students helping students.
Understanding
Appreciating diversity
Active listening online
Modeling good netiquette
What is Community?
Group of people helping its members fulfill their needs, as outlined in Maslow's Hierarchy of Needs., Physiological needs, Food, Air, Water, Sex, Safety and Security, Netiquette, No Cyberbullying, Love and Belonging, Acceptance, Team Member, Classmate, Self-Esteem, Academic success, Leadership, Self-actualization
Subsets of society, Family, Military, Gangs, Businesses, Academic communities, Gator Nation, Alumni Organizaitons, Police, Provide belonging to members, Provide safety and security to society at large, Fire Department, Provide belonging to members, Provide safety and security to society at large
Resources for Teaching Ideas
Here are a couple of additional resources for teaching ideas: http://www.dontwasteyourtime.co.uk/elearning/online-induction-what-happened/ http://www.apa.org/monitor/apr00/reinventing.html http://www.dartmouth.edu/~webteach/articles/discussion.html