Christ-Centered Ecclesia in Pinellas
by
Jon Irvine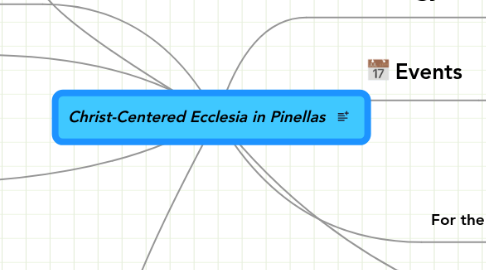 0.0
stars -
0
reviews range from
0
to
5
Christ-Centered Ecclesia in Pinellas
I know this is vague but let's start somewhere. I set up some initial topics... feel free to add/change/delete them or just start a brand new tree.  
For the Newbies!
Key shortcuts
INS to insert (Windows)
TAB to insert (Mac OS)
ENTER to add siblings
DEL to delete
Drag & Drop and double-click canvas
you can paste links: http://www.jonandtash.com
Leadership
Joe
Josh
Chris
Jon
Bruce
Praxis
Community
Prayer
Teaching
Music
Media
Theology/Philosophy
http://musement.wordpress.com
Dreams/Vision
Breathing with the community
Rhetorical Films (Jon's NFP) Production Company
A place for the culinary arts see www.chezpanisse.com
Organic Community Garden see http://www.jacobswell.ca/
Gift Shop (used music, books, art, trinkets)
Wholistic Medicine
Mission/Service
This is the heartbeat of the church.  Without this as a central piece of our existence, informed by Christ, we might as well just go join the local country club...
Events
SE Emergent Conference
Shaine Claiborne
Frank Viola
New node
New node