BTC (Data Analysis)
by
Anita Yuen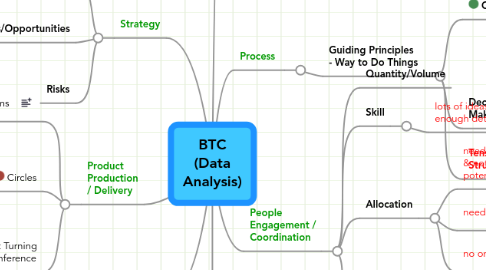 0.0
stars -
0
reviews range from
0
to
5
BTC (Data Analysis)
Governance & Monitoring
What to Track
in 2 years, 50,000 to flow thru BTC --> 1/2 million next yr?  
free up Maureen?
How to Track
Board
Identity, roles/responsibilities, need autonomy apart from Maureen, need to clarify expectations
Cycle
Process
Guiding Principles - Way to Do Things
Communication, Internal, of priorities, regular updates/record keeping to stay connected?, External - marketing
Decision Making, Set-goals don't stick - reactive, upstaged by immediate goals
Tension: Flow vs. Structured Foundation
Strategy
Mission/Vision
community engagement nuture activists consciousness raiser activate people
Priorities/Opportunities
What are the "THESE things get done"
Who sets it?
Risks
Product Production / Delivery
Symposiums
Agreed with Pachamama: use unpaid people  
Need to track data
Circles
Need updated action guides
Need to track changes
Need to strengthen support
Great Turning unconference
Lack follow-up
People Engagement / Coordination
Quantity/Volume
Skill
lots of ideas people, not enough detail doers
Allocation
need to better manage volunteers & not waste (symposium + new potentials)
need more leaders?
no one to do agreed tasks somtimes
Sustainability / Contingency
Reward, lack celebration/sense of completion?
Workload, "Do what you can do", Burnout
Technology
Information Management
database system ready - board not trained for usage yet
Finance
need more $$