Pre-writing Technique #1: Idea Mapping, aka Clustering
by
Tracy Thompson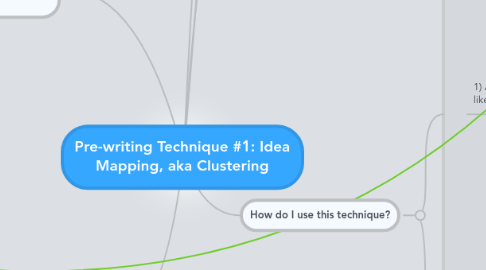 0.0
stars - reviews range from
0
to
5
Pre-writing Technique #1: Idea Mapping, aka Clustering
Why should I use this technique?
Mapping is great for visual thinkers.
You can create an image of your ideas.
The technique is non-linear.
It's fun!
How do I use this technique?
1) As a way to generate ideas, like brainstorming
2) If you have already generated ideas, you can use a map to help organize them.
I completed a map; what's next?
If you used the map to generate ideas, highlight those that may be useful.
Place your most useful idea in the center of a new map.
Use your map to create an outline for your project.
How can I share an idea map with the instructor or the class?
Write on paper. Scan your map when you are finished and save it as a pdf. Attach the file to a discussion post, blog post, or course message.
Where can I get help in using this technique?
The Allyn & Bacon textbook. Page 30 explains the technique, and page 31 includes an image of a student idea map.
UNM-LA's ASC: Writing tutors love to help students with idea maps. Remember, they're fun.
Send me a course message, set up a time to chat through gmail, text or call, or post to the course "Muddiest Point" blog.
I didn't find Idea Mapping useful, and I'm stuck for ideas. HELP!
Try focused freewriting.
Or engage in discussion with a classmate.
Play the believing and doubting game.
Brainstorm a list of ideas instead of a map.
Take a break. Then try a new idea generating technique.
Go to UNM-LA's ASC.
Take advantage of the free online tutoring service available to UNM-LA students.
Talk the issue through with a roommate, friend, or family member.