Communities of Practice
by
John Cuthell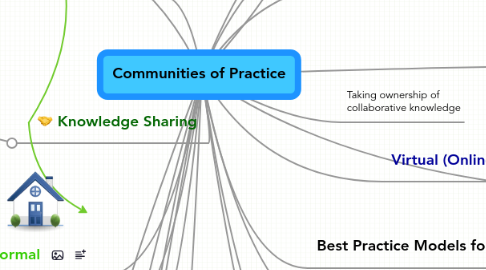 0.0
stars -
0
reviews range from
0
to
5
Communities of Practice
There were 28 members at the WLE centre in London and more than 30 members logged in at different points in this MirandaMod. Etienne Wenger gave generously of his time both by talking about the learning theories underpinning his CoP's concept and by commenting on the observations of the MirandaMod participants. His first main book refers to the interaction between Learning, Meaning, and Identity amongst the members. A striking observation about young learners that gave us more insight into their behaviour was the suggestion that they are seeking multiple identities in learning today rather than the information which used to be the goal of older learners. By the end of the session the participants formed a consensus about the need for schools to examine this phenomenon carefully. It also helps to explain young peoples' fixation with celebraties. This may not be a vacuous attraction to fame, we thought, but an interest in one of the many identities they might present to the world. The video is well worth watching. It features the seminar and round table discussion first where Ingemaar Svenson talked about a CoP in Sweden, Ove Jobring covered CoPs theories of learning and then Etienne Wenger talked about his view of CoPs as they have developed since 1989.  After that we have the MirandaMod with members' explaining what CoPs mean to them and Etienne Wenger commenting on what he heard. Would Etienne have been so expressive if we had tied his hands to his sides. We suspect not! We also have the collaborative map that participants collaborated on and Miles Berry's presentation about open source projects as CoPs. Many, many thanks to our MirandaMod team: Leon Cych, Theo Keuchel, Terry Freedman and John Cuthell. and the funders, the WLE Centre, Institute of Education, University of London, Becta and the TDA.   Here are the artefacts that have emerged so far: the archived FlashMeeting: http://flashmeeting.e2bn.net/fm/fmm.php?pwd=9ce5e8-7245 Miles Berry's presentation http://www.slideshare.net/mgberry/open-source-projects-as-cop Leon Cych's edited video www.l4l.co.uk/   The collaborative map that will not be closed down for analysis until Friday October 2nd 2009-09-28 MindMeister details: https://www.mindmeister.com/maps/show/29489327  
Online CoPs assume trust & are counter adversarial in nature; threats are less apparent/minimised. (Wenger) Does this factor for success lead to its demise?
Trust & reciprocity
This map!
e.g., a discussion forum set up to prepare for, or as a follow up to, a professional development experience for teachers.
e.g., a parent-led electronic bulletin board for a school community
Twitter as an example of different modalities for information sharing: From brief and "casual" to more formal/deliberate (e.g., postings to MirandaNet)
This is a great example of a FOCUSED environment around a particular tool/technology/practice.
Open source projects
e.g., Conferences
e.g., MirandaNet
Need to understand the purpose/goals of the community.
Reflection on one's work as a personal and shared discipline
Out of institution learning & collaboration
out of hours learning
heutagogic model
improved reflection (post gossip time)
teacher as mentor
teacher as co-learner
student as teacher