WindowsPlast Ict 2014
by Ouvrein Viktor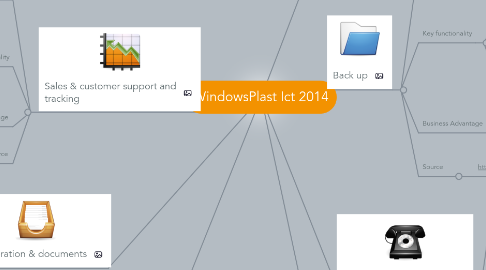 1. Telecommunication cost
1.1. product & provider
1.1.1. Product: skype
1.1.2. Provider: skype
1.2. Key functionality
1.2.1. Save Money: Call and conference with anyone else on Skype for free and reduce cost of calling mobiles and landlines
1.2.2. Stay connected: even when you are not in the office people can still reach you for important mathers
1.2.3. Work together: you can do a group call with 10 persons at a time
1.2.4. You can call mobile and land lines
1.3. Business Advantage
1.3.1. skype is known for it's high quality of connection and it's free
1.4. Source
1.4.1. http://www.skype.com/en/business/
2. Back up
2.1. product & provider
2.1.1. Product: Barracuda provider
2.1.2. Provider: Barracuda Network
2.2. Key functionality
2.2.1. The cloud: provides several options for redundant offsite storage of backup data
2.2.2. Each Barracuda Backup Server performs local backups replicating data to the other Barracuda Backup Servers
2.2.3. Or, Barracuda Backup Servers at satellite locations can replicate their local data to a larger central Barracuda Backup Server
2.3. Business Advantage
2.3.1. effecient
2.3.2. safe
2.3.3. inexpensive
2.4. Source
2.4.1. https://www.barracuda.com/products/backupservice
3. training
3.1. product & provider
3.1.1. Product: Cloud Computing training (in-company) Essentials
3.1.2. Provider: international management forum
3.2. Key functionality
3.2.1. The CompTIA Cloud Essentials training is a 2-day learning experience. The training provides a balanced curriculum and addresses the business and technical perspectives of cloud computing
3.3. Business Advantage
3.3.1. To help organizations improve their virtualization and cloud education and implementation initiatives.
3.4. Source
3.4.1. http://www.imfacademy.com/areasofexpertise/information_technology/cloud_essentials_professional_incompany.php
4. Mail & instant messaging
4.1. product & provider
4.1.1. Product: WorldSmart Unified Cloud IT Service
4.1.2. Provider: PanTerra Networks
4.2. Key functionality
4.2.1. WorldSmart integrates all your communications services together
4.2.2. WorldSmart's cloud-based virtual Call Center delivers world-class inbound AND outbound Call Center capability
4.2.3. WorldSmart's Unified Cloud Mobility services, your mobile workforce becomes empowered to be more productive and efficient when mobile
4.3. Business Advantage
4.3.1. More responsive
4.3.2. not more expensive than telephone lines
4.3.3. maximize flexibility
4.4. Source
4.4.1. http://www.panterranetworks.com/products/index.php
5. Collaboration & documents
5.1. product & provider
5.1.1. Product: Office 365
5.1.2. Provider: Microsoft
5.2. Key functionality
5.2.1. Get big business IT without any expertise needed
5.2.2. can be installed on tablets and phones
5.3. Business Advantage
5.3.1. email and calendars are shared
5.3.2. documents can be seen from in the office and home and can be shared
5.3.3. connect with your collegues with instant messaging
5.4. Source
5.4.1. http://office.microsoft.com/en-us/business/office-365-small-business-premium-office-online-FX103037625.aspx
6. Sales & customer support and tracking
6.1. product & provider
6.1.1. Product: Service cloud
6.1.2. Provider: Novo customer tracking service
6.2. Key functionality
6.2.1. Centralize Data for Dispersed Sales Representatives
6.2.2. Automate Sales Tasks
6.2.3. Empower Sales Representatives with Historical Customer Service Information
6.3. Business Advantage
6.3.1. Easily Accessible on your Corporate Intranet or Web Site
6.4. Source
6.4.1. http://www.novosolutions.com/customer-tracking-software/
6.4.2. http://www.salesforce.com/service-cloud/overview/
7. Sales mobility
7.1. product & provider
7.1.1. product: SalesAssistant App
7.1.2. provider: GMC
7.2. Key functionality
7.2.1. This high-tech approach streamlines and speeds transactions, as well as being more interactive for customers. With SalesAssistant, a dealership's inventory, vehicle specs and option packages info can be quickly browsed; incentives are updated in real-time and payment estimates can be provided.
7.3. Source
7.3.1. http://media.gm.com/content/media/us/en/gm/news.detail.html/content/Pages/news/us/en/2013/Apr/0409-GMC-Tablet.html