GUIDE-M
by
Monika Kastner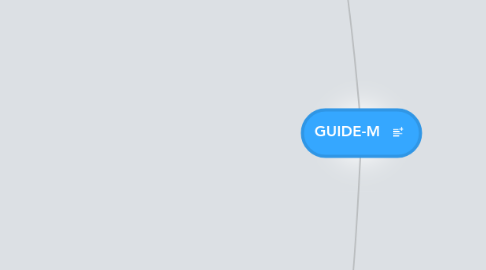 0.0
stars -
0
reviews range from
0
to
5
To facilitate uptake, the process of guideline development should consider six guideline implementability domains across two broad aims: 1) the creation of content for the guideline and 2) the communication of this content to guideline end-users. In the creation of content, there are four domains of guideline implementability that are interrelated but not necessarily sequential. Guideline development can begin with the consideration of the various stakeholders that will be involved, which includes addressing the credibility of the guideline development group as well as the disclosure of any conflicts of interest. Once these Stakeholder Involvement sub-domains are considered, the next steps are to gather and synthesize the evidence. This domain has three sub-domains, which represent the high-level order in which evidence can be synthesized: the reporting of WHAT evidence is needed followed by HOW this is done, and lastly, WHEN this is done (i.e., guideline updating). After gathering and synthesizing the evidence, guideline developers need to formulate the recommendations. While formulating the recommendations according to the evidentiary base, developers also need to acknowledge their Considered judgment, which involves addressing the Clinical Applicability of recommendations as well as the Values of developers, providers and patients. After gathering the evidence and formulating the recommendations, guideline developers need to consider issues of Feasibility to maximize the opportunities for uptake. These are Local Applicability, Resource constraints, and Novelty. Once the content is created, the next step is to communicate this content as effectively as possible by fine-tuning the Message and Format of guideline recommendations. To optimize the Message of a guideline and in turn its uptake, the language used in recommendations has to be simple, clear, and persuasive. Once the messaging of the recommendations is finalized, guideline developers can focus on the formatting aspects of the guideline, which includes the consideration of multiple versions of guideline documents to optimize their uptake, the various components within a guideline document, and its presentation.
The creation of the content in guidelines involves four domains of guideline implementability that are interrelated but can be considered non-sequentially and iteratively during the guideline development process. It involves addressing Stakeholder involvement of guidelines (i.e., their credibility and disclosure of conflicts of interest); Evidence synthesis (i.e., reporting of what is needed in guidelines, the execution of these elements including how this is done, and the updating of guidelines); Considered judgment (i.e., the consideration of clinical applicability and values); and Feasibility (i.e., the local applicability of guidelines, the consideration of resource constraints, and novelty).
Stakeholder Involvement
Addressing stakeholder involvement of guidelines during development facilitates their uptake, and concerns the appropriate composition and relevant and unbiased expertise of the guideline development group, ensuring their credibility and disclosure of potential conflicts of interest. It also involves seeking the views and preferences of the target population (patients, public) in their development and clearly defining target end users1-3. Credibility is influenced by the clarity of information about the background and expertise of the guideline development group4 as well as their competing interests1,2. Recommendations based on expert opinion alone may be prone to conflicts of interest because expert clinicians are also those who are likely to receive honoraria, speakers bureau, consulting fees, or research support from industry5. In such circumstances, any potential conflicts of interest should be clearly disclosed because they could inappropriately affect how recommendations were formulated4,5. To ensure that the views or interests of the funding body have not influenced the content of the guideline, explicit statements about the competing interests of guideline development group members should be recorded and addressed1,2,6 including funding sources4 and a statement about editorial independence1,2,4. The panel should also report the composition, discipline and relevant expertise of panel members1,4 and seek the views and preferences of the target population1. Having multidisciplinary membership also increases credibility because they may be less susceptible to stakeholder bias and may be more applicable to primary care and routine practice4. Guideline panels should avoid recruiting secondary care consultants and pharmaceutical industry representatives, as their involvement negatively influences the credibility of the guideline7.  
Evidence synthesis
Evidence synthesis reflects the attributes necessary to enhance guideline validity and reproducibility and involves three things: (1) The consistent reporting of what is needed to be included in the guideline such as the scope of the guideline (patient population, disease, etc.) (AGREE 2003; Brouwers 2010; Rosenfeld 2009), the number of recommendations, any recommendations contingent on a patient's history (Milner 2002, Grimshaw 1994), phases of the illness (e.g. diagnosis or treatment) (Hayward 1995), ethnic-specific data (Manna 2003), resources for patients (Vlayen 2005), and the role of patient preferences (Roberts 1996; Hayward 1995); cost and resource requirements (Milner 2002; Grimshaw 1994), comorbid conditions (Tierney 1995; Milner 2002; Grimshaw 1994), the healthcare burden (Rosenfeld 2009), outcomes data (preferably those important to patients) (Hayward 1995; Wolff 1998), a variety of treatment modalities and alternatives (and associated outcomes) (Roberts 1996), and harms and benefits associated with recommendations / alternatives (Rosenfeld 2009; Hayward 1995); (2) the execution of these elements, ensuring that guidelines are evidence-based (Grimshaw 1995; Grol 1998; Corner 2010; Parry 2003; Dahm 2009), valid & reliable (Rosenfeld 2009; Grimshaw 1993; Vlayen 2005), and communicate their methods and decision making processes in a transparent manner (Hayward 1995; McAllister 2007) by reporting any potential conflicts of interest (Chou, 2008), the type and quantity of evidence the recommendations are based on (Hayward 1995), and how the evidence was interpreted, assessed, and linked to recommendations by the guideline committee (McAllister 2007; Grol 1998; Rosenfeld 2009; Burgers 2003; Polosa 2002; Graham 2000; Harbour 2001; Grimshaw 1995). This work must be done with the involvement of the entire development committee (Grimshaw 1993) and clearly distinguish when recommendations were based less on evidence and more on expert judgment or group consensus (Watine 2006; Rosenfeld 2009); and (3) The currency of this reporting, since guidelines should be updated when new clinical evidence or professional consensus changes (Baldwin 2000; Gravas 2008; Rashidian 2008). However, this should be balanced with competing interests as users have a desire for recommendations which reflect the most current practice knowledge (and have reservations using "old" guidelines (Moffat 2007)), but they become skeptical of their utility when guidelines are constantly changing or if updates are significantly different than the originals (Rashidian 2008). Regardless of the approach, guidelines should include statements about when guidelines should be reviewed to determine whether revisions are warranted (IOM, 1992) and how they will monitor new evidence and update recommendations (Chou, 2008).
Guidelines are designed to assist practitioners and patients in making complex clinical judgments, with the recognition that no guideline can replace or supersede the role of clinical or professional judgment about the individual patient (Berg, 1997; Parry, 2003). Developers must supplement evidentiary factors (quality, quantity and consistency) with considered judgment, which represents the complex trade-offs between competing benefits and harms, side effects, and risks of different options for managing the disease or condition (Verkerk, 2006), as well as the consideration of clinical applicability, and the values and preferences of patients, developers and providers (Oosterhuis, 2004; Watine, Hayward, 1995, AGREE). Clinical applicability is at least as relevant as its support with evidence to guarantee adherence (Burgers JS, 2003), and is influenced by the clinical relevance of recommendations, the appropriateness of these recommendations to the patient population, and whether implementation has been considered. Sometimes, there is a lack of fit between physicians' own experiences and the guideline recommendations (Calsen B, 2007), and even if guidelines appear valid, they may not be applicable to all patients or too rigid to apply to individual patients (Lobach, 1995, Chou, 2008, Brouwers, 2004, Corbett, 2009). To help interpret and apply the recommendations and ensure that correct inferences are made in most cases, guidelines should have a clear, specific clinical question, be applicable in the real world across different levels of expertise, be as inclusive of appropriately defined patient populations as evidence and expert judgment permit, explicitly state the population(s) to which statements apply, and reflect the appropriateness or applicability of the evidence to the clinical circumstances and setting (Keeley PW, 2003; Polosa R, 2002; Connelly, 1990; Moffat, 2007; Cabana MK, 1999; Dahm P, 2009, Graham, 2000, Mason, Eccles et al., 1999, Tan, 2006, Gagliardi, 2011; IOM, 1992; Patel year?). Lack of clinical autonomy can hinder physicians' acceptance and utilization of guidelines, so they should also be developed as a support for practitioners, allowing for clinical freedom and space for flexibility and clinical autonomy rather than a set of constrained rules (van Hoecke 2010; Conroy, 2005; (Lobach, 1995), specifying flexibility and adaptability in recommendations (Manchikanti, 2008) and identify interventions for which the strategy is most appropriate (Parry, 2003). Ultimately, the best strategy depends on clinical judgment and patient preferences or values (e.g., hormone replacement therapy) (Berg, 1997; Keeley, 2003; Roberts, 1996). Translating evidence into action often involves value judgments, which include guiding principles, ethical considerations, or other beliefs and priorities (Rosenfeld, RM, 2009), but formulating recommendations should also include the values and preferences of those for whom the recommendations are intended: providers, patients, and developers (Bousquet, 2010; Schunemman, 2006). Statements about the underlying values and preferences refer to the relative worth or importance of a health state or its consequences, and serve to facilitate accurate interpretation (i.e., the relative weight people attribute to particular benefits, risks, burdens and costs to determine their balance) (Bousquet, 2010; Schunemann, 2006). The formulation of recommendations is complex and affected by the contexts and values under which guideline development takes place, but the accurate and comprehensive documentation of these factors is a challenge (Savoie, 2000), particularly in situations when the evidence is inconsistent, scarce, lacking or when the majority of recommendations are not supported by RCTs (Verkerk, 2006, Tricocci, 2009). If the underlying evidence is low quality, weak or conflicting, no matter what degree of consensus or peer review, the clinicians' confidence in the validity of the guideline will be limited (Hayward, RSA, 1995). In these situations, the guideline team should explicitly state the root of the problem and consider using a robust formal consensus method to identify current best practices (Horvath, 2010). Even when the evidence is certain, recommendations for or against interventions will involve subjective value judgments when the benefits are weighed against the harms (Woolf SH, 1999). As a consequence, it may be difficult to describe arguments beyond the evidence in a transparent way, and the composition of the guideline-development group as well as group dynamics can influence this process [Verkerk, 2006]. As such, guideline development needs to involve an unbiased expert team using a transparent and well-documented process with explicit strategies documenting, describing, and dealing with dissent among those judging guidelines, or frank reports of the degree of consensus (Horvath, 2010; Hayward, RSA, 1995). They should report values or value judgments that were used to influence recommendations along with the research evidence underlying the recommendations (or state if none were used), and allow for adaptation after incorporating local values (Shaneyfelt, 1999; Rosenfeld, 2009). Guidelines should also flag or reflect the strength of the recommendation when differences in values would lead to different decisions or if there is important uncertainty about values that are critical to a decision (Schunemann, HJ, 2006). Ultimately, to better understand their influence on interpreting objective evidence and in turn to clarify information for end users, guideline developers should state value judgments and list their considered judgments clearly, including who, by influencing recommendations, was explicitly and implicitly involved in assigning values to outcomes (including various health and economic outcomes), and to systematically consider these aspects at all phases of the guideline-development process [Verkerk, 2006; Hayward, 1995; Rosenfeld, 2009; Dahm, 2009; Wilson, MC, 1995)
Feasibility
Feasibility involves the local applicability of guidelines, the consideration of resource constraints to make them more implementable, and the influence of novelty or familiarity with guidelines for their adoption. Adapting national recommendations to local conditions has been shown to be effective in other settings (Fervers, 2010), is an important factor for enhancing their use and implementation in clinical practice (Fervers, 2010) and to enhance ownership of guidelines (Wallin, 2000). In order to do this, those adapting the guideline must specifically consider local context (Brouwers 2009), make non-controversial recommendations that make minimal change, taking into consideration local resources (Powell 2003), and determine if the original recommendation contains recommendations that permit (or allow) individualization (Shiffman 2005). To make this process easier, the developers of the national or more generic guideline, can format the recommendations in terms of measurable criteria and targets for quality improvement (Feder 1999), set bounds for adaptation by offering accepted options of practice (Shiffman 2004), identify the resource requirements associated with each action in the guideline (Terenziani 2004), and identify the costs, resources, competencies, and training, technical specifications and anticipated impact required to accommodate use of the guideline (Gagliardi 2011). Finally, local people can develop their own unique guideline, which will be more applicable (Irving 2010) and possibly have greater credibility and support (Coleman 2001), although it may be less rigorous and valid, and thus may lack support (Polosa 2002). Tools to assist guideline implementation (Jones 2007; Goldman 2003; Gagliardi 2011; AGREE 2010) will facilitate the integration of guidelines into practice and help test them in practice, which may prove their effectiveness to local clinicians (Veldhujzen 2007). Strategies to assist guideline implementation include: audit criteria necessary to implement recommendations (McAllister 2007), discussion of how the guideline will be disseminated, anticipated implementation barriers and how to address them, and what supporting materials will be developed (Rosenfled 2009, AGREE 2010); road testing guidelines before publication (Mckinlay 2004); and considering potential resource implications of applying the recommendations (AGREE 2010). The inclusion of implementability information within guidelines help users apply the recommendations, represents a less-threatening, practice-relevant approach compared with complex, costly, inconsistently effective strategies, which are often viewed negatively by guideline sers (Gagliardi 2011). Making guidelines more implementable by considering resource constraints involves carefully considering recommendations that require high levels of time or resource investment, and making data regarding resource requirements and cost-effectiveness available. However, guideline developers ought to be cognizant of the time and resources required to implement guidelines in practice (Keeley 2003) and be aware of the availability of any recommended treatment or data requirements outlined in the guideline (Zhang 2007; Berg 1997) and explicit about the resources required (Brouwers 2008, Schuneman 2008, Powell 2003). Many suggest that costs of treatments should be included in the evidence profile (although some argue that resource requirements, not costs, should be outlined because costs vary in time and location, and outlining the resources required would increase the usability of the data). Including economic data will help guideline users and patients weigh various options. If developers conduct an economic analysis or a cost-effectiveness analysis, they should use standard procedures and a sensitivity analysis. Guidelines that ignore the issue of cost-effectiveness (most) might recommend practices resulting in large increases in cost for little corresponding improvement in health (Grimshaw 1995). There are a few caveats to economic evaluation: if a treatment is cost-effective, it does not follow that its implementation is; economic data is difficult to find and guideline developers ought to be clear if they do not have all of the information; not all experts agree that including economic data in guidelines is helpful (Mazza 2000) or appropriate (Rosenfeld 2009). High-tech innovations are often the most difficult to implement because of the time and resources required to implement them. Users may postpone their implementation until they are more affordable. The degree of familiarity (or, in contrast, how novel an innovation is) influences how easy it is for users to adopt it.  If things seem familiar (i.e. they do not pose a significant change to the status quo), users are more likely to adopt them because (a) the innovation is relatively easy to understand and process (Wheeler 2009), (b) they do not have to significantly adjust their "anchor" or their idea of what is appropriate (Ariely 2009), and (c) familiar things seem less risky (Song 2009).  Other attributes which promote adoption are related to familiarity, but speak specifically to the innovation itself: if the innovation does not require the acquisition of new competencies it is easier to adopt (Shiffman 2005) (keeping in mind that recent graduates find adoption of new competencies easier than others); similarly, if the innovation requires relatively low skill, it is easier to adopt (Meyer 1988); if it is consistent with existing values, needs and experiences of potential adopters, it is easier to adopt (Rogers 1993, Agarwal 1997, Brown 2001, Carlfjord 2010, Scott 2008, Tornatzky 1982, Foy 2002, Wolfe 1994); if the user believes the new innovation will help them perform better, they are more likely to adopt it (Thompson 1991).  The degree of novelty of an innovation and how much change it represents for users and systems impacts uptake (Shiffman 2005, Rosenfeld 2009).  When the status quo is satisfactory and when the innovation requires changes considered unconventional, people are less likely to adopt it due to resistance to change (Redelmeier, 2001). and the cognitive load associated with adopting the innovation (Farrington 2011).  The more radical the changes associated with the innovation, the less attractive the innovation (Dewar & Dutton, 1986; Munson & Pelz, 1982; Nord & Tucker, 1987; Pelz, 1985, Zaltman, Duncan & Holbek, 1973 – cited from Wolfe 1994; Solberg 2000).  In particular, innovations that are not compatible with values, norms, or existing norms and habits, are less likely to be adopted (Burgers, 2003, Foy 2002, Grol 1998, Lutenberg 2010).  However, if this is unavoidable, the changes required should be laid out (McAllister 2007). Finally, guidelines with recommendations that are considered inconvenient (Lutenberg 2010) or require the acquisition of new knowledge or skills, which are more difficult for end users to adopt (Grol 1998, Meyer 1988). However, if new knowledge and skills are required, the guideline should explicitly explain this (Browers 2008).
Once the content of guidelines is created, it can be communicated using two domains of guideline implementability that can be considered in sequence during the guideline development process. It involves fine-tuning guideline recommendations with effective 1) Messaging (i.e., to ensure that the language of guideline recommendations is simple, clear and persuasive) and 2) Format (i.e., its representation in multiple versions, the inclusion of specific components, and its presentation with effective layout, structure, and information visualization).
Simplicity can be achieved by avoiding complexity and information overload. Complexity occurs when recommendations are composed of many different elements or require multiple action types (Foy, 2002, Milner, 2002; Essaihi, 2003), are overly elaborate (containing a multitude of decision trees in an attempt to cover every possible combination and permutation) (Garfield, 2000; Burgers, 2003, Grol, 1998; van der weijden, 1999) or many different conditional factors influencing performance (Grol, 1998). The level of complexity is inversely proportional to its adoption - the greater the complexity, the lower the rate of use (Ball, 2010; Tornatzky, 1982; Thompson 1991, both from Rogers & Shoemaker, 1971; Davis, 1989). Complex guidelines may also hinder understanding and be less persuasive and hence difficult to implement (Rashidan A, 2008), and result in lower compliance and adherence (Parry, 2003; Foy, 2002 both from Grilli and Lomas, 1994) and acceptance of guidelines (Milner, 2002). Simple and uncomplicated guidelines have higher compliance rates (Gurses, 2010) and are more easily adopted (Scott, 2008 from Greehalgh, 2004; (Cabana, 2002 - Paed Resp Rev). To overcome the inherent complexity of guidelines (Sinuff, 2007), they should be supported by hierarchical nesting (Tu, 2003), categorized on a complexity-simplicity continuum (Rogers, 2003), balance choices and options with need (Drummond, 2004), and use the process of atomization (removing unnecessary words, and reducing decision variables to prototypic nouns with descriptors occupying the "value" element) (Shiffman, 2004). The use conditional statements such as "If-then" or "If-then-else" formats can be used to write guideline rules with all of the parameters strictly defined using routinely collected clinical data (Tierney, 1995; Patel, 2002) can also help to reduce complexity. In terms of the complexity of numbers, the number "Three" is how we group digits in large numbers for increased readability, and should be used for items that need to be grasped rapidly and remembered easily (Doumont, 2002). The number four can be used for casual rating scales, and is the same as years, so it is easily readable (though not as easy as the "number three"') (Doumont, 2002). The number five is the strict upper limit as it represents a handful or the number of fingers on a hand, but also our practical span of attention (Doumont, 2002). The number six represents one above the "safe five", and may work for some people or in some cases only, while the number seven is too many to be effective and too numerous to be numbered (Doumont, 2002). In reducing complexity, the Error/Effort tradeoff also needs to be considered. In tasks taking more than a few seconds to complete (i.e., task complexity), people will monitor their effort expenditures and adjust their strategies accordingly (Thorngate, 1980). The desire to minimize effort may be stronger than the desire to minimize error (Thorngate, 1980), but excessive choice may cause confusion and be extremely de-motivating (Drummond, 2004), so developers need to consider whether providing additional information and choice really contributes to improving decision making (Kasper, 2010). In situations of great time pressure, overly elaborate guidelines that contain a multitude of decision trees in an attempt to cover every possible combination and permutation may be impractical. In these circumstances, clinicians may operate under a "take the best" paradigm in which they choose the first solution that matches their needs, without examining all solutions and integrating them (Garfield, 2000). Simplicity can also be hampered by information overload, which occurs when information is overwhelming or oversupplied or when the quantity of information in which the internal and external requirements exceeds the available cognitive capability of individuals (Ho, 2001; Bawden 2004; Kleinjnen, 2009, Schneider 1987 from Lehtonenen J, 1988). Saturation of the information processing system can get saturated, thereby causing confusion, continuous partial attention and cognitive overload (Bawden, 2004). This can complicate decision making (Kleijnen, 2009), and result in lost or diminished interest in the information (Lehtonen, 1988), postponement or abandonment of the information, a decline in the quality of choices (Braun- LaTour, 2007), and resistance to novelty (Kleijnen, 2009). When many alternatives are available, the inclination is to do nothing (Redelmeier, 2005). The limit of working memory before information overload sets in is 5 +/- 2 chunks of information (Miller, 1956; Kushniruk, 2009) or a checklist of 5 to 9 items at a time (Gawamde, Book, Year?). However, the 5 to 9 items depends upon the context, as the length should be dependent on how much time the user would have to look up that information (Gawamde, Book, ?). Furthermore, motivation plays an important role as it acts as a driving force determining the extent to which and individual is willing to use his or her maximum information capacities (Klausegger, 2007). The working memory can be optimized by narrowing the set of alternatives or decreasing the cognitive load (Patel, J Biomed Inf, ?; Drummond, 2004; Farrington, Perf Improv Quar, ?) and limiting the number of new elements to 3 or 4 items or chunks (Clark, 2010; Cowan 1998; Luck and Vogel, 1998). Applying rules of thumb or heuristics can also simplify medical decision making and help deal with information overload (Cavazos, 2008) by simplifying complex rules and information matrices into a smaller number of overriding truths (Berg, 1997). In complex and time-constrained scenarios, heuristics serve to condense relevant information and streamline decision-making processes (Cavazos, 2008). However, in situations where most frequent heuristics pertain to clinical decisions regarding areas well addressed by current published recommendations, heuristics can often conflict with the recommendations and can resemble the cognitive biases that distort clinical judgment like availability bias and base-rate fallacy (Cavazos, 2008). Furthermore, although the breadth of guideline applicability may be appropriate for an expert who can appreciate the nuances of different agents and patients, it is less suitable for novices, who might be better served by one safe choice instead of four options (The McDonnell Norms Group, 2006). Clear guidelines comprise recommendations that are actionable and written with effective language. When guidelines are unclear, physicians are left with little direction (Tudiver, 2002), and less likely to accept (Milner, 2002; Watine, 2006) or comply (Gagliardi, 2009) with guidelines. Guidelines can become unclear in high uncertainty situations, when the evidence is still evolving or recommendations are based on evidence not in common practice (Tudiver, 2002), and when the clinical decisions based on the results of the recommended investigations (or the names of recommended tests) are not precisely specified (Watine, 2006). To make clear, guidelines should define and specify the target population (NICE, 2009), the objective (Philips, 2004), key terms (Fontanesi, 2007), and any specialized terminology (NICE, 2009) and abbreviations (Fontanesi) used in the recommendations; and be unambiguous (NICE, 2009; Randall, 2000; Watine, 2006). Actionable statement provide practical direction (Goud, 2010) using action-type (active) verbs (Michie, 2004/2005; Jackson & Feder, 1998; Rosenfeld, 2009) that specify the target behaviour: when (under what specific conditions), who, must/should or may (the level of obligation), do precisely what action (Michie 2004; Rosenfeld 2009; NICE, 2009). Using specific concrete statements increases the extent to which information is both understood and remembered (Michie, 2004) but overspecification (covering every conceivable point) should be avoided (Gewande, Book, Year?). Ambiguity can arise when guidelines do not clearly and consistently specify what to do or clarify the parameters on which decisions are based (Gurses, 2010; Shiffman, 2004), which can lead to vague and cautious recommendations that are unlikely to be applicable in particular situations (Wolf, 1998) or guide practice in a meaningful way (Flanders, 2004). Vague and underspecificed (weasel) words or phrases are open to broad interpretations (e.g., adequate, frequently, febrile, elderly) (Tierney, 1995), and can lead to reduced adherence or to increased practice variation (Codish, 2006). Specificity can also be affected by the use of passive voice (a form of vagueness) because the essential "who" of the statement is missing (Rosenfeld, 2009); and the use of arbitrary numbers (months of treatment, intervals between tests) (Woolf, 1999). However, there may occasionally be a need for deliberate vagueness or underspecificiation because of insufficient evidence (Rosenfeld, 2006/2009; Codish, 2006), in which case an explicit statement of the deliberate vagueness (and the reasons) should be provided (Rosenfeld, 2006). Clarity can also be improved through effective writing (direct style with active voice, good punctuation with short sentences, and devoid of abbreviations, redundant words or unnecessary jargon) (Neville, Book 2006; NICE, 2009); and by keeping units of meaning together, hyphenation to a minimum, avoiding awkward breaks of sentences and words (Frascara J, 2007); and using bulleted lists to simplify and clarify if recommendations convey a series of points, deal with repetition or complex paragraph structures (NICE, 2009; Gaerner-Johnston, Book, 2005). The communication of guideline messages should be crisp and persuasive. This involves framing recommendations from a "gain" rather than "loss" stance (as people tend to be loss averse (Grapentine, 2009)), particularly in settings of uncertainty (Author, year). Framing should also be grounded on clear and convincing arguments that are based on extensive clinical skills and experience (Grol, 1998); and which justify the need for change by comparison with existing approaches, norms and concerns (Conroy, 2005). It is better to focus on omission of errors (not doing the right thing) rather than errors of commission (doing the wrong thing (Tierney, 1995; Shiffman, 2004). Poorly framed guidelines have little effect on individual or aggregate-practices patterns (Harris, 1997). Reminding people of a situation in which everything worked out for the best is a good way to increase confidence in a recommendation, while reminding people of a related incident in which things went wrong is a good way to increase fear of a bad outcome (Grapentine, 2009). Relative advantage the extent to which a potential adopter views a new care process as being better or offering an advantage over previous ways of performing the same task (Moore & Benbasat, 1991 from Agarwall, 1997; Rogers & Shoemaker, 1971; Tornatzky, 1982; Wolfe, 1994, Brown, 2001; Solberg, 2000). It is a dominant predictor of future intentions to use them (Rogers, 1995 from Brown, 2001) and is associated with clinician intention and behaviour to change (Scott, 2008). Thus, new processes with a clear, unambiguous advantage over the previous approach will be more easily adopted and implemented than those viewed with no relative advantage (Greenhalgh, 2004; Scott, 2008; Tornatzky, 1982). The advantage may be conceptualized in terms of economic profitability, social prestige, or ease of use (Scott, 2009), and signifies the importance of having a clear understanding of existing resources when designing new information resources (Scott, 2008).
    The consideration of format in guidelines allows a way to make explicit, the various elements of its purpose and content (Shaneyfelt,1999), and be  influential in promoting guideline use in practice (Tong 2001, Grimshaw 1994) by making them concise, simple and easy to use (Gagliardi 2011, Stone 2005, Calsen 2007). Formatting aspects of guidelines include the representation of multiple versions of guideline documents to optimize their uptake, the various components within a guideline document, and its presentation. Multiple versions of guideline documents: Levels of guidelines typically progress from a research-based, information-gathering and analysis tool (which can be used to understand the basis of the recommendations in detail), to a briefer guide for clinical education, to a short version for actual clinical use, and finally to a lay-language version for patient education and discussion (Harris, 2000). Presenting guidelines in multiple formats or alternate versions (Smith 2004; Lugtenberg 2009; Gagliardi, 2011; Stone, 2005) can influence accessibility and ease of use, which may overcome attitudinal barriers of guideline adoption (Gagliardi 2009, IOM 1992; Cabana 2000). For a guideline to be useful to physicians, it needs to be formatted for its intended end-users (Brouwers 2009), and should be presented in formats that can be read and understood by non-physician reviewers, practitioners, and patients/consumers (IOM 1992). Different groups of health professionals exhibit distinct preferences for different types of guidelines, which suggests a need for systems to produce, filter, target, and package the evidence in ways that reflect these preferences (Coleman, 2001). As such, guidelines should be distributed or converted in a variety of formats that are either flat (i.e.,paper or text-based) or dynamic-based (i.e., computer-based) (Dufour 2006). Guideline delivery forms that are dynamically generated and adaptable to the specific expertise level of the user may be more effective at achieving a standard level of practice across providers with varying levels of expertise (Patel 2001). Computerization of guidelines can improve their level of use, and their impact on clinical practice (Dufour 2006; Quaglini, 2006), particularly if they become a component of an EMR (Wolff, 1998). The majority of physicians prefer a guideline format that is short, concise, and easy to use, rather than a full text documents (Wolff 1998). Components: Guidelines should specifying their purpose, rationale, the participants in the development process, the targeted health problem, patient population and intended audience (Shaneyfelt 2008), include a general introductory section that explains the need for the guideline and the process by which they were developed (American Psych Association, 200) as well as a Methods section (NICE, 2009). Other important components to include in guidelines are: overview material (structured abstract that includes the guideline's release date and print and electronic sources), name and institutional affiliation of adaptation panel; Introduction and background; Scope and purpose; Target audience and target population; Recommendations (including risks and benefits and specific circumstances under which to perform recommendations), strength of recommendations; Supporting evidence and information for the recommendations (panel rationale behind the recommendations, presentation of additional evidence and/or the results of the updating process, how and why existing recommendations were modified; External Review and Consultation process (who was asked to review it, what process was followed, discussion of feedback and what was incorporated into the final document); Plan for scheduled review and update; Algorithm or summary document; Implementation considerations; Glossary; References; Acknowledgement of source developers; List of panel members and their credentials, declaration of conflicts of interest; List of funding sources; and Appendix describing adaptation process (Brouwers 2009). Strategies to ensure recognizability of guidelines include abbreviated formats and a clear display of logos (Mckinlay 2004), which also avoids confusion between evidence-based and quasi guidelines or other information produced (Mckinlay 2004). To ensure that the most important recommendations of the guideline are being followed, key features should be highlighted such as recommendations that are essential to the whole guideline and to their ultimate goals (Foy 2002), those that differentiate between major recommendations and other recommendations (Vlayen 2005; Maviglia 2003) or is a central element in the guideline (Grol, 1998), and have the most significance in the care of patients (Keeley 2003). Short summaries or brief executive summaries should be easily read (Powell, 2003) and highlight principal or key management recommendations for busy clinicians who may not have the time to review the traditionally lengthy, full guideline document (Grimshaw, 1994; Flanders, 2004). Brief summaries or algorithms with links to more extensive explications of guidelines could present the most pertinent information concisely, while not compromising comprehensiveness (Wolff 1998, NICE 2009), which can also help to create more clarity for patients (Veldhuijzen 2007). Presentation: The presentation of guidelines consists of factors that affect its layout and structure, and the way information is visualized. Layout of full documents is about the placement or arrangement of visual elements and the length of documents, and for the information to be laid out spaciously and consistently so they are easier and quickly understood (Silayoi, 2007; Conroy, 2005). To maximize recall, pictorial elements such as product photography should be positioned on the left-hand side of documents, and text on the right (Silayoi 2007). Given the time constraints on physicians and the potential for information overload, guidelines should be short and as succinct as possible (Wolff 1998, Moffat 2007,Mazza 2001,Ruecker 2007,Cabana 2002; Lugtenberg, 2009). Structure relates to the high-level categorization of the components of a recommendation and how recommendations relate to each other (Tu 2003), and represent the suggested template for major sections within a guideline (Rosenfeld, 2009). Matching the system to the real world and using sequential arrangement or bundling facilitates the structure of guidelines to enhance their uptake. When guidelines are structured in a sequence that mimics the real patient encounter using real-world conventions, physicians will follow a more natural mapping process and thus assimilate information better (Kushniruk). Beginning with the initial evaluation or presenting complaint is thus the best approach for clinical practice guidelines because patients (Harris 1997; Harris 2000). Bundling is a technique to help physicians remember a list of recommendations with less effort given the limit in the span of immediate memory (i.e., three bundles of three items is easier to process than a single series of nine items (Doumont 2002). Encapsulating knowledge (i.e., clinical knowledge) tends to be used preferentially and more readily assessed by doctors than biomedical knowledge (Schmidt 2007). Bundling medical tests (and procedures) so that people remember to do them is far smarter than adhering to an erratic series of health commands that people are unwilling to follow (Ariely 2009). Information visualization is about presenting information in visual form. It offers a way to shift cognitive load to the human perceptual system through graphics and animation, and involves the selection, transformation, and presentation of data (including spatial, abstract, physical, or textual) in a visual form that facilitates exploration and understanding (Lurie, 2007); and can lead to better, faster, and more confident decisions (Lurie 2007). The simplest and most minimal design options are often the best for ensuring usability (Kushniruk). Compared to words, which are better for representing procedural information, logical conditions, and abstract concepts, images are better for spatial structures, location and detail (Ware, 2004). Information visualization is made up of Information Display and Information Context. Information display can affect decision behaviour, and concerns how information is displayed such as with the use of tables, algorithms, pictures and graphical display. Tables can improve the clarity of guidelines if the information is most easily understood when tabulated (NICE 2009; Wolff, 1998). An algorithm or flowchart of the clinical decision pathway can be useful tools for improving guideline utilization (Sackett 2000 from Turner, 2008), but are most useful when the decision logic is complex and the temporal sequence of activities is unclear (Rosenfeld 2009). However, algorithms can also be rigid and cannot provide all the information present in text-based guidelines because of its condensed nature or may be seen as ambiguous because there is no room for explanation of counter-intuitive advice (Patel 2001). Graphical displays are short summaries of the guideline text (Quaglini 2006) that enhance further interpretation and clarity of the recommendations (Swiglo 2008) in an intuitive way (Reyna 2008). Stacked bar graphs are better at conveying absolute risk, simple bar graphs are better at conveying relative risk, while line graphs are typically the best choice when illustrating the effectiveness of a drug or trends over time (e.g., survival and mortality curves) (Reyna 2008). The bar chart format tends to be rated higher for clarity and interpreted the most consistently, but it may not be the most accurate way to convey outcomes information (Dolan 2012). Information context affects which information the decision maker attends to, and is determined by context variables that affect the framing, vividness, depth of field, and evaluability of information (Lurie, 2007). By changing the presentation of a given problem (i.e., framing), visual representations may accentuate biases and heuristics in decision making (Lurie 2007). How to use colour appropriately is a key factor for vividness, which leads to pre-attentive processing and in turn attracts and holds our attention. Basic colours (green, red, yellow, blue) are easier to remember than non-basic colours (orange, lime, green); and yellow and blue are the best for colour blindness (Ware 2004). For ease of comprehension, colors of objects should have strong contrast with the background, as this helps people identify colours quickly (Ware 2004). For ease of reading, text should have a reasonable luminance difference from its background (the finer the detail, the greater the contrast required) (Ware 2004), while gray scales are an unreliable method for conveying quantitative information (Ware 2004). Depth of field (the extent to which visual representations provide contextual overview vs. detailed information) enable end-users to keep both these levels in focus at the same time (Lurie 2007), while evaluability (the ease with which information can be assessed and compared) is likely to lead to increased acquisition, weighting, and processing of this information (Lurie 2007).