MOODLE
by Maria Arrufat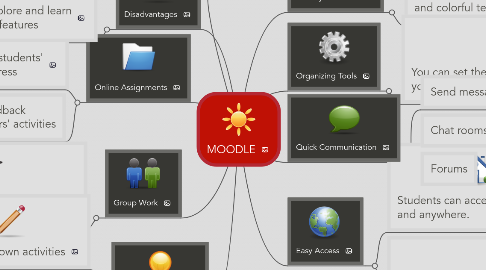 1. FREE
2. Visually Attractive
2.1. You can add videos, images and colorful text
3. Easy Access
3.1. Students can access anytime and anywhere.
3.2. It is private. Students may need a key to enrol but you can allow guests.
4. Online Assignments
4.1. It allows monitoring students' homework and progress
4.2. You can provide feedback comments on learners' activities
5. Group Work
5.1. Students can be part of a group and work with collaborative tools.
6. Organizing Tools
6.1. You can set the calendar and see your students' contact information.
7. Quick Communication
7.1. Send messages
7.2. Chat rooms
7.3. Forums
8. Several Resources
8.1. Create your own activities
8.2. Upload local documents, embed online materials or share links
9. Disadvantages
9.1. It takes time to explore and learn how to use all the features