50 Real Estate Hangout Topics TheREALTYgram.com
by
Frances Flynn Thorsen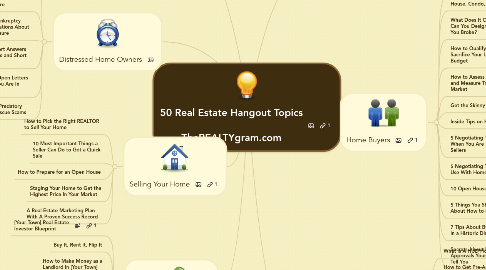 0.0
stars -
0
reviews range from
0
to
5
Inspiration
Carry a Notebook
Use Evernote to Record Content Ideas
Google Search
Amazon Search
First Time Home Buyer Workshop
House, Condo, Co-op or Townhouse?
What Does It Cost to Buy A Home and How Can You Design A Budget That Won't Leave You Broke?
How to Qualify for a Loan That Does Not Sacrifice Your Lifestyle Or Break Your Budget
How to Assess A Property's Value and Measure Trends in Your Local Market
Get the Skinny on Home Inspections
Inside Tips on Home Owner's Insurance
5 Negotiating Tips You Can Use When You Are Dealing With Sellers
5 Negotiating Tips You Can Use With Home Builders
10 Open House Tips and Tricks
5 Things You Should Know About How to Pick a REALTOR
7 Tips About Buying a Home in a Historic District
What Is A HUD Home?
How to Get Pre-Approved for a Home to Buy a HUD Home
How You Can Buy a Fixer-Upper and Include the Cost of Repairs in the Mortgage
How to Hire a Home Inspector
How Teachers Get a 50% Discount on HUD Homes
How Police Officers Get a 50% Discount on HUD Homes
How Firefighters Get a 50% Discount on HUD Homes
HUD Homes for Investors Blueprint for Success
How to Pick the Right REALTOR to Sell Your Home
10 Most Important Things a Seller Can Do to Get a Quick Sale
How to Prepare for an Open House
Staging Your Home to Get the Highest Price In Your Market
A Real Estate Marketing Plan With A Proven Success Record
Real Estate Investing
Insert the name of your town here.
Buy It, Rent It, Flip It
How to Make Money as a Landlord in [Your Town]
Real Estate Investor 101
Advanced Real Estate Investment Strategies
Cashing In On Foreclosures and Short Sales
New Trends and Opportunities In Wholesale Real Estate
Best Ways to Finance a Real Estate Investment Purchase
Distressed Home Owners
What You Can Do to Save Your Home
SPECIAL GUEST: HUD Certified Housing Counselor Answers Your Questions About How You Can Avoid Foreclosure
SPECIAL GUEST: Leading Bankruptcy Attorney Answers Your Questions About How You Can Avoid Foreclosure
SPECIAL GUEST: Leading Tax Expert Answers Your Questions About Foreclosures and Short Sales
5 Top Reasons You Should NOT Open Letters from Real Estate Agents When You Are In Foreclosure
How to Avoid Predatory Foreclosure Rescue Scams
For Sale By Owner (FSBO)
How to Market Your Home On the Internet
How to Write a Great Craiglist Ad
Open House Tips and Tricks
How to Safeguard Your Home Before an Open House
How to Qualify A Prospective Home Buyer So Your Deal Does Not Fall Through At The Last Minute
How to Add Backup Buyers In Case Your Deals Falls Through
Why You Should Have a Home Inspection BEFORE You Put Your House on the Market
5 Best Places for FSBOs to Advertise
How to Partner With a Real Estate Agent Without Paying a Commission