Geometry
by
Mary Sommer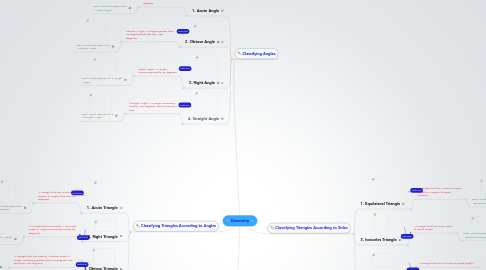 0.0
stars -
0
reviews range from
0
to
5
Geometry
This is just a demo map that you can delete right away, if you feel like it...
Classifying Triangles According to Angles
1. Acute Triangle
2. Right Triangle
3. Obtuse Triangle
Classifying Angles
1. Acute Angle
2. Obtuse Angle
Definition: Obtuse Angle--An angle greater than 90 degrees but less than 180 degrees.
3. Right Angle
Right Angle--An angle measuring exactly 90 degrees.
4. Straight Angle
Classifying Triangles According to Sides
1. Equilateral Triangle
2. Isosceles Triangle