cultura y procesos de cambio: Es un conjunto de conocimientos que permiten desarrollar un juicio en el ser humano, de los modos de vida y costumbres.
by carlos rodriguez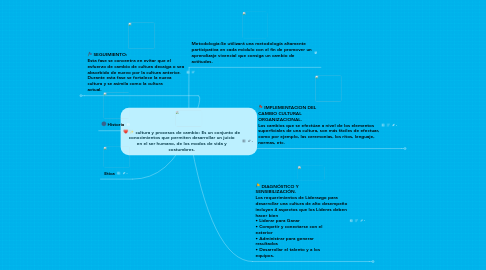 1. SEGUIMIENTO: Esta fase se concentra en evitar que el esfuerzo de cambio de cultura decaiga o sea absorbido de nuevo por la cultura anterior. Durante esta fase se fortalece la nueva cultura y se asimila como la cultura actual.
1.1. What are the strengths of your company?
1.2. What do other companies see as your strengths?
2. DIAGNÓSTICO Y SENSIBILIZACIÓN. Los requerimientos de Liderazgo para desarrollar una cultura de alto desempeño incluyen 4 aspectos que los Líderes deben hacer bien • Liderar para Ganar • Competir y conectarse con el exterior • Administrar para generar resultados • Desarrollar el talento y a los equipos.
2.1. https://www.google.com.co/url?sa=t&rct=j&q=&esrc=s&source=web&cd=1&cad=rja&ved=0CCoQFjAA&url=http%3A%2F%2Fes.wikipedia.org%2Fwiki%2FGesti%25C3%25B3n_del_conocimiento&ei=rLvAUYXDMIma8wTM_oCIBw&usg=AFQjCNFMztPAdgi3X4CfDOtP0DveW3nMwQ&sig2=b71PQ6POQjvDdnMjUVVmPg&bvm=bv.47883778,d.eWU
2.2. https://encrypted-tbn1.gstatic.com/images?q=tbn:ANd9GcS1iGqV2CFjBlltoaUgjOM-FP9KvNJfdRKKrfAyIaX99oQ6beQLXg
3. IMPLEMENTACION DEL CAMBIO CULTURAL ORGANIZACIONAL. Los cambios que se efectúan a nivel de los elementos superficiales de una cultura, son más fáciles de efectuar, como por ejemplo, las ceremonias, los ritos, lenguaje, normas, etc.
3.1. https://www.google.com.co/url?sa=t&rct=j&q=&esrc=s&source=web&cd=6&cad=rja&ved=0CEQQFjAF&url=http%3A%2F%2Fdocencia.udea.edu.co%2Fingenieria%2Fsemgestionconocimiento%2Fdocumentos%2FMod7_HerrTec.pdf&ei=rLvAUYXDMIma8wTM_oCIBw&usg=AFQjCNGhQyl4_8iMOHGBUOTWpVQFtjKEBQ&sig2=fGUv5It50farVF9dvB-RSw&bvm=bv.47883778,d.eWU
4. Historia
5. Metodologia:Se utilizará una metodología altamente participativa en cada módulo con el fin de promover un aprendizaje vivencial que consiga un cambio de actitudes.
6. Etica