Strategy Before Tactics
by Dave Rothacker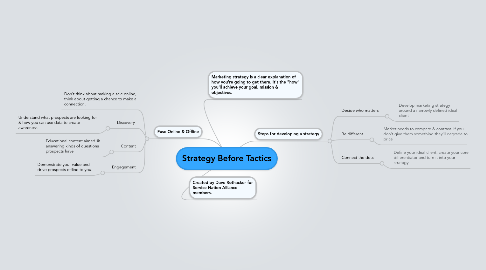 1. Marketing strategy is a clear explanation of how you're going to get there. It's the "how" you'll achieve your goal, mission & objectives.
2. Steps for developing a strategy
2.1. Decide who matters
2.1.1. Develop marketing strategy around a narrowly defined ideal client
2.2. Be different
2.2.1. Market needs to compare & contrast. If you don't give them something they'll degrade to price
2.3. Connect the dots
2.3.1. Define your ideal client, create your core differentiator and turn it into your strategy
3. Fuse Online & Offline
3.1. Don't think about making a sale online, think about getting a chance to make a connection.
3.2. Discovery
3.2.1. Understand what prospects are looking for & how you can use data to create awareness
3.3. Content
3.3.1. Educational content aimed @ answering kinds of questions prospects have
3.4. Engagement
3.4.1. Demonstrate your value and drive prospects offline to you.
4. Created by Dave Rothacker for Service Nation Alliance members.