A Web Presence That Works Day & Night
by Dave Rothacker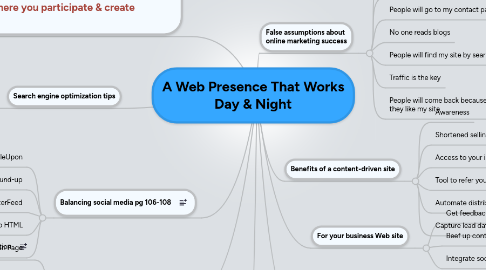 1. Created by Dave Rothacker for Service Nation Alliance members.
2. False assumptions about online marketing success
2.1. An attractive website is an effective website
2.2. I know what my customers search
2.3. People will go to my contact page to find me
2.4. No one reads blogs
2.5. People will find my site by searching for it
2.6. Traffic is the key
2.7. People will come back because they like my site
3. Primary purpose of a website is to act as a hub to connect all of your marketing communication, education & other outposts where you participate & create awareness online.
4. Benefits of a content-driven site
4.1. Awareness
4.2. Shortened selling cycle
4.3. Access to your information
4.4. Tool to refer your business
4.5. Automate distribution of marketing info
4.6. Capture lead data
5. For your business Web site
5.1. Get feedback. Ck tools pg 97
5.2. Beef up content. Video/You Tube big
5.3. Integrate social networking
6. Wordpress for site or blog info pg 99-102
7. Building your total online presence
7.1. Listening station
7.2. Content as Hub
7.3. Pushing out Assets
7.4. Facilitating community
8. Balancing social media pg 106-108
8.1. StumbleUpon
8.2. Round-up
8.3. Reader to TwitterFeed
8.4. RSS to HTML
8.5. Blog to Fan Page
9. Search engine optimization tips
9.1. Keywords
9.2. Title tags
9.3. Links to your site
9.4. Anchor text hyperlinks
9.5. Use heading tags
9.6. Create site maps