Factors of development within a Classroom
by John Laffan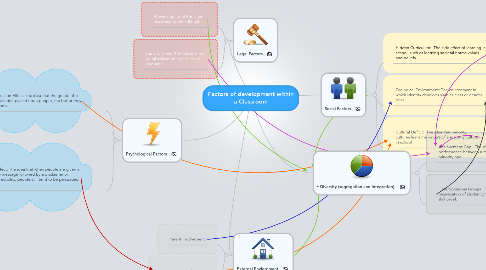 1. Legal Factors
1.1. Brown v Board of Education: made segregation Illegal.
1.2. Lau v. Nichols: This law ensured equal education regardless of language.
2. Social Factors
2.1. Hidden Curriculum: The side effect of learning in a school, such as learning societal norms values and beliefs.
2.2. Ecological Environment: The environment in which Identity develops such as class or gender roles.
2.3. Cultural Deficit: The idea that minority cultures learn the value's of a majority culture in school
3. Psychological Factors
3.1. Pygmalion Effect: the idea that the greater the expectation placed upon people, the better they perform.
3.2. Sleeper effect: The idea that when people are given a persuasive message followed by a disclaimer or reduced credibility, people still tend to be persuaded over time.
4. • Diversity (segregation and integration).
4.1. Achievement Gap: The discrepancy in performance between a main culture and a minority one.
4.2. Heterogeneous Groups: The organization of student groups by mixed skill Level.
5. External Enviornment
5.1. Parent Involvement
5.2. Community Involvement