Lean and the CIO - What Does It All Mean?
by John Michl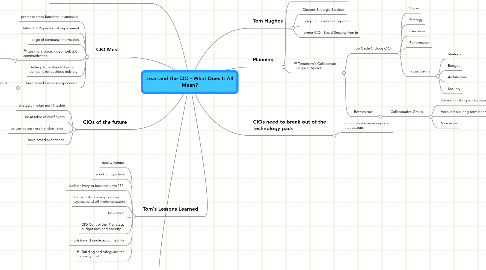 1. BACK TO TABLE OF CONTENTS
2. CIOs of the future
2.1. strategic thinker not IT techie
2.2. be at table of chief execs
2.3. partner in business transformation
2.4. have broad experience
3. CIO Must
3.1. promote cross-functional ownership
3.2. flatten CIO/operational deployment
3.3. let go of company information
3.4. use more voice, video, web 2.0 communication
3.4.1. big proponent of Unified Comm
3.5. Better partner/handoff within company for business delviery
3.6. have broad business experience
3.6.1. business wants to take on more IT
4. Time for CIO
4.1. Work with CEO and develop a collaborative operational model
4.2. be at table with other senior execs
4.3. other execs have to take accountability
5. Tom's Lessons Learned
5.1. deal w culture
5.2. report to right level
5.3. push delivery to business units ???
5.4. be part of company planning cycles; hand off implementation
5.5. New node
5.6. CIO Control the IT strategy budget arch and security
5.7. Push toward single accountability
5.8. #1 Building and safeguard the company trust
6. Tom Hughes
6.1. Director Strategic Services
6.2. Computer Sciences Corporation
6.3. former CIO - Social Security Admin
7. CIOs need to break out of the technology pack
7.1. outcomes are more important that outputs
8. Planning
8.1. Traditional approach (IRM plan?)
8.2. Tomorrow's Collaborate Enterprise Model
8.2.1. Top Circle (include CIO)
8.2.1.1. Vision
8.2.1.2. Strategy
8.2.1.3. Execution
8.2.1.4. Performance
8.2.1.5. Focus then is
8.2.1.5.1. Strategy
8.2.1.5.2. Budget
8.2.1.5.3. Architecture
8.2.1.5.4. Security
8.2.2. Bottom row
8.2.2.1. Collaborative Group
8.2.2.1.1. Decision making workgroups
8.2.2.1.2. Accountable long-term boards
8.2.2.1.3. New node