HOW CAN THE JOB SEARCH PROCESS BE MORE POSITIVE AND INSPIRING? (Scroll up to see IN RED my most disruptive idea, to the right for my favorite and to the left for the easier to implement, and the explanation. IN YELLOW other ideas I liked. Click de "i" icon at the bottom left to zoom in an out!)
by Adela Lasa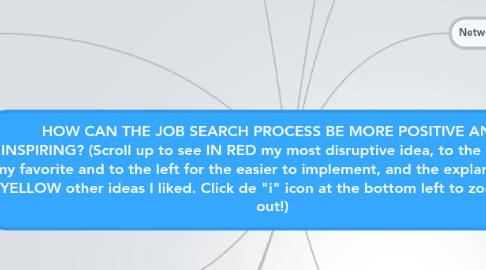 1. Gamificating the process
1.1. Rewards for
1.1.1. Each cv sent
1.1.2. Each hour worked on active search
1.1.3. Each email/call sent
1.1.4. Followup emails
1.2. Keeping a colourful, visual track of the process
1.3. Universities could organise competitions for the best/most original cv's
1.4. "Disguising" the process with a theme, like looking for a serial killer: The killer will be the job position, the process will be the investigation
1.4.1. making a big panel with all the bits and pieces of the research . Making it visual and beautiful searching for a job and creating art!
1.4.1.1. THE MOST EASY TO IMPLEMENT: This is an easy and fun way of keeping track of what we are doing, where we are going,seeing all our search work...
1.5. Competing/comparing with other people online, a community of job seekers
1.6. Establishing milestones
1.7. Construction game: define the different actions needed to look for a job ( self research, company research, CV making, CV adaptation to each specific job offer...), assign to each action a different Lego piece. Each time you do one of those actions you earn a construction piece... and see what you get to build! (If you get the job it means extra bricks to finish whatever you had ir mind! :)
2. mentoring
2.1. senior mentoring
2.2. co-graduate/friend mentoring
2.3. make your parents de the follow-up !
2.4. exhange: mentoring in exchange of helping/assisting in some tasks
2.5. sharing each step with somebody, constantly talking about everything we are doing to that person, to keep us focused
3. creating Job Searching Squads
3.1. MY FAVORITE IDEA: creating Job searching teams! Online a bit, maybe to reach diversity, but it has to be done practically and mainly offline to make it real fun and effective!
3.2. looking for a job for somebody else instead of oneself
3.3. a working station for job searching with shared mentors (professionals or not )
4. transition smaller projects
4.1. side jobs to keep the energy level high and maintain the feeling "I'm doing something"
4.2. volunteering while searching
4.3. write a book at the same time about the process
4.3.1. or a diary keeping track of feelings etC
4.4. creating a bourse of smaller tasks that could be done for companies for smaller amounts of money/free which could give graduates a taste of real work tasks, deadlines, standards etc as well as preparing them for their future jobs.
4.5. nurturing a a fallback skill (serves as a secure, mind reasuring skill we can use while looking for a job or in case nothing works!)
5. Increasing motivation
5.1. provide more visibility into what a fulfilling working life can be
5.2. possible motivators
5.2.1. pressure
5.2.1.1. giving back a loan
5.2.1.2. social/family
6. Networking
6.1. using Couchsurfing to meet new people , change ideas, network, hot spend too much...
6.2. Having coffee with friends of your ftiends/sieblings/family who can indpire you, give advise
7. Keeping track of what we do
8. outside resources
8.1. Some gadget that cheers you up , saying "Come on buddy!" "You're doing great!" "One more and you can then drink a beer !" .
8.2. a help-line for jobseekers
8.3. pay somebody to de the work for you
8.3.1. recruit a military guy that makes you do the work
9. education related ideas
9.1. merging education and working
9.2. changing education!!
9.3. Unifying education with job searching
9.3.1. making job searching a final career project, with a tutor
9.3.2. Making job searching a career project, from day one we step in school. Starting by discovery oneself, discovery the WIDE range of opportunities out there, facilitating all kinds of etc.
9.3.2.1. THE MOST DISRUPTIVE IDEA (BIGGEST IMPACT): This is for me the most powerful and complicated idea to implement at a global level, and its aim would be to try AVOID or MINIMISE the study-work transition from the beginning. Haha! I've just reframed the problem!
9.4. transition school
9.4.1. school does the mentoring
9.4.1.1. desing thinking process for job finding
9.4.1.2. desing thinking process for career path design
9.4.1.2.1. discovering in which way candidates want to/can contribute to the world
9.4.2. building confidence
9.4.3. inspire the right attitude
9.4.4. Simulate working atmosphere
9.4.5. job search boot camp
10. establishing fun routines with less "fun" intervals