numuseum thoughts
by
Danielle Roberts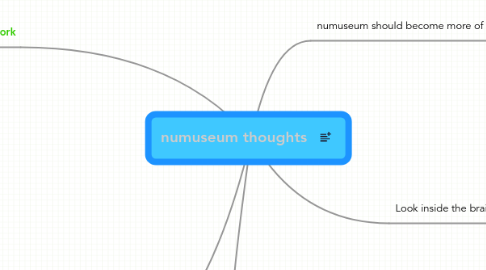 0.0
stars -
0
reviews range from
0
to
5
numuseum thoughts
numuseum is a webart website by media artist Danielle Roberts. She's planning to integrate mindmaps into her website. Feel free to visit www.numuseum.nl
Look inside the brain
mindmap
link collections
make all-in-one tool to add data to different parts of numuseum
lifeLine (micro diary)
numuseum should become more of a mashup
flickr
delicious
mindmeister
Twitter or maybe just lifeLine if I can manage to update it with SMS...
New work
Feature film of myself using only security camera's (a day in the life...)
I wonder if I can get access to and use this footish wich has me on it. I should be entitled to it but I know, the cam has the power...
Swear machine
send 4-letter words to friends and fows. must adapt interface and implement in numuseum
New interface
Indra
the universe is connected. Flickr photo's and ActionScript
lifeLine cloud view
some scripting done by Wiliam, must build the whole flash piece
lovescape
finished as standalone piece, must adapt interface and implement in numuseum
Dead ubrella's
(g)een
Drink black ink
every time you breath a drop falls on a well known text
Forgiving
Show portraits from Flickr to practice forgiving.
Interactive flock of magpies
When I walked about 10 magpies flew away, creating a beautiful patern
numuseum input
on or offline app to insert new data for the numuseum interface. Should work with PDA browser aswell.
Mood
Energy level
Innner peace
lifeLine
Photograph (Flickr)
Thought (Mindmeister)
Show top nodes, choose one to insert an idea
Stress
Opportunities