2013 August 21 UL eResearch Platform
by Steve Koch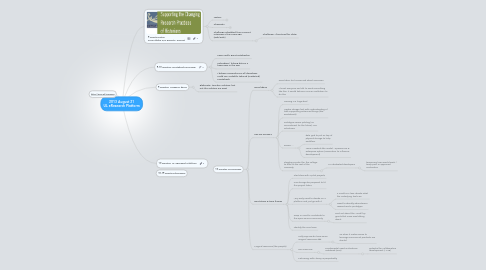 1. 5-10 minutes: eNotebook Overview
1.1. Some really great notebooks!
1.2. Uploading / linking data is a huge pain in the ass!
1.3. I believe researchers in all disciplines could use a silghtly tailored (marketed) eNotebook
2. 5 minutes: HUBZero demo
2.1. Elaborate, turn-key solution, but not the solution we want
3. 5 minutes intro: From Ithaka S+R Reports, Provost
3.1. History
3.1.1. The basic question of how to manage one's research notes indicates a variety of needs that are specific to the field of history, but others than are more idiosyncratic and even personal. Developing tools to address diverse needs – or compelling enough to bring some standardization – is an important support challenge.
3.2. Chemistry
3.2.1. labs produce large volumes of notes and documentation that must be stored for future reference, but these are largely kept in paper format. Electronic lab notebooks have yet to make a substantial impact on the ways that chemists work. Librarians and other campus-level service providers have not taken on the role of promoting or supporting the use of ELNs.
3.3. Challenge identified from Provost interview a few years ago (Rob/Dale)
3.3.1. Challenge: "front-end for data"
4. 10 minutes: UL eResearch Platform
5. 10-15 minutes discussion
6. 10 minutes OUTCOMES
6.1. Good idea?
6.1.1. Great idea, but concerned about resources
6.1.2. Almost everyone we talk to wants something like this. It would behove us as an institution to do this
6.2. Can we pursue?
6.2.1. Training is a huge deal
6.2.2. Maybe storage first with understanding of later supporting enhanced things (like eNotebook)
6.2.3. Prototype versus piloting (no commitment for the future) TNY volunteers
6.2.4. iRODS ...
6.2.4.1. data grid to put on top of physical storage to help workflow.
6.2.4.2. Have a RedHat-like model - opensource & enterprise option (consortium to influence development)
6.2.5. Flagship product for the college to offer to the rest of the university
6.2.5.1. 2-3 dedicated developers
6.2.5.1.1. temporary hires would work / temp pool or approved contractors
6.3. Next steps & time frames
6.3.1. Start slow with a pilot project?
6.3.2. Can storage be prepared to fit this project later?
6.3.3. Very early need to decide on a platform and just go with it
6.3.3.1. 2 months or less, decide what the underlying tools are
6.3.3.2. Need to identify adventerous researchers to prototype
6.3.4. Keep in mind to contribute to the open source community
6.3.4.1. Find out about the "small fry" grants that Susie was talking about
6.3.5. Identify the core team
6.4. Magical resources (like people)
6.4.1. Holly says we do have some magical resources $$$
6.4.1.1. So when it makes sense to leverage commercial products, we should
6.4.2. NSF EPSCOR
6.4.2.1. Fundamental need is electronic notebook (ELN)
6.4.2.1.1. potential for collaborative development (1 FTE)
6.4.3. Partnering with LIbrary is perpetuality
7. http://goo.gl/NemBIs