Architecture of New Learning Envirnoments
by
Byron Patchett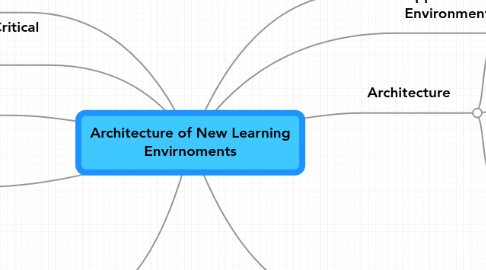 0.0
stars -
0
reviews range from
0
to
5
Architecture of New Learning Envirnoments
Approaches to New Learning Environments
Structures of New Learning Environments
Student Inquiry
Authentic Student Inquiry
As a means of achieving scientific literacy goals in society, the last two decades have witnessed international science curriculum redevelopment that increasingly advocates a 'new look' inquiry-based approach to learning. This paper reports on the nature of the student-experienced curriculum where secondary school students are learning under a national curriculum that is intent on promoting students' knowledge and capabilities in authentic scientific inquiry, that is, inquiry that properly reflects that practiced by members of scientific communities. Using a multiple case study approach, this study found that layers of curriculum interpretation from several 'sites of influence' both outside and inside of the schools have a strong bearing on the curriculum enacted by teachers and actually experienced by the students, and runs counter to the aims of the national curriculum policy. Over-emphasis on fair testing limits students' exposure to the full range of methods that scientists use in practice, and standards-based assessment using planning templates, exemplar assessment schedules and restricted opportunities for full investigations in different contexts tends to reduce student learning about experimental design to an exercise in 'following the rules'. These classroom realities have implications for students' understanding of the nature of authentic scientific inquiry and support claims that school science is still far removed from real science.
Determining a Critical Stance
Inquiry for All Learners
New Learning Environments
Architecture
Note
This is the standard design guide on schools architecture, providing vital information on school architecture. Mark Dudek views school building design as a particularly specialised field encompassing ever changing educational theories, the subtle spatial and psychological requirements of growing children and practical issues that are unique to these types of building. He explores the functional requirements of individual spaces, such as classrooms, and shows how their incorporation within a single institution area are a defining characteristic of the effective educational environment. Acoustics, impact damage, the functional differentiation of spaces such as classrooms, music rooms, craft activities and gymnasium, within a single institution are all dealt with. More esoteric factors such as the effects on behaviour of colour, light, surface texture and imagery are considered in addition to the more practical aspects of designing for comfort and health. Chapter 4 comprises 20 case studies which address those issues important in the creation of modern school settings. They are state of the art examples from all parts of the world. These examples include: Pokstown Down Primary, Bournemouth; Haute Vallee School, Jersey; Heinz-Galinski School, Berlin; Anne Frank School, Papendract, Netherlands; Seabird Island School, British Columbia and The Little Village Academy, Chicago.
Main Entry: architecture Part of Speech: noun Definition: design of buildings Synonyms: architectonics, building, construction, engineering, planning
Main Entry: architecture Part of Speech: noun Definition: design, structure of something Synonyms: composition, constitution, construction, formation, framework, make-up, style
Inquiry Beyond the Classroom
Construction of New Learning